Well, it certainly was not a pretty win, but any win in the NFL is a good win. The Green Bay Packers and their resolve was tested in a way that it had not been this season. Regardless of how easy the game was predicted to be for them, the Patriots proved that no team is to be taken lightly. Even with their third string quarterback, the Patriots gave the Packers a game and almost squeaked out a victory on the road. It was not to be, however, and the Packers did just enough to win the game in overtime.
Three Studs
Picking just three studs every week is oftentimes very difficult. This was the case this week as there were plenty of players who played major roles in the Packers overtime victory. I feel it behooves me to give some honorable mentions even before I list off my three studs for the game:
Aaron Jones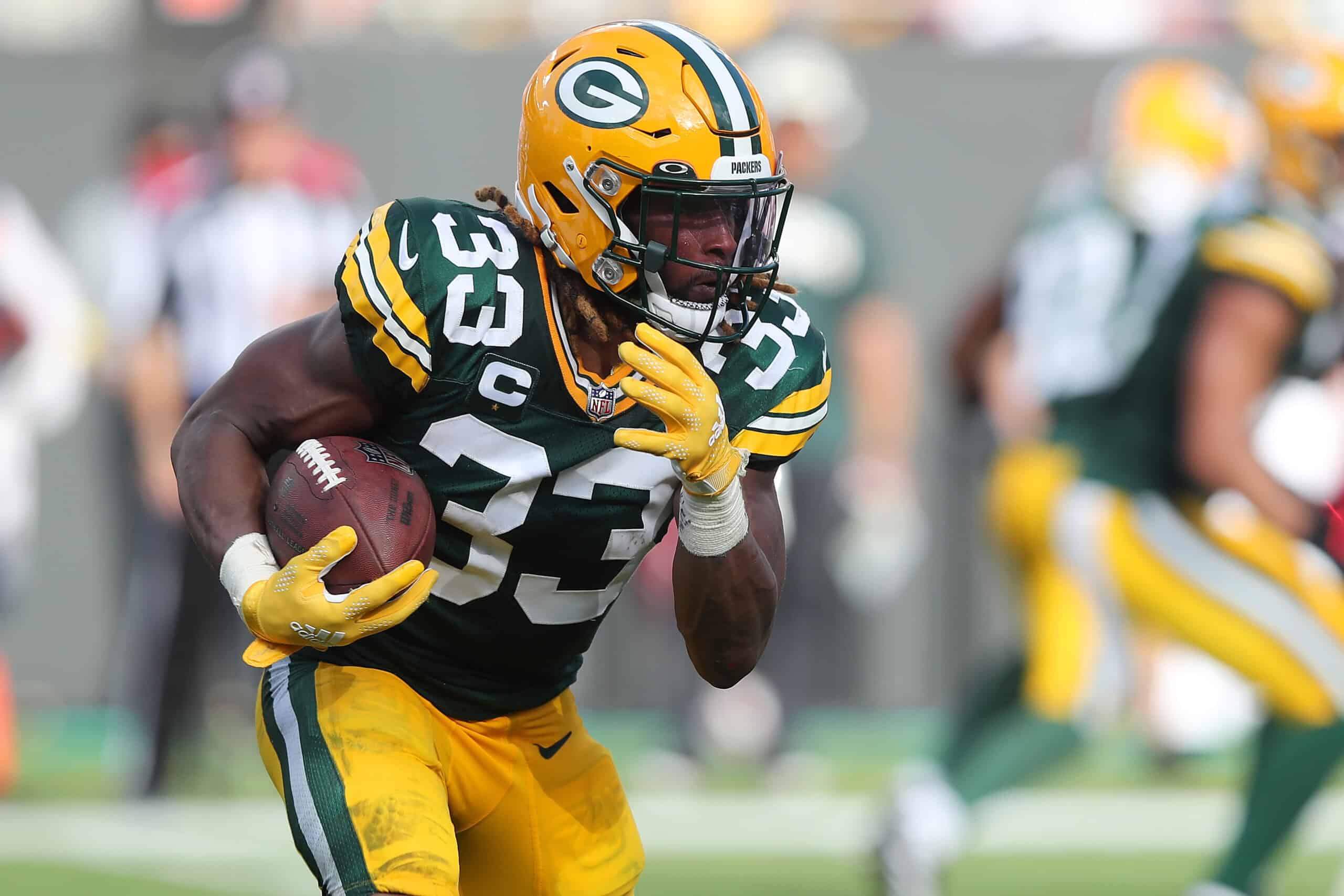 There was a very recognizable pattern established early in this game: if the Packers gave Aaron Jones the ball, good things happened. If they did not, their drives ended quickly. For his part, Jones was a constant force when given the chance. He ended up rushing 16 times for 110 yards (6.9 yards per carry). He also had three receptions, but only five yards receiving. Despite not reaching the end zone himself, there is no way the Packers win this game without him doing a large portion of the ball moving early and often.
Con todo y el castigo, poco pudieron hacer para detener a Aaron Jones 🤷‍♂️😮#GoPackGo empezó a carburar a la ofensiva

📺: @FOXSportsMX #NFLMX pic.twitter.com/2OKLFzXsJM

— NFL México (@nflmx) October 2, 2022
Related: Aaron Jones: Primed for the Best Season Ever By a Packers Running Back
Rashan Gary
How good has Rashan Gary been for the Packers so far this season? Well, historically good would be the correct answer, at least according to this fun fact by ESPN's Rob Demovsky:
Rashan Gary is the first Packer to record a sack in each of their first four games since Cullen Jenkins in 2010, per @ESPNStatsInfo.

KGB did it in 2001, when he actually had nine sacks in the first four games.

— Rob Demovsky (@RobDemovsky) October 2, 2022
Against the Patriots, Gary had seven tackles, two sacks, a forced fumble, and a fumble recovery. He was an absolute menace in the Patriots' backfield. Unfortunately, one of his sacks resulted in a concussion for Brian Hoyer, but it was a clean sack on an excellent sequence of moves to beat the offensive line. His second sack resulted in a fumble that he recovered with his thighs.
Rashan Gary showing why he's one of the best pass rushers in the league 😤 @RashanAGary

📺: #NEvsGB on CBS
📱: Stream on NFL+ https://t.co/YPHqeLC4zg pic.twitter.com/IDFMau7m9G

— NFL (@NFL) October 2, 2022
Related: Rashan Gary's Early Case for Defensive Player of the Year
Allen Lazard
It was only a matter of time. Allen Lazard finally had the kind of game that Packers fans knew he could have if given the chance. Now the number one wide receiver of the Green Bay Packers, Lazard displayed why he was worth the designation and faith from his teammates. Lazard finished the game against the Patriots with six receptions for 116 yards. In addition to his receiving numbers, Lazard continued to be an excellent blocker down field, allowing plays to be extended for extra yards.
.@AllenLazard with the DIVING CATCH!#NEvsGB | #GoPackGo

📺 CBS pic.twitter.com/VShRRvyZf7

— Green Bay Packers (@packers) October 2, 2022
Allen Lazard Booking Agent
Contact Information
Call Mayfield Sports Marketing at 262-366-8188 to schedule Allen Lazard for your corporate appearance or product promotion.  Our booking agents will work on your behalf to get you the best price for your desired sports speaker.
Mayfield Sports Marketing has earned a reputation of being the one to call for booking top athletes to speak at events and trade shows. To learn more about Allen Lazard appearance cost and booking fee, please call us today. www.MayfieldSports.com.
Related: Three Bold Predictions for Packers WR Allen Lazard in 2022
Three Duds
Needless to say, the Green Bay Packers still have some wrinkles to iron out. That being said, for a team that is struggling to find its new identity, being 3-1 is a great place to be. In addition to the three duds listed below, the Packers' run defense continued to struggle. New England was able to rush the ball 33 times for 167 yards (5.1 yards per carry). As the season goes on, hopefully they find a way to limit these kinds of totals.
Aaron Rodgers
As I noted here, Aaron Rodgers does not have the best career numbers against the New England Patriots. Rodgers did not end up having a terrible game (see Week One), but he still struggled out of the gates. In the first half, Rodgers was just 3/10 for 38 yards and his fourth career pick-six. Additionally, his throw to wide receiver Romeo Doubs on the Packers' first drive was off the mark. The fact that Doubs made a play on the ball before fumbling was nothing short of remarkable.
He did, however, later connect with Doubs for his 500th career touchdown pass:
500th career TD pass for Aaron Rodgers!

📺: #NEvsGB on CBS
📱: Stream on NFL+ https://t.co/YPHqeLC4zg pic.twitter.com/9o5YhUQV1i

— NFL (@NFL) October 2, 2022
Rodgers finished the game 21/35 for 251 yards, two touchdowns, and the interception. Had he not thrown that pick-six, the Packers would have won the game in regulation.
Related: Aaron Rodgers Goes Off on What He Feels Is a Stupid Rule in College Football
Romeo Doubs
Like Aaron Rodgers, rookie wide receiver Romeo Doubs had more than his fair share of struggles in this game. That being said, he did come up huge in overtime, gaining some important yards on short passes. Prior to overtime, though, Doubs had two crucial mistakes that could have prevented overtime happening in the first place.
That was a BEAUTIFUL throw by Aaron Rodgers… but Romeo Doubs dropped it 😭 pic.twitter.com/JNQwvH4flt

— Brian Y (@byysports) October 2, 2022
The first of these was the aforementioned fumble on the first drive of the game. Rodgers could have placed that ball better, but the fumble is still credited to Doubs. The second came late in the game when Doubs dropped a perfect pass that would have resulted in a touchdown. It was a learning moment, a mistake he likely will not make again. Doubs still had a decent game, hauling in five receptions for 47 yards and a touchdown.
Related: Dez Bryan Reacts to Romeo Doubs No Catch
Elgton Jenkins
Is it time to move Elgton Jenkins back to guard? It is a question worth asking considering his poor play at right tackle since his return to the field. Against the Patriots, Jenkins gave up a sack and was generally overmatched at times from the right tackle position. To ensure Aaron Rodgers stays upright, it may be wise for the Packers to move Jenkins to left guard, his natural position, and have either Yosh Nijman or Zach Tom play right tackle.
For More Great Wisconsin Sports Content
Follow me on Twitter at @theotherRobin19 and follow us @WiSportsHeroics for more great content. To read more of our articles and keep up to date on the latest in Wisconsin sports, click here!