When Davante Adams was traded by the Green Bay Packers to the Las Vegas Raiders, there were some questions over who would be the Packers' number one wide receiver. Almost from the very moment the trade occurred, some predicted it would be Allen Lazard. Others, however, did/do not think Lazard is good enough to be a number one wide receiver. That being said, Aaron Rodgers himself has stated that Lazard looks and has been practicing like a number one receiver.
Aaron Rodgers on Allen Lazard: "He's been our dirty work guy for most of his career here. Now he's getting an opportunity to be a No. 1 receiver. I'm not worried about him at all stepping into that role."

— Zach Kruse (@zachkruse2) June 8, 2022
Of course, Davante Adams and Allen Lazard are two very different players. However, Lazard is more than capable of being a top target and will have an excellent season.
Related: How the Packers Offense Performed without Davante Adams from 2019-2021
Bold Prediction #1: Allen Lazard Will Have over 1,000 Receiving Yards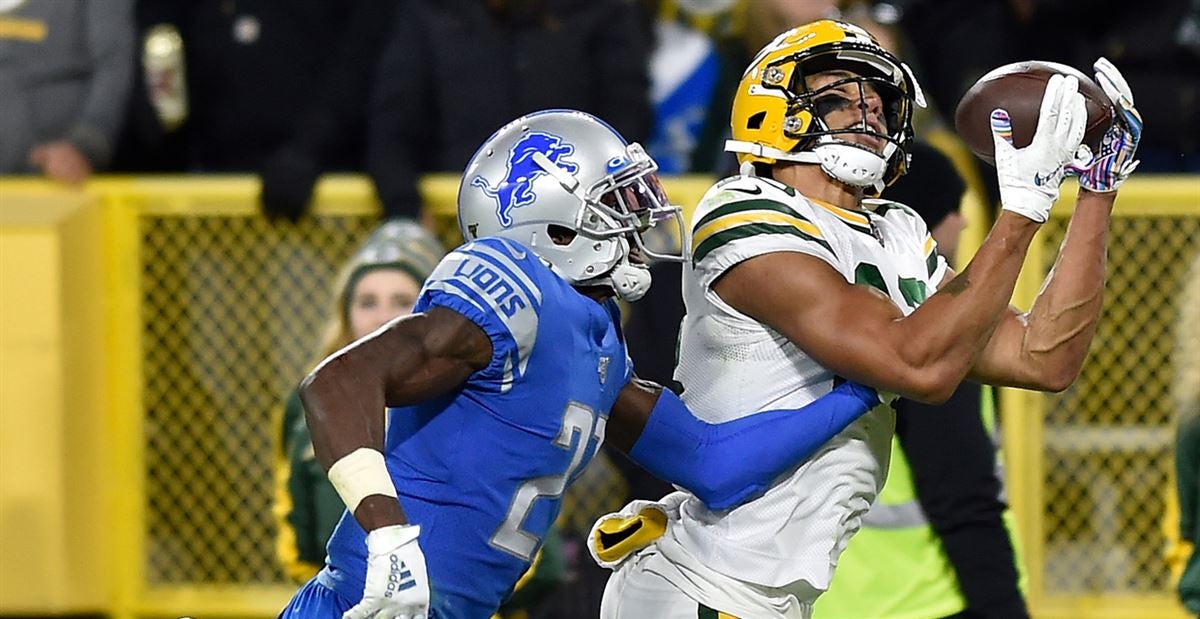 This may not be as bold of a prediction as one many think. In fact, simple math and statistics point to it occurring. Taking away the only game that Allen Lazard played with the Packers in his rookie year (2018), he has played five games without Davante Adams in his career. Adams, of course, was the Packers' top wide receiver during the last few seasons. In that time, Lazard recorded 18 catches for 295 yards and two touchdowns.
Over the course of a 17-game season, these numbers equate to 61 catches for 1,003 yards and seven touchdowns. Undoubtedly, the Packers offense will look much different from years past. However, Lazard will still be a big part of it.
Bold Prediction #2: Allen Lazard Will Have 10+ Touchdowns
Through his first three NFL season, Allen Lazard had six touchdowns. Last season, he had eight to go along with 28 first down receptions. Lazard had 40 receptions total, meaning 36/40 of the times he caught the ball resulted in fresh downs or ended in points. As the Packers' top wide receiver in 2022, these numbers will only go up.
Related: Bleacher Report Names Allen Lazard as One of the NFL's Best Kept Secrets
Bold Prediction #3: A Big Contract Extension Is Coming His Way
The Green Bay Packers have a very unique group of wide receivers. On the one hand, they have three rookies at the position on the 53-man roster. On the other hand, they have Randall Cobb and Sammy Watkins, both who are in the last/only years of their deals and may not return next season. Allen Lazard is in the same camp as Cobb and Watkins, having signed his tender late this offseason.
That all being said, Cobb and Watkins likely will not be back next season. Unless the Packers want to go into 2023 with a core of the three rookies and Amari Rodgers, it would be wise to extend Allen Lazard. If/when he achieves the first two of these bold predictions, the Packers will certainly hand him the extension.
Allen Lazard Booking Agent
Contact Information
Call Mayfield Sports Marketing at 262-366-8188 to schedule Allen Lazrd for your corporate appearance or product promotion.  Our booking agents will work on your behalf to get you the best price for your desired sports speaker.
Mayfield Sports Marketing has earned a reputation of being the one to call for booking top athletes to speak at events and trade shows. To learn more about Allen Lazard appearance cost and booking fee, please call us today. www.MayfieldSports.com.
For More Great Wisconsin Sports Content
Follow me on Twitter at @theotherRobin19 and follow us @WiSportsHeroics for more great content. To read more of our articles and keep up to date on the latest in Wisconsin sports, click here!