Aaron Jones of the Packers is truly one of the most dynamic running backs in the NFL right now. Over the past few seasons, his body of work has largely gone unnoticed by the national media due to the MVP-level play of Aaron Rodgers. Additionally, the dynamic All-Pro wide receiver Davante Adams seemed to set a new Packers receiver record every week. Now, Adams is gone, and so too is Marquez Valdes-Scantling. The loss of two of the team's best wide receivers and several other reasons set Jones up for what could end up being the best single season for a Green Bay Packers RB.
Related: The great wide receiver turnover of 2001 gives hope for 2022
The Best Seasons by Packers RBs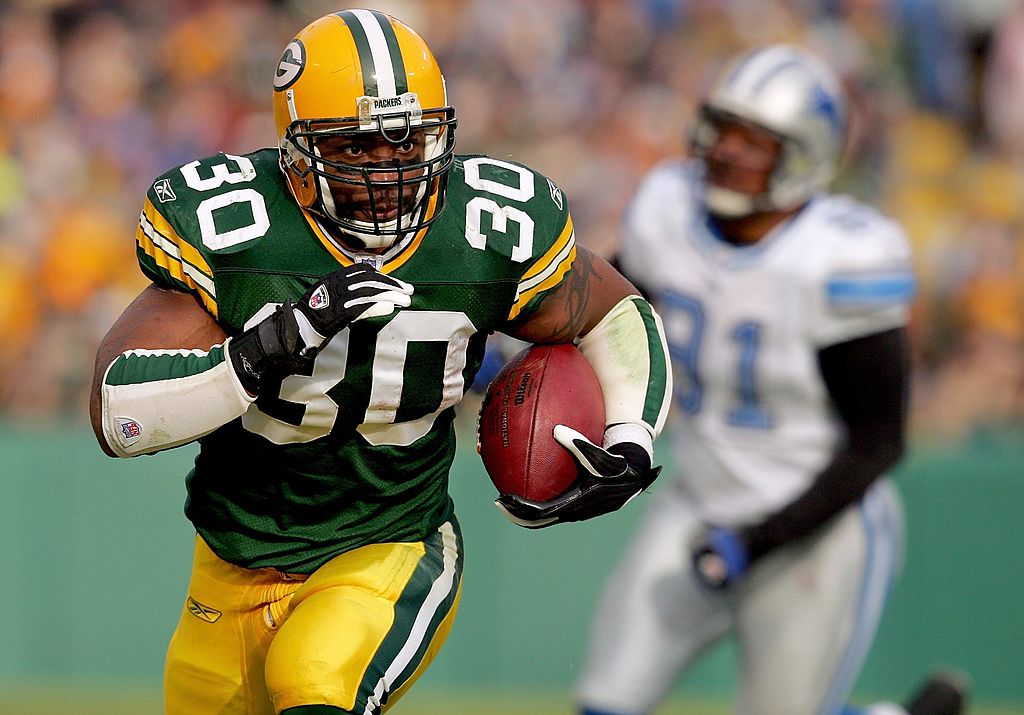 Before I get into why Aaron Jones will have the best season ever for Packers running backs, we must understand what that would entail. Obviously, rushing yards and rushing touchdowns play a significant role in this. However, that is not all a running back does. I have also looked at receiving yards/all-purpose yards and total touchdowns to identify the five greatest seasons by Packers running backs. Not surprisingly, these seasons highlight the talents of three Packers greats: Jim Taylor, Ahman Green, and Dorsey Levens.
Packers vs Broncos 2003: Ahman Green 98 yards to the house!

• Green that day: 20 carries | 218 yards | 2 TD
• '03 Ahman Green: 405 touches | 2250 yards from scrimmage | 20 TDs

(@AhmanGreen30) pic.twitter.com/yYeXqVb85z

— Four Verts 🏈 (@FourVerticals_) July 27, 2021
Ahman Green: 2003- 1,883 rushing yards, 15 rushing touchdowns, 361 receiving yards, five touchdowns (2,250 all-purpose yards and 20 touchdowns)
Jim Taylor: 1962- 1,474 rushing yards, 19 rushing touchdowns, 106 receiving yards (1,580 all-purpose yards and 19 touchdowns; AP MVP and led the NFL in rushing attempts, rushing yards, touchdowns, all-purpose yards, and rushing yards per game)
Ahman Green: 2001- 1,387 rushing yards, nine rushing touchdowns, 594 receiving yards, two receiving touchdowns (1,981 all-purpose yards and 11 touchdowns)
Dorsey Levens: 1997- 1,435 rushing yards, seven touchdowns, 370 receiving yards, five receiving touchdowns (1,805 all-purpose yards and 12 touchdowns)
Jim Taylor: 1961- 1,307 rushing yards, 15 rushing touchdowns, 175 receiving yards, one receiving touchdown (1,482 all-purpose yards and 16 touchdowns)
Of all my memories of the 1996 season these two minutes are my favorite. Dorsey Levens blows the game open. Then Edgar Bennett's touchdown sends Lambeau Field into a frenzy. The eruption of the crowd is incredible. It's like everyone at once realizes we're going to the Super Bowl pic.twitter.com/XbVgRYb0pE

— Eric Drews (@GreenGold4Ever) March 27, 2021
Of course, this does not even consider Aaron Jones' amazing 2019 campaign when he had 1,558 all-purpose yards and 19 total touchdowns. And, admittedly, the rankings are a matter of opinion. However, seeing all of these seasons broken down can help us see what kind of season Jones will need to have in 2022 for it to be considered the best ever.
What Would the Best Season for a Packers RBs Look Like?
I think Aaron Jones would need to put up at least 1,900 all-purpose yards to have a season that would rival any of the Packers' RBs listed above. Additionally, he would need to score at least 15 touchdown passes, though 20 would (obviously) be better.
So, with that established, let's look at why Aaron Jones is primed to have that kind of season in 2022.
The Contract Situation of Aaron Jones
Aaron Jones is entering what could be the most important season of his career this year. When he signed his unexpected four-year $48 million contract last offseason, many assumed he would only get through two years of the contract before being cut or restructuring. Between last season and this upcoming one, Jones was/is making a base salary of $1 million with cap hits between $4.4 and $5.9 million. Next season (2023), Jones' cap hit will jump to $20 million with a dead cap hit of $9.5 million. In other words, Jones is playing for his job after this season.
Of course, the Packers can always (and probably will) restructure his contract. However, a team can only kick the can down the road so much. The onus is on Jones to show the Packers that he is worth the money and the commitment. The fact is that Jones is owed about $36 million in the last two years of his contract. Having the best season by a running back in team history would certainly make him worth it.
The Offensive Line and Aaron Jones Will Remain Successful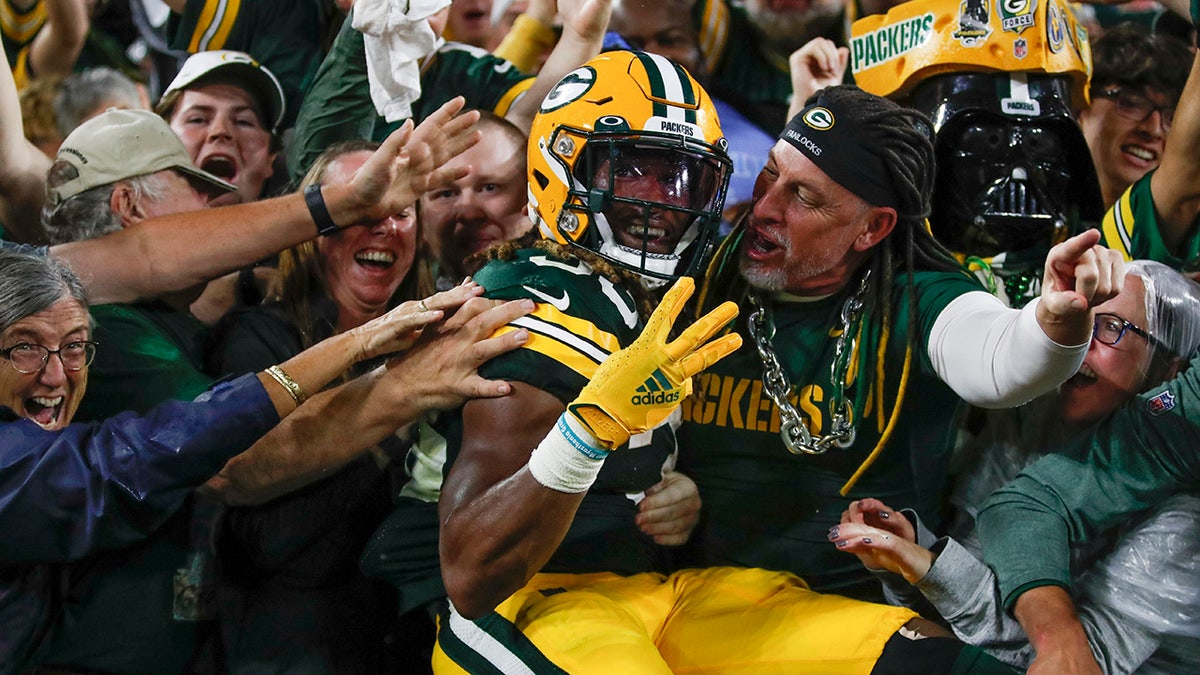 Of course, for any running back to be successful, they need a good offensive line. While there are questions as to the health of David Bakhtiari, the line should be formidable. Elgton Jenkins will miss the first half of the season as he recovers from a torn ACL, but Adam Stenovich proved that he will have his depth pieces ready for anything.
Imagine trying to tackle Aaron Jones…

No thanks 😬 pic.twitter.com/VqNZhiWBmb

— Eli Berkovits (@BookOfEli_NFL) July 11, 2022
Not only will the line be adept at protecting Aaron Rodgers, but they will also continue to open holes for the Packers' running backs. In his five NFL seasons, Aaron Jones has averaged 5.1 yards per carry and has scored 41 rushing touchdowns. There is no reason to believe that this will change.
Aaron Jones Is a Weapon in the Packers Passing Game
As I mentioned earlier, rushing yards are only a part (albeit a significant one) of what running backs do. As Ahman Green showed better than any running back in team history, they can also be an important weapon in the passing game. This has also been true of Aaron Jones since he became the premier back in 2019. Below are Jones' receiving yards from 2019-2021 and where they ranked on the team:
2019- 474 yards (third)
2020- 355 yards (fifth)
2021- 391 yards (fourth)
Also of note, Jones had six receiving touchdowns last season, the third most on the team.
Aaron Jones los últimos años en el juego aéreo 🛬

📌 49 recepciones 474 yardas (2019)
📌 47 recepciones 355 yardas (2020)
📌 52 recepciones 391 yardas (2021)

¿Superará las 60 recepciones este año? #NFLFantasyEsp pic.twitter.com/S8VCnqoweg

— NFL Fantasy en Español (@NFLFantasyEsp) July 13, 2022
No Davante, No Problem
As I wrote about here, the Green Bay Packers' offense performed extremely well without Davante Adams from 2019-2021. The Packers won all seven games without the All-Pro. Here is how Aaron Jones performed in those games:
October 6, 2019: 107 rushing yards, four rushing touchdowns, 75 receiving yards (182 all-purpose yards, four touchdowns)
October 14, 2019: 43 rushing yards and 13 receiving yards (56 all-purpose yards)
October 20, 2019: 50 rushing yards and 33 receiving yards and one touchdown catch (86 all-purpose yards, one touchdown)
October 27, 2019: 67 rushing yards, 159 receiving yards and two touchdown catches (226 all-purpose yards, two touchdowns)
September 27, 2020: 69 rushing yards, one rushing touchdown, 17 receiving yards (86 all-purpose yards)
October 5, 2020: 71 rushing yards, 40 receiving yards and one touchdown catch (111 all-purpose yards, one touchdown)
October 28, 2021: 59 rushing yards, one rushing touchdown, 51 receiving yards (110 all-purpose yards and one touchdown)
In these seven games, Aaron Jones averaged 122.4 all-purpose yards per game. If he were to average that many yards during a 17-game season, it would equate to 2,081.3 all-purpose yards for the season. Only Ahman Green ever had more all-purpose yards in a season.
Jones scored nine touchdowns in these seven games for an average of 1.29 touchdowns per game. In a 17-game season, this equates to roughly 22 touchdowns, which would be more than the 20 Green scored in 2003.
As noted earlier, I put forth the numbers of 1,900 all-purpose yards and 15-20 touchdowns as the stats that would make Jones' 2022 the best in Packers RB history. If his numbers in games without Davante Adams are any indicator, he should surpass those totals.
To Read the Latest Packers News, Click Here
For More Great Wisconsin Sports Content
Follow me on Twitter at @theotherRobin19 and follow us @WiSportsHeroics for more great content. To read more of our articles and keep up to date on the latest in Wisconsin sports, click here! Also, check out our merch store for some amazing WSH merchandise!