As the Wisconsin Badgers inch closer to their season opener September 4, the team had a number of young players contribute last season. A few of these names we didn't expect to have immediate impacts. With a year under everyone's belts, there are four Badgers I believe that are poised for a breakout season in 2021. Let's take a look!
Graham Mertz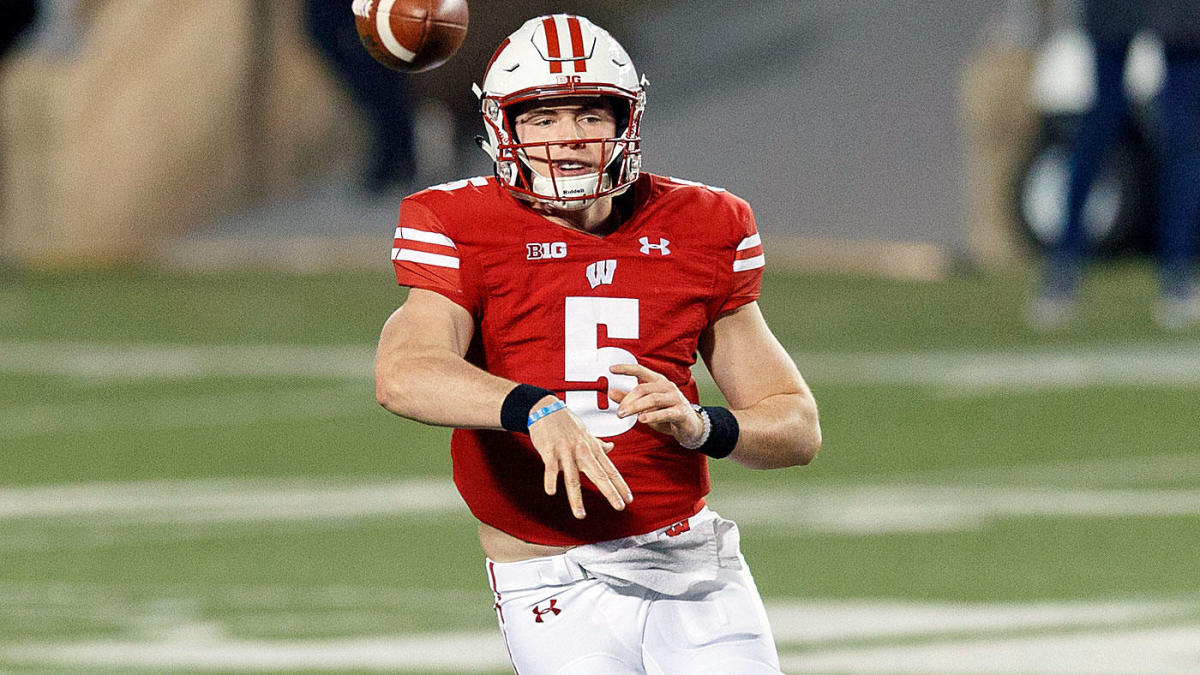 No one had a better debut in college football last season than the signal caller for the Badgers. It's really tough to have only one incompletion and throw 5 touchdowns in your debut. Mertz made it look simple and gave Badger fans hope for the next 4 years.
Unfortunately, Mertz got diagnosed with COVID 19 and suffered a concussion late in the season. He also lost his two best receivers in Danny Davis III and Kendric Pryor to injuries early in the season. We did see freshman growing pains, which is expected throughout the season.
However, it's clear Mertz can make every throw Wisconsin needs him to. If his weapons can stay healthy, there is no reason to believe Mertz can't breakout and be one of the best quarterbacks in the Big Ten. I believe he takes that step in 2021.
Jalen Berger
I believed Jalen Berger would crack the rotation and see some playing time as a freshman last season. I also believe Nakia Watson and Garrett Groshek would take a majority of the reps. Although Berger played in only 4 games last season, he averaged 5 yards per carry on 60 carries. He was also added to the Doak Walker Ward Watch List this week.
Although limited, we saw Berger has all the traits and skills to be the next great Badger running back. It's a lot to say on a limited sample, but he has what it takes to be that back. Clemson running back Chez Mellusi should help the load quite a bit, but I believe 2021 is Berger's year. There is no doubt he will be the man and could be the man for the next 3 seasons. There isn't a player I'm more excited for this season than Jalen Berger.
Leo Chenal
As a first year starter in 2020, Leo Chenal was really good. He had 30 tackles, 3 sacks, and an interception against Michigan. We know what he can do in the weight room, but he also brings that strength on the field. As s result, he's turned into a really good run stopper and a good pass rusher. Chenal was also added to Pro Football Network's First Team All Defense in the Big Ten.
Chenal also has the privilege to play next to Jack Sanborn, one of the best linebackers in the Big Ten and the country. Having that opportunity to play alongside a great linebacker has helped Chanel's progress. As a result, I expect him to have a break out season in 2021 and a force to reckoned with for Big Ten offensive linemen.
Nick Herbig
Nick Herbig made an immediate impact as a freshman. I knew the upside that he brought to the Badgers, but I didn't know it would be immediate. Herbig's stats from 2020 are not eye-popping, but every game you could see he was out there disrupting plays throughout the game.
As Herbig adjusts to the speed of the college game, I have no doubt those plays will turn into sacks and loss of yards. The sky is the limit for Nick Herbig. He should have a really good 2021 season. The outside linebacker group is deep and talented at Wisconsin and Herbig is a leader of that group.
[pickup_prop id="6216″]
Follow me on Twitter @DylanBuboltz! Check out our merch page as well. Use promo code WISCO at checkout for $1 off! To read more of our articles and keep up to date on the latest in Wisconsin sports, click here!