Following the end of Wisconsin's season, questions surfaced on what the Badgers would look like heading into next season. Between transfer portal additions and coaching changes, Wisconsin had some searching to do heading into spring. What would the defense look like? How would the offense adjust to new coaches? Would
With the completion of spring practices last week, we finally saw what the roster could look like. However this also has brought up more questions than actual answers. In this article, I give my questions on where the roster currently stands heading into summer recess and how things could develop heading into the fall.
What does the depth at the Safety Position Look Like?
With a big turnover from the defense a season ago, all eyes now turn to younger secondary group. Filled with talent, Coach Leonhard has expressed his excitement with group. Players such as sophomore Hunter Wohler, senior Travion Baylock, and senior John Torchio all found time a season ago. The troubling part for Leonhard is the depth currently at the position. With a recent injury with Baylock, the Badgers Defensive Coordinator has expressed concerns within the group.
"It's hard to take a young guy that doesn't necessarily have the experience at the collegiate level," he said. "You look at some young guys that maybe you recruited out of high school…It is hard to say they're going to come in and have an impact. You don't know.
Although concerning, Leonhard did express that Wisconsin could pull from a fuller Corner group to help as needed. With Wisconsin grabbing three corners this off season via the transfer portal, it could open up opportunities for others. In the end, the loss of Baylock is concerning. If the group does lose another player, they could be turning to a younger group that hasn't seen a ton of snaps.
Who Will be Wisconsin's Starting Wide Receivers?
A lot of excitement has come from the offense side of the ball. Even after the graduation of Wisconsin's top wide receivers from last year, this younger group is filled with talent. So who will be the starters for next year?
In short, could be anyone. The only current lock for the group would be junior Chimere Dike. The talented Dike has been one of the Badgers best offensive players in the last few seasons. Following Dike, Wisconsin has a pair of freshmen that saw time in Las Vegas for the bowl game. Redshirt freshmen Skyler Bell and Markus Allen showed exactly what they could bring within the group, both grabbing catches for over 15 yards.
After the bowl game, Wisconsin then hired Offensive Coordinator Bobby Engram. Shortly after the hire his son, Dean Engram, announced he would be changing to wide receiver. Engram, who signed with Wisconsin to play as a corner, played receiver in high school. Then the Badgers added former UCLA wide receiver Keontez Lewis from the transfer portal. Lewis played in all 11 games for the Bruins however did not record a reception throughout the season.
So who will be the starting receivers come training camp? If I had to guess who the true starters will be, I don't think Wisconsin has a clear picture just yet. The good news is this group is showing a lot of potential. Numerous players have been mentioned at taking strides, particularly redshirt freshman Skyler Bell. Even though there is concern, this concern is almost a good one to have. All five receivers will have numerous opportunities next year and I expect all five to have their moments on the big stage.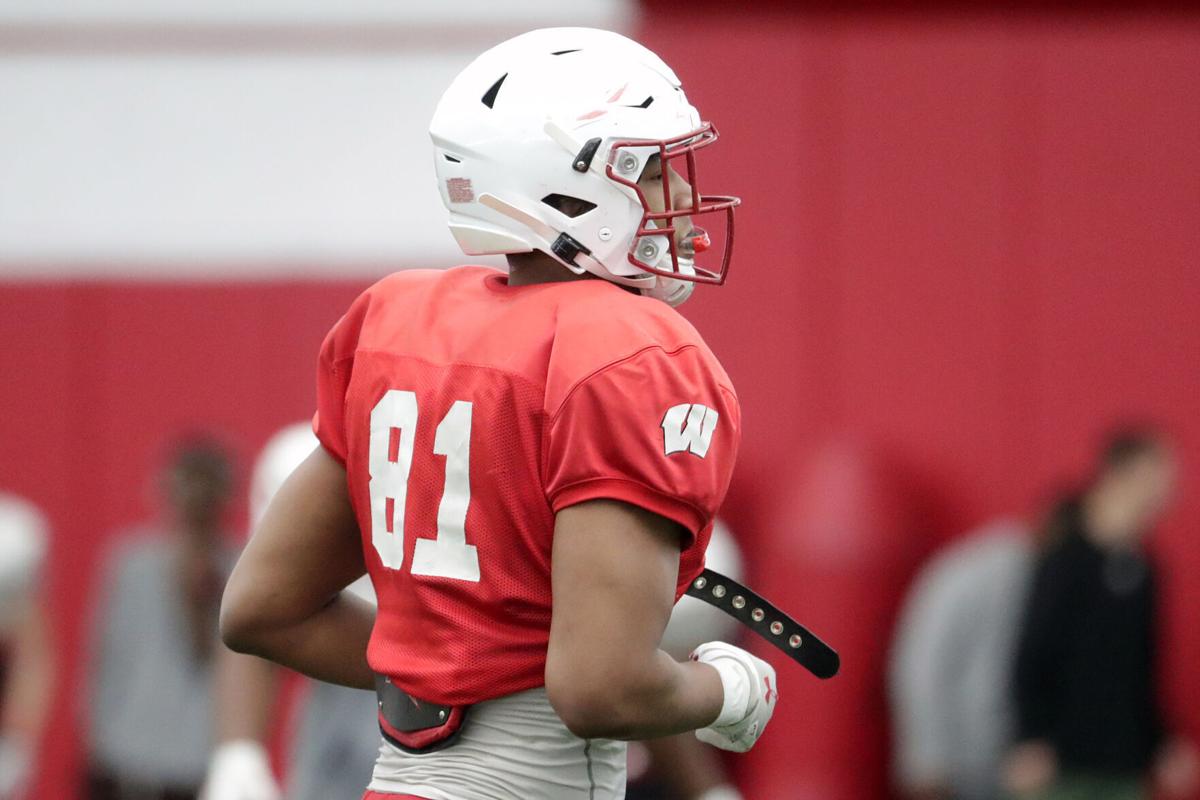 Who Will Replace Jake Ferguson at Tight End?
Of all the questions surrounding this team, this position group might be the biggest. Ferguson was by far Graham Mertz go to target, finishing the season with 46 catches for 450 yards and three touchdowns. He led the receiving group in catches, second in yards, and tied for first in touchdowns.
Unfortunately there might be no group thinner currently on the roster. With injuries to Clay Cundiff, Jake Eschenbach, and Cole Dakovich, the group was missing some depth during the spring. At one point sophomore fullback Riley Nowakowski filled in at the position when the position got so thin.
One position to watch when #Badgers open preseason camp has to be TE: Jaylan Franklin, Jack Pugh and Hayden Rucci are currently the only fully healthy guys at that position. How will guys like Cundiff, Eschenbach, Dakovich and others come back from injury?

— Jeff Potrykus (@jaypo1961) April 6, 2022
However no player took a bigger step than senior Jaylin Franklin. Franklin has battled his fair share of injuries in previous seasons but saw the majority of first team reps during practices. Tight Ends coach Chris Haering raved about his play during the spring and could be in line to start next fall. it won't be easy for the Badgers to replace such a player like Ferguson but will have players that could fill the role at the position.
Will We See a Jump From Graham Mertz?
Here we are again having the discussion about Graham Mertz. Many thought Mertz would take the jump a season ago but once again had a disappointing year. Finishing with just under 2,000 yards passing and nine passing touchdowns, it was a season filled with ups and downs.
Heading into spring practices, no one had the eyes on him more than the sophomore QB. However if there's one thing about him that stands out, he's always trying to do what he can to get better. To start, Mertz started looking into his nutrition, cutting his weight from a season ago at 227 down to 216. Along with the weight, Wisconsin looked into his mechanics. It was a drastic change but the Kansas native is standing taller in the pocket.
Confidence and Accountability have never been a problem for Graham Mertz. Despite needing to play better this year, he's a mature kid with a great head on his shoulders https://t.co/AuK1Os5u9k

— Dylan Buboltz (@DylanBuboltz) April 4, 2022
The biggest change from a year ago is the way he's owned everything. Mertz knows the struggles and not only wants to improve but be an example to his teammates. "Graham's totally different. That's one dude, I'm just waiting for him to shock the world" said Markus Allen after practice on April 15th.
Spring ball hasn't been perfect for Mertz. He's gotten off to slow starts or ended practices poorly but also has made big plays too. With the inconsistency from Deacon Hill and limitations with Chase Wolf, Badger fans better buckle up for year three. It hasn't been perfect but Mertz will have to prove that all the talk has changed the touted Badgers quarterback.
For More Great Wisconsin Sports Content
Follow me on Twitter at @bennyboy615 and follow us @WiSportsHeroics for more great content. To read more of our articles and keep up to date on the latest in Wisconsin sports, click here!