Green Bay's season has come to a close after a shocking and disappointing loss in the divisional round against the 49ers. A lot of questions remain on how the roster will look in 2022 with a group of big names potentially leaving the Packers, including Aaron Rodgers and Davante Adams. The team has 22 players who will be free agents next year, but will look towards bouncing back. For this first mock draft, I took a look at positions in need with Jordan Love as the starting quarterback for Green Bay next season. This mock draft was constructed using the Pro Football Focus Mock Draft Simulator, which you can find here.
Pick 28: Darian Kinnard, OT – Kentucky
The Packers haven't had a true playmaker at right tackle since they drafted Bryan Bulaga 23rd overall in 2010. Kinnard dominated defenders, only allowing seven sacks in his three seasons at Kentucky, and had a 98.9 pass blocking efficiency. At 6'5″ and 345lbs, Kinnard has a chance to be the starter for Green Bay as Dennis Kelly and Yosh Nijman will be free agents in 2022. Elgton Jenkins will be returning from a torn ACL he sustained back in November. However, improving the OL is critical for LaFleur's offensive scheme and to protect Love in his first full year as a starter.
Pick 60: Devonte Wyatt, DI – Georgia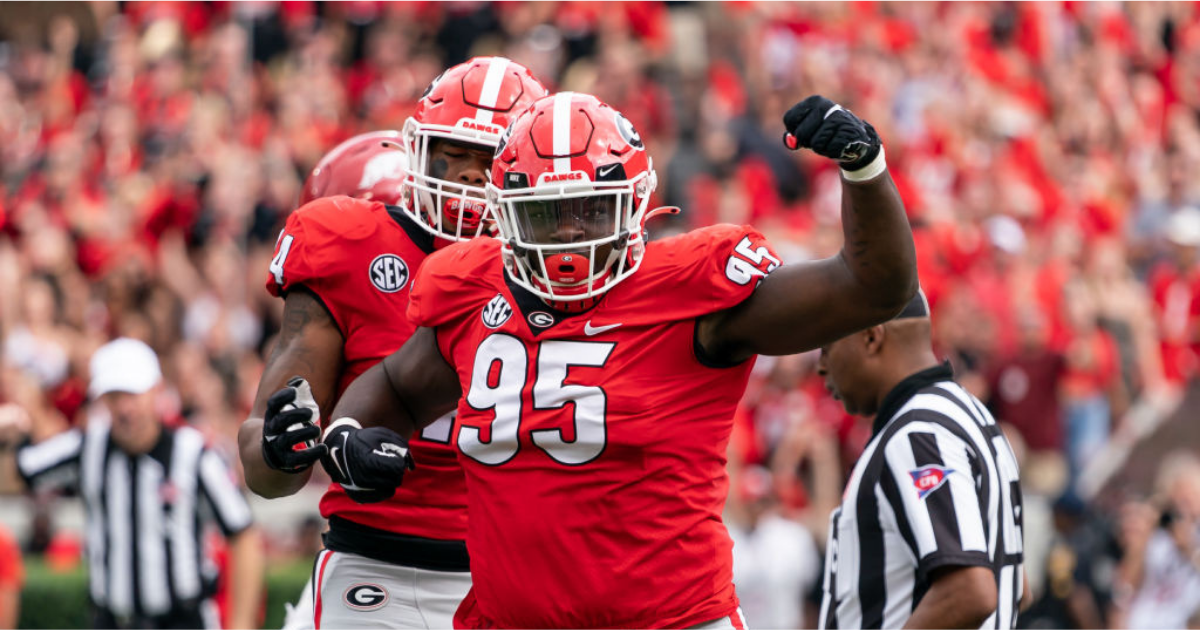 Wyatt was one of the most impactful players on Georgia's defensive line. He ended the 2021 season with 39 total tackles, which ranks as one of the highest among interior defensive linemen. In addition, Wyatt had 27 total quarterback pressures, seven tackles for loss yards, 2.5 sacks, two forced fumbles, and one recovery. At 6'3″ and 315lbs, Wyatt brings a mauler mentality with great vision for the ball and quarterback. His physicality and outstanding lateral speed allows him to dodge defenders and create space. Coming from a Georgia defense that allowed only 83 points all season, pairing Wyatt with Kenny Clark immediately boosts the Packers' defensive line. They recently released then re-signed Jack Heflin, and Tyler Lancaster is an unrestricted free agent. Wyatt, mixed with Rashan Gary and that pass rush, could be trouble for opposing offenses in 2022.
Pick 92: Jaivon Heiligh, WR – Coastal Carolina
Outside of Aaron Rodgers in 2005, and Jordan Love in 2020, Green Bay hasn't drafted an offensive weapon in the first round since Javon Walker in 2002. They'll get criticism for this pick considering Amari Rodgers was also a third round pick in 2021. Whether or not Amari's a bust, the Packers will have almost every wide receiver up for free agency in 2022. Heiligh (Hi-Lee) has an opportunity to walk in as a starter for the Packers. He could be a potential replacement for Davante Adams, as he lined up out wide in 68% of snaps. Heiligh caught 67% of his targets for 2,825 receiving yards and 20 touchdowns in his four year career at Coastal Carolina.
He has the talent and playmaking ability as a younger Keenan Allen. At 6'2″ and 200lbs, Heiligh is great at contested catches, has an extended route tree, and the ability to create space and gain yards after the catch. Just in 2021, Heiligh averaged 17.1 yards per reception. He's a big-bodied receiver that can throw a block in a spacing route and could fit well in this offense.
Pick 130: Hassan Haskins, RB – Michigan
Disclaimer: Haskins may not be here by the time of the actual draft. In addition, Green Bay doesn't seem to need help at running back. However, getting Haskins in the fourth round would be a tremendous steal. The Michigan running back ended the 2021 season with 1,327 rushing yards off of 270 rushing attempts and 20 touchdowns. He averaged 4.9 yards per carry, forced 53 missed tackles, and had 36 explosive runs of over 10 yards. Haskins has great vision, agility and second gear speed on breakout runs. With the ability to run inside and outside zones, Haskins can potentially be a first round pick come draft day.
As mentioned earlier, Haskins may not be available come April. Additionally, the Packers probably wouldn't draft a running back after re-signing Aaron Jones and having A.J. Dillon. Green Bay will have Kylin Hill coming back from a torn ACL as well. Still, if Aaron Rodgers does leave the franchise, providing Jordan Love with a weapon like Haskins is the right move by LaFleur. Aaron Jones will be 28 in December and Dillon is currently dealing with a fractured rib he sustained during the divisional round game against the 49ers.
Pick 138: Jake Ferguson, TE – Wisconsin
The Packers are focusing on offense in this draft, in preparation for if Jordan Love truly is the starting quarterback in 2022. In addition, both Robert Tonyan and Dominique Dafney will be restricted free agents. With Marcedes Lewis turning 39 years old and a becoming a free agent in 2023, Green Bay has some holes to fill at the tight end position. Ferguson averaged a 75.6 PFF (Pro Football Focus) grade in his four years at Wisconsin. He ended the 2021 season with 46 catches for 450 receiving yards and three touchdowns. Ferguson can play the role of a blocking tight end, and without hesitation run a seam route on the same play. With his talent, getting him here in the fourth round is a steal. Ahead of the Senior Bowl and NFL combine, he's going to climb up draft boards in the next couple months.
Pick 169: Mario Goodrich, CB – Clemson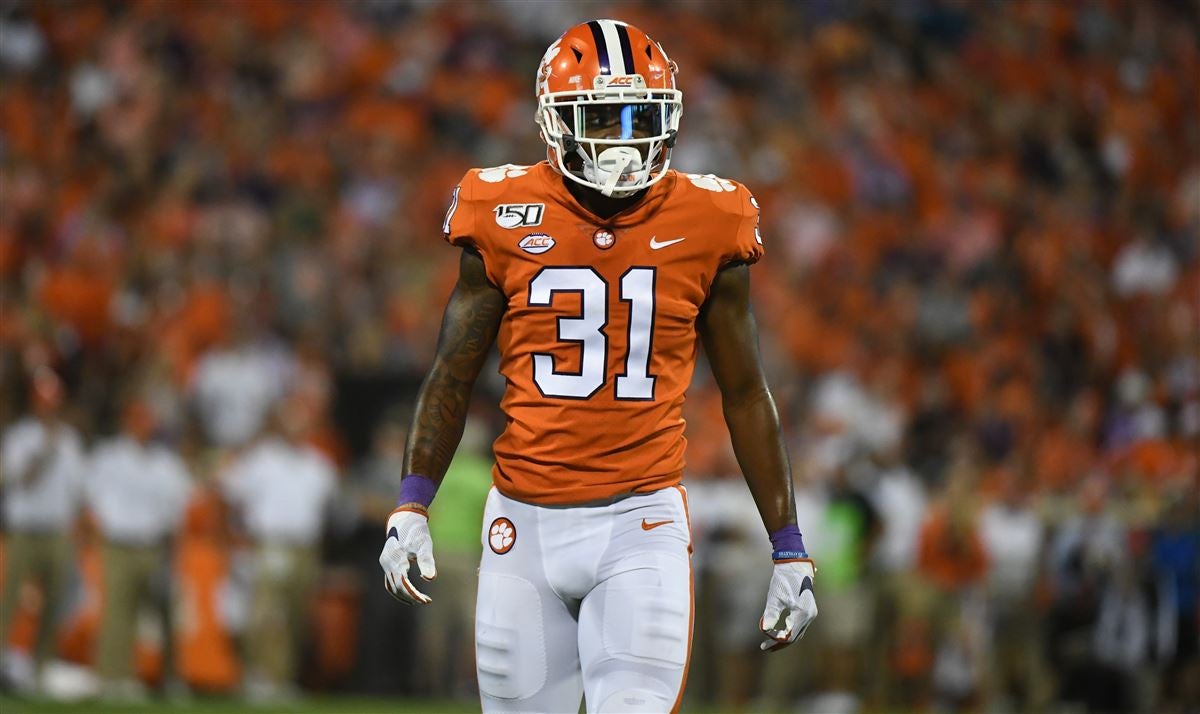 Goodrich will walk into an interesting situation, as the Clemson senior can earn a starting role on day one. Rasul Douglas, Kevin King, Chandon Sullivan, and Isaac Yiadom are all unrestricted free agents in 2022. If they extend Jaire Alexander (2023 UFA), he and Eric Stokes would lock the top two starting corner spots. Goodrich brings a dynamic aspect to the team with his run support and outstanding press coverage skills. His physicality, at 6'0″ and 190lbs, is impressive. He has tremendous speed and excellent tackling form.
In 12 games, Goodrich only allowed a 57.3 passer rating when targeted in 2021. He had seven pass breakups, 27 total tackles, and only allowed 210 yards on 21 receptions. He has the skills that could possibly make him a slot corner. Although, he only played five total snaps as slot corner in 2021. Andrew Booth Jr. is the better Clemson corner to draft, but Goodrich is being overlooked. He can be a late round steal for Green Bay.
The Green Bay Packers can look at this draft in a couple different ways, depending upon who is under center come April. With 22 free agents this offseason to re-sign or let go, it'll be interesting to see how the roster will look like in 2022. Will it be the Last Dance 2.0? Or will it be a new era with Jordan Love under center?
[pickup_prop id="9943″]
Want More Great Packers Content?
Follow me on Twitter at @PackerEddy_FF and follow us @WiSportsHeroics for more great content. To read more of our articles and keep up to date on the latest in Wisconsin sports, click here! Also, check out our merch store for some amazing WSH merchandise!