The Green Bay Packers suffered a heartbreaking defeat at the hands of the San Francisco 49ers in the Divisional Round. All season long, fans all around the NFL wondered if this was to the last year Aaron Rodgers would on a Packers uniform. Now, with the season ending in failure, the question is whether or not Rodgers will return to Green Bay. If he does, he almost certainly would need to sign an extension to free up cap room. That situation could spell the end of the Jordan Love experiment and have many other consequences. Of course, he could play the last year of his deal with his $46 million cap hit, but with the Packers facing salary cap hell in 2022, that does not appear likely. Here, we present three reasons Rodgers will return to Green Bay along with three why he would not.
Three Reasons Why Aaron Rodgers Will Return to the Packers
No Team Gives Aaron Rodgers a Better Chance at a Super Bowl
The Green Bay Packers, of course, could trade Aaron Rodgers should he request a trade. The most likely destination, if that were the case, would be the Denver Broncos. The Broncos have the draft capital and young pieces Green Bay would want in return. However, outside of them, few teams in need of a quarterback are anywhere close to contending for the playoffs, much less a Super Bowl.
The other contenders are the New York Jets, Pittsburgh Steelers, Houston Texans, and New York Giants. None of those teams is close to Super Bowl contention. If Rodgers decides he wants to play for a few more years, he is not going to want to play on a team building from the ground up.
In the NFC North, Aaron Rodgers reigns as the top quarterback in the division. The Packers, while facing some tough roster decisions, have a good roster and will be able to convince others to take pay cuts with Rodgers on board. With Rodgers and 80% of the team back, this Packers team is good enough to make the playoffs, and if a team makes the playoffs, there is always a chance.
Matt LaFleur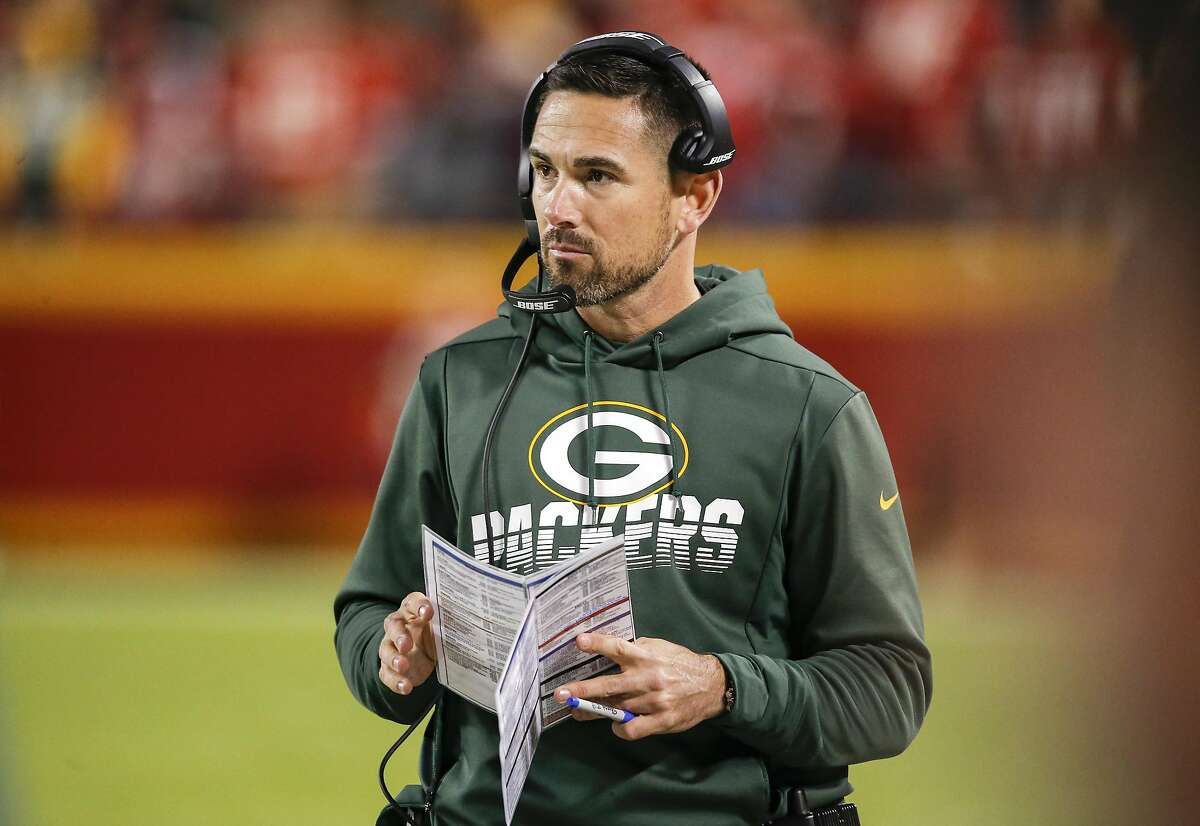 After the loss against the San Francisco 49ers, there were some Packers' fans calling for Matt LaFleur to be fired. This is, of course, nonsense. Not only has LaFleur won more games in his first three seasons than any other coach in NFL history, but he helped resurrect Aaron Rodgers' career. Many people forget that when the Packers drafted Jordan Love, it was because Rodgers appeared to be on the decline. Now, perhaps the drafting of his heir lit a fire under him to improve his play. Perhaps it was his buying into LaFleur's system. Likely, it was a combination of both.
Regardless, Aaron Rodgers and Matt LaFleur have an amazing relationship. It certainly is not one he is going to find elsewhere. In addition, LaFleur gives Rodgers the freedom to run the offense the way he wants to. It could be argued that this is a fatal flaw that cost the Packers numerous games, particularly in the playoffs. However, the fact is that Rodgers has more freedom (and familiarity in this offense) than he would in any other.
Aaron Rodgers Has Built Relationships in Green Bay
The Green Bay Packers front office has made it clear that they want to include Aaron Rodgers more in their decision making. This, too, is a factor that no other team will offer him. As a result of this relationship, the Packers traded for Randall Cobb, one of Rodgers' closest friends. In addition to Cobb, Rodgers has David Bakhtiari. Their fun-loving friendship is well-known throughout the sports world. From Rodgers riding in the back of Bakhitari's truck with a case of beer, to Bakhtiari gifting Rodgers a golf cart with the license plate "I Luv 69," the two have an amazing friendship.
Not only does Rodgers have these two close friends, but he has also become close with the other quarterbacks, Jordan Love and Kurt Benkert. All season long, Benkert especially has defended Rodgers on social media.
No doubt, this team will look a lot different next year. However, should Rodgers decide to come back, the Packers will ensure that he is surrounded by guys he wants to play with.
Three Reasons Aaron Rodgers Will Not Return to the Packers
Aaron Rodgers Does Not Want to Be Part of a Rebuild
There is no question: the Green Bay Packers' roster is going to look very different next season. The Packers pushed over $50 million from the 2021 salary cap to 2022 and now have to make some tough decisions. If the team is going to be torn down and rebuilt, Rodgers wants no part of it.
For the same reasons that Aaron Rodgers would not request a trade to a rebuilding team, he also may decide to not stay in Green Bay. Put simply, if he is going to keep playing, he wants to compete for a Super Bowl. The Packers could very well decide that 2022 is a rebuilding year in which they restock in the draft and start over, in a sense. Aaron Rodgers has been through that before (2008) in his first year as a starter. He simply will not do it again.
The Front Office May Not Tell Aaron Rodgers What He Wants to Hear
This may go hand-in-hand with the above point, however, it is important to note that Aaron Rodgers will be having some conversations with the front office in the near future.
There are some important things to unpack in this statement from Aaron Rodgers. First, unlike last offseason, Aaron Rodgers will inform the Packers of his decision ahead of free agency. In other words, the organization will be able to plan on having Aaron Rodgers or not having Aaron Rodgers. Of course, the plan for the NFL Draft and free agency will be drastically different depending on the playing status of their starting quarterback for the last 14 years.
What could the front office possibly tell him that he wouldn't like? Likely that the team will not be able to afford Davante Adams next season. Due to the massive cap movement in this past offseason, even franchise tagging Adams would be near impossible for the Packers to afford while still fielding a competitive team. Randall Cobb, Rodgers' close friend, may end up being a cap casualty. Like Rodgers himself said last night, "This thing is definitely going to look different moving forward in Green Bay."
The Packers spent a lot of money on Aaron Rodgers and went all in on the weapons that he wanted. If the front office decides to take a little bit more control back out of Rodgers' hands, it could mean he requests a trade.
Aaron Rodgers May Just Want to Retire
Can Aaron Rodgers still physically perform at a high level? Yes. Does he still give the Green Bay Packers the best chance to win next season? Yes. Could he potentially lead a different team to the playoffs and the Super Bowl? Also yes. However, does he even want to?
The loss to the San Francisco 49ers is currently fresh and raw for Rodgers and the rest of the team. No rash decision is going to be made, but it is possible that he decides that he just does not want to play football anymore. Rodgers said as much a few weeks ago when asked about the possibility that he retires after this season. "That is certainly on the table," Rodgers said at the time.
Final Thoughts
The fact of the matter is that at this point, no one knows what Aaron Rodgers is going to do. That includes Aaron Rodgers. He definitely has a great many things to weigh.
Whether or not this is the end for Aaron Rodgers in Green Bay, no one can deny that he has provided Packers' fans with many amazing memories. Sure, the losses sting; but they also stung with Brett Favre. They will sting with Jordan Love, or whoever takes over when Rodgers does call it quits. Losing, to be blunt, sucks. It does not, however, take away the good memories.
For More Great Wisconsin Sports Content
Follow me on Twitter at @theotherAdams14 and follow us @WiSportsHeroics for more great content. To read more of our articles and keep up to date on the latest in Wisconsin sports, click here!