Following their hard fought loss to Providence, the Badgers head to Vegas to change their luck at the Maui Invitational. Typically played in Maui, it was announced the tournament would be held in Las Vegas due to Hawaii's Covid-19 protocols. Wisconsin will be the first game of the tournament, facing off against the Texas A&M Aggies. Tipoff for the game is set for 1pm CT on ESPN2.
The Aggies (4-0,0-0) are led by sophomore forward Henry Coleman, averaging 12.5 points per game. Along with Coleman, Texam A&M has three others averaging double digits in scoring. Led by former Marquette University coach Buzz Williams, the Aggies look to keep their winning ways and push for a tournament championship.
Wisconsin (2-1,0-0) looks to put last weeks loss behind them. The Badgers are led by senior Brad Davison averaging 16 points per game. Sophomore guard Johnny Davis follows close behind with 15 while sophomore forward Steven Crowl averages 11 per game. After a late Providence run in the first half, the Badgers were unable to comeback, falling 63-58. Shortly before the game, it was announced Davis would be out with a heel injury. Without Davis, Wisconsin had struggles scoring, especially from their younger players. Hopefully the Badgers have learned and come ready to make a push in tournament play.
Similar, Yet Different
The first matchup of the tournament is an interesting one. Although different in some aspects, there's a few key parts of each team that resemble each other. Both teams aren't strong scoring teams. Wisconsin currently averages 70.3 points per game, which ranks 239th in the nation. Texas A&M averages 76 points per game, which is 141st in the nation. Along with lesser scoring, both teams limit teams defensively. The Badgers allow just 51.7 points per game to their opponents while the Aggies allow 57.5.
Although both teams have similar styles, a few stats do separate the two teams. First, the Aggies average 17 assists per game which currently ranks 40th in the nation. To reference, the Badgers currently average 8.7 which is one the lowest marks nationally. Even though Wisconsin struggles with assists, they make up for it with rebounding. The Badgers average 44.3 rebounds per game which is 27th in the nation. The Aggies average 38.5 rebounds per game.
Even though it's early in the season, it's clear how both teams like to operate (at least on offense). Texas A&M plays unselfishly and will look to find the open man more often than not. Wisconsin typically plays with more isolation and find the right shot as it comes. Although Wisconsin's struggles against Providence affected their stats, it's still clear enough to see where each team stands.
Learn and Move Forward
Following their defeat last Monday, Wisconsin not only left the game with their first loss but left with many questions. With strong showings from Brad Davison and junior forward Tyler Wahl, the Badgers simply needed more. Preferable from their younger players. Sophomores Ben Carlson, Steven Crowl, and freshman Chucky Hepburn finished 4-25 from the field and 0-10 from three point range.
Without Wisconsin's top scorer heading into the game, it was likely the Badgers would struggle on offense. However with the talent within the bunch, a poor night from all certainly didn't help. If the Badgers are going to move forward as a team, they can't rely solely on their experienced scorers and Davis. It's early. Wisconsin can work through the offensive wows and the young core will only get better.
Defense will Carry Wisconsin this Season
With 8:37 left in the first half, the Badgers were stick in a pickle. Graduate transfer Chris Vogt picked up his third foul and left coach Gard with a tough decision. A minute and a half prior, Crowl picked up his second and already rolled the dice with Vogt. From that point on, the game completely changed. Wisconsin was forced to go with a smaller lineup and Providence would go on to end the half with a 19-5 run.
Along with the challenges on defense, it completely destroyed the flow on offense. "I think the thing that hurt us more than anything was the foul trouble between Steven and Chris, because that threw the rotation a little off even more so," said Gard. Even though Crowl would come on back to finish the game, it wasn't enough to fix the issues on the offensive end.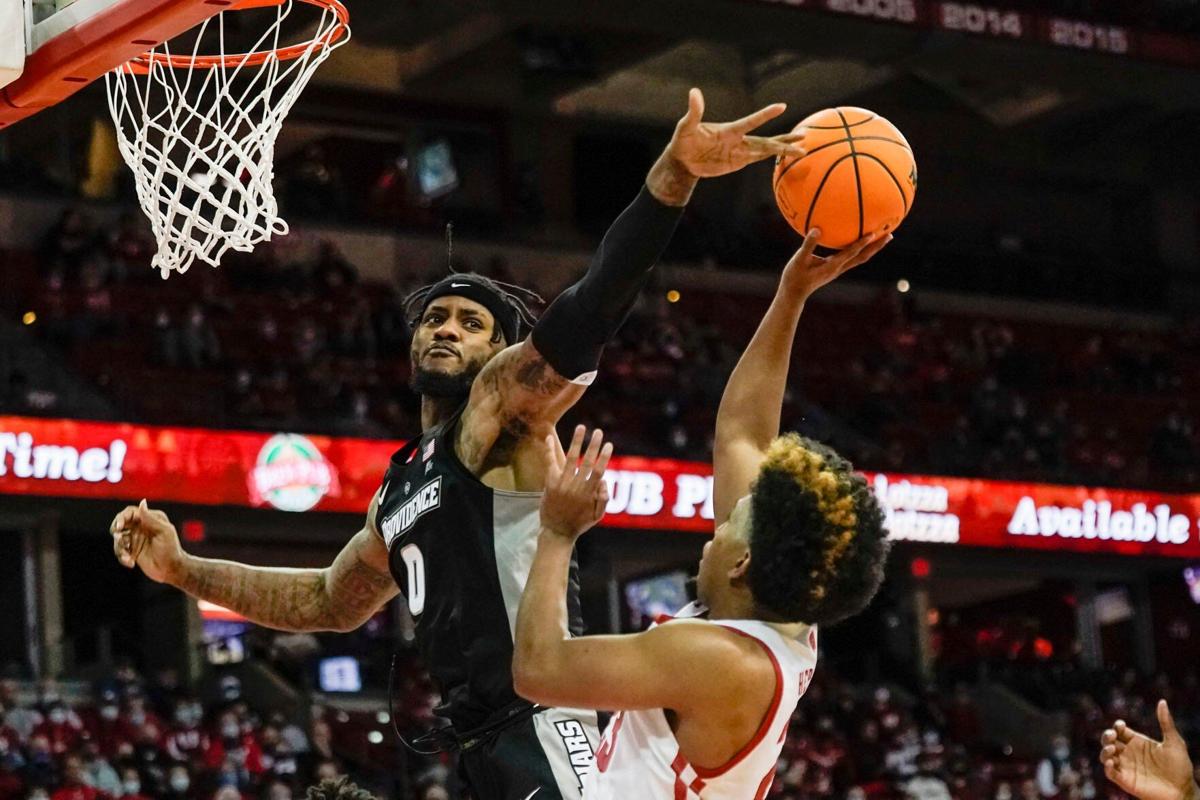 It's cliché but for Wisconsin, defense is what powers this offense. Many times throughout the game when the Badgers were able to make a stop, the offense would flow better and find a good shot. It may not have fallen Monday night but it shows that their defense carries this team. If Wisconsin is going to play against better teams, their defense has to be what gets them the victory. Yes they'll need players to make shots but missed shots and turnovers will be the difference. With a slower paced offense like Texas A&M, it may be a chance to show what their defense really can do.
Prediction
The Maui Invite is usually a tournament filled with many talented teams. This year is no different. With teams like Houston, Butler, Oregon and others, no match up is an easy one. The same applies with A&M.
With the Aggies ability to share the basketball, this will pose a big threat defensively. Texas A&M has multiple players that can give them a lift on offense. It's not as easy as limiting one player. For the Badgers, defense is going to need to be a team effort from start to finish.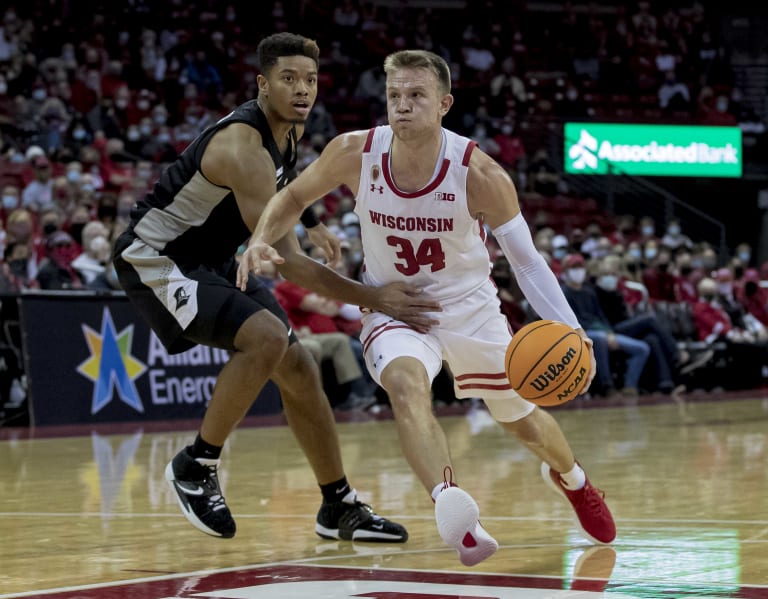 Along with the defense, a strong showing on offense would go a long way. Having Davis in the lineup will certainly help but there needs to be more. Look for players like Steven Crowl and Chucky Hepburn to bounce back. Although I still believe Ben Carlson will be a factor on offense, the lack of games under his belt is still holding him back. One part of offense that Wisconsin showed in the first two games was fast break scoring. This was something the Badgers aren't known for but it certainly creates a lift. If they can stretch the floor even just a little bit against the Aggies, it can only help.
So how will this one play out? My hope is Wisconsin can finds ways to be effective on offense like they were earlier in the season. Three point shooting has been a problem, especially against Providence. With having a player like Johnny Davis back, this will allow the Badgers to have that individual scoring ability it was missing. However, I still think this is a tournament Wisconsin will learn from. I think it will be close but I'll take the Badgers closing out a tough matchup.
Final Score: Wisconsin 66, Texas A&M 62
For More Great Wisconsin Sports Content
Follow me on Twitter at @bennyboy615 and follow us @WiSportsHeroics for more great content. To read more of our articles and keep up to date on the latest in Wisconsin sports, click here!