The Wisconsin Badgers were unable to shake off a poor first half falling to Providence 63-58 at the Kohl Center. Wisconsin (2-1, 0-0) was led by senior Brad Davison with 25 points along with a solid 16 point performance from junior Tyler Wahl. The Badgers shot 32.8% from the field and 5-27 from three point range. At times it was just shots just not falling. Numerous players had open looks for deep but were unable to capitalize. Along with a poor offensive first half, it just wasn't enough to sneak a win against a physical Providence team.
Struggling early, the Friars (3-0,0-0) found their stride late in the first half. Providence went on a 22-5 run to end the half and never looked back. Although Wisconsin got within four points of the lead, the experienced group from Providence got it done. Leading the Friars was senior Nate Watson with 24 points, 14 of which came in the first half. However when the Friars needed a basket, senior transfer Al Durham stepped in a big way. The former Indiana point guard finished the game with 13 points, 10 of which came in the second half.
Scoring Slumps Continue from Season Ago
Last scoring droughts were a huge factor in Wisconsin's play a season ago. Against Providence, that trend unfortunately came back. After a late scratch, the Badgers were down one starter for tonight's match up. Sophomore Johnny Davis was out with a bruised heel. Although precautionary, Davis was leading the team averaging 15 points per game. So who was going to step for the team?
Unfortunately solid performances from Wahl and Davison couldn't carry the team. With just 17 total points from the rest of the team, the young squad struggled to contribute offensively. Starters Ben Carlson, Chucky Hepburn, and Steven Crowl went 4-25 from the field and 0-10 from three point range. Although talented, it was a poor night for the young bunch.
Although their first true test of the season, Wisconsin can't afford to have another production night like this. Injuries happen and it's clear Davis would've played a big part in offense tonight. Until then, we're left wondering who's the next man up in this offense.
Wisconsin Can't Afford to be in Foul Trouble
After picking up his 3rd foul in the first half, Chris Vogt left just under eight minutes left in the first half. From there, the game completely changed. With both Vogt and Crowl on the bench, Wisconsin went to a smaller lineup and paid the price. Providence would end the half on a 19-5 run and an eleven point lead.
I'm not saying the Badgers can't play with a smaller lineup but they needed some force down low. Nate Watson was an absolute bully and really challenged Wisconsin in the paint. With teams like Purdue, Indiana, and Illinois, having a big man defensively is crucial.
Crowl would go on to finish the game while Vogt sat on the bench the rest of the night. Even though Crowl was much better in the second half, their first half foul trouble cost the Badgers mightily. It's just three games into the season but it's worth keeping an eye for the remainder of the year.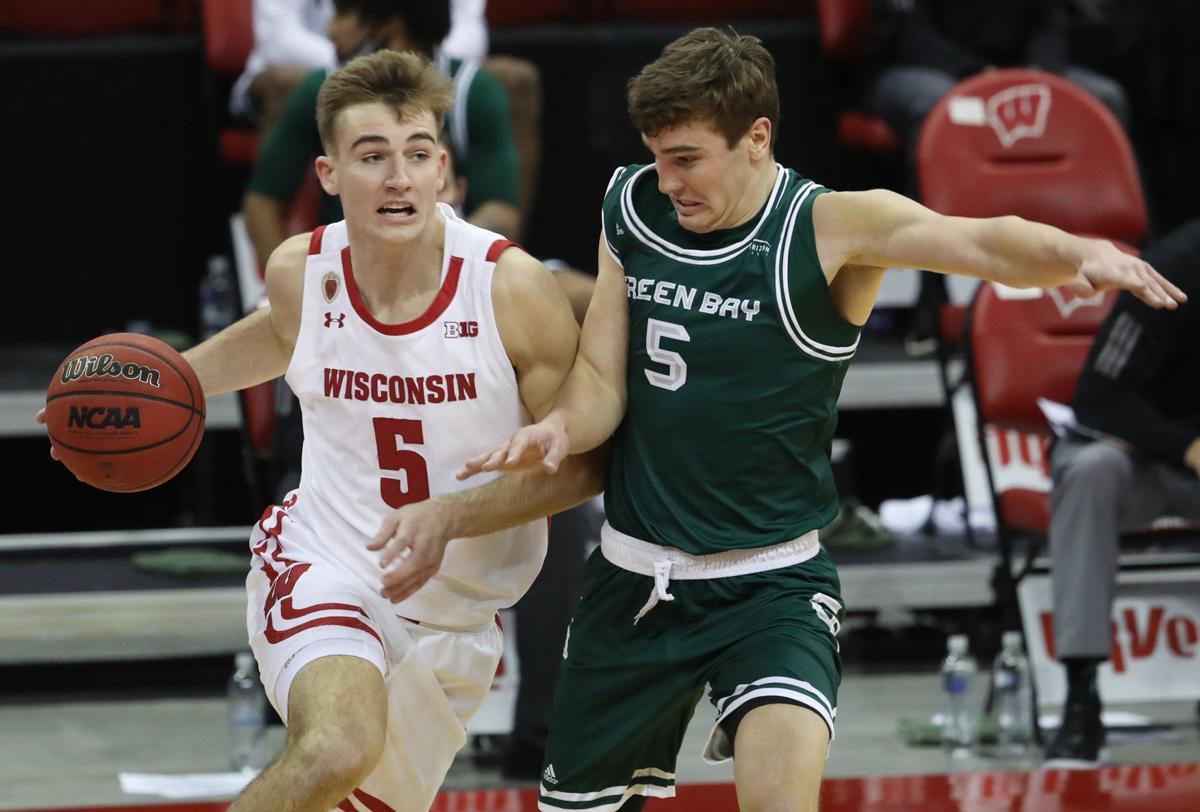 Still a Long Season Ahead
There's a lot to be frustrated about with this loss for Wisconsin. You shot poorly on offense, struggled defensively in key stretches and no likes losing at home. With a team who's average age was three years younger than their opponent, the Badgers inexperience caught up to them tonight.
However, there's a few things they can take from a loss tonight. One, they finally got their first dose of a true test. Even though not the strongest team, an experienced group like Providence will give many teams trouble this season. Two, Johnny Davis will be back and change how the offense looks. Davis ability to attack the rim and create open looks was something the Badgers desperately needed tonight. Fortunately his injury came early in the season and not when they really need him late in the year. Lastly, Wisconsin had numerous open looks tonight. At some point, those looks will fall.
"For all these guys, other than Brad and Tyler, this is the first real taste of this, of one of these types  of games. There are going to be many more of them" said coach Greg Gard.
With a roster full of young players, games like this unfortunately going to happen. Until one or two of these young players can emerge, it's going to be a difficult test throughout the year. The good news is it will only make this team better and hopefully when the season matters the most late in March.
For More Great Wisconsin Sports Content
Follow me on Twitter at @bennyboy615 and follow us @WiSportsHeroics for more great content. To read more of our articles and keep up to date on the latest in Wisconsin sports, click here!