After a strong defensive performance, the Badgers face off against newly ranked Purdue in West Lafayette. Wisconsin defeated Army 20-14 last Saturday and saw another strong performance from the defense.
All week defensive coordinator Jim Leonhard talked about wanting to see a turnover leading to a score. He finally got his wish when junior linebacker Leo Chanel came and forced the ball out on a sack. The offense would then punch it into the end-zone following the turnover. He would finish the night with 17 total tackles, 2.5 for a loss, and Wisconsin's lone sack.
Against an unfamiliar opponent like Army, these close victories help keep momentum going. However, no team has more momentum than the 25th ranked Boilermakers.
Purdue defeated second ranked Iowa last Saturday 24-7. Plain and simple, the Boilermakers dominated the game from start to finish. Their defense forced 4 interceptions against Iowa starting QB Spencer Petras, including being sacked four times.
Along with the defenses stellar performance, the offense was that much better. Purdue senior Aiden O'Connell had himself a game he'll never forget. He would finish going 30-40 for 375 yards in the air and two touchdowns.
In the end, Wisconsin is going to have their handful. With a stellar defense and solid passing game, the Badgers will need to play a complete game. Here are my keys for the game.
Contain Purdue's Top Playmakers
Although Wisconsin has done a good job as of late limiting big plays, they now go up against one of the top playmakers in college football Saturday. Junior wide receiver David Bell is an incredible talent. The Indianapolis native has over 670 yards receiving in five games, including four touchdowns.
Even though the secondary for Wisconsin is playing better, this will be one of their biggest tests all season. With elite speed and size, Bell is going to really challenge our secondary all game long. Not to mention O'Connell is playing at a high level at the quarterback position. If the Badgers defense can find ways to limit Bell's ability and keep him in front of our corners downfield, Wisconsin could lower his play on Saturday.
Along with Bell, Purdue has a monster on the defense as well. Senior defensive end George Karlaftis is one of the best defensive players in the Big Ten. Although his stats don't really show in the stat book, he impacts the game more than you think. Whether it be a forced fumble, sack, or pressure, Karlaftis finds a way to lead the defense to victory.
[pickup_prop id="13616″]
"You turn on their tape and you see teams scheming him," said Wisconsin defensive coordinator Jim Leonhard. "You see teams that don't do that against anyone else and they're chipping him or they're running away from him. When you see guys that earn that type of respect, you know the type of players they are.
If the Badgers are going to win, limiting production from their stars would call a long way. However, with their elite abilities, it's easier said then done.
Find a way to Pressure the Quarterback
Like mentioned earlier, Jim Leonhard has been preaching getting after the quarterback and causing turnovers. Against Purdue, this is something they must do. As the 10th ranked team in total passing yards per game, their offensive line has done a great job protecting their quarterback.
Although Wisconsin's defense has limited teams in points and yards, the Badgers still struggle to get after the quarterback. On the year, Wisconsin has 12 total sacks which is in the bottom half in the nation. The Badgers strongest performance came last week against Army with four. Along with sacks, the defense continues to force turnovers as well with just four total this year.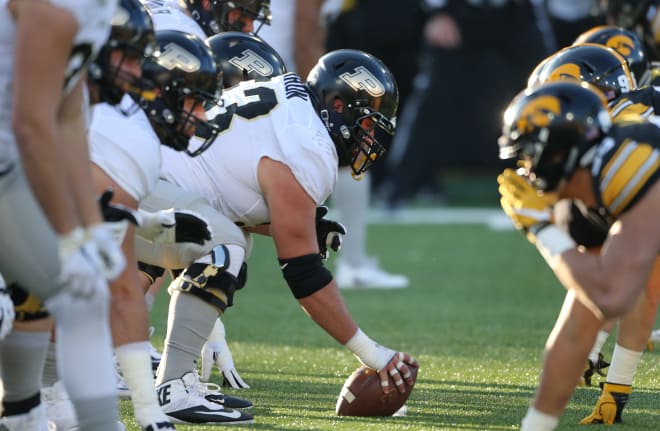 With Purdue allowing just 15 total sacks this season, Wisconsin must find ways to create pressure on the quarterback. By doing so it could force O'Connell into a difficult or bad throw where the defense can take advantage.
Win Time of Possession Battle
For a team like Wisconsin to win in West Lafayette, winning the time of possession battle is crucial. Although the Badger's offense has been less than stellar, there's a few ways in which they can win this important possession battle.
First, they need to get the run game going early. Easier said then done with Purdue's front seven. However, Wisconsin's offense runs solely on how the run game produces. If it works, Chryst won't turn away from it. He knows that when the run game is at its best, it's what carries the offense. With the emergence of freshman running back Braelon Allen, he seems to be the perfect compliment to junior Chez Mellusi. If the dynamic duo can carry continue the success, it would allow Wisconsin to keep possession much further.
Second, creating stops on defense. When Wisconsin looks it's best, the defense comes up with the big stop and pinning teams deep in their own territory. The Badgers do have lapses throughout the game but as a whole they've been one of the best in college football. The issue: they haven't faced a passing offense like Purdue. If they can manage to limit Purdue in the air, it would lead to less time with the ball and possessions.
Lastly, it all comes down to Mertz. As of late, he's been productive enough to win us games. He's completed some good throws and has been able to find rhythm at times passing the football. However, one stat that continues to stand out is 3rd down conversion. Going 3-10 against Army, it's no wonder why the Badgers only put up 20 points. If Mertz is able to covert more third downs, this will obviously lead to more time with the ball and possessions.
Those kinds of throws are concerning.

You have great protection. Time to survey field. Not only is Mertz inaccurate, but he's throwing into double coverage.#Badgers

— Evan Flood (@Evan_Flood) October 17, 2021
Conclusion
Fans, get ready for another grinder of a game. Although Wisconsin hasn't lost to Purdue since 2003, it's not the teams of old. With a strong defense and passing game, the Badgers will have a challenging time coming out of West Lafayette with a victory. However, if they can stick to what works, running the football and creating pressure on defense, it can be anyone's game to win.
With Purdue's victory against Iowa last week, the Big Ten West title is currently wide open. If Wisconsin can continue to stack victories, they would control their own fate moving forward. After a slow start, a Big Ten West title could go a long way this season.
Follow me on Twitter @bennyboy615 and follow us @WiSportsHeroics! For all your Wisconsin sports content, check out our homepage here!