Kickoff is this coming Saturday for the Wisconsin Badgers! A few of our Badger staff at WSH looked at each game on the schedule and offered their insight and predictions.
Penn State
The Badgers begin the 2021 campaign against a tough Penn State team. Most look at Penn State as the second best team in the Big Ten East, behind Ohio State. Penn State is a top 20 team and they are looking for an upset on the road.
While Penn State began the season 0-5 in 2020, they won their final 4 games and bring back a ton of experience. Sean Clifford is a 3rd year starter and can make the necessary throws. The Nittany Lions have to replace starters on defense, but their offense can will the Badgers all they can handle. At the end of the day, in a packed Camp Randall crowd, I think the Badgers start the season with a thrilling game.
Badgers- 27 Penn State- 24- Dylan Buboltz
Eastern Michigan
The week following their season opener against Penn State, the Badgers will face a considerably weaker opponent when they take on the Eastern Michigan Eagles for the first time since 1996. Eastern Michigan looks to rebound this season after going 2-6 in 2020. Doing so against Wisconsin will not be an easy task for the Eagles. In the past, the Badgers have thoroughly dominated their early season matchups against mid-major schools. This year should be no different. The Badgers and Eagles have faced off only three times, with Wisconsin winning all matchups by a combined score of 101-9.
I expect both the offense and defense to have field days at Camp Randall. Anything less would be concerning.
Prediction: 42-3 Badgers- Mara Allen
Notre Dame
Even though I believe Wisconsin has the tools needed to win this game, it may be their toughest game of the season. The Badgers are 1-4 in the last ten years in neutral site games, not including bowl games. With Jack Coan named the starting quarterback for Notre Dame, they know exactly the type of quarterback they're going against. If Wisconsin is going to win this game, the offense will need to be the ones to get it done.
If Mertz is able to get after an experienced defense like the Fighting Irish, the Badgers could leave Soldier Field with a victory. Although I trust the defense more, their job isn't an easy one. Containing running back Kyren Williams will be a priority for Wisconsin if they want to win this game. In the end, I am going to go with Irish for this one in a fight to the very end.
Final Score: Notre Dame 27, Wisconsin 24- Ben Spiering
Michigan
On October 2nd the Michigan Wolverines head to Madison to take on the Badgers, in what will be Jim Harbaugh's seventh year at his alma mater. Michigan had a rough 2020 going just 2-4 and their defense gave up 34.5 points per game. There was some shake-up in the QB room as Joe Milton (Tennessee) and Dylan McCaffrey (Northern Colorado) both transferred out and Texas Tech QB Alan Bowman transferred in. UW has had Michigan's number of late winning five of the best seven matchups' including a 49-11 victory last year in the big house.
With Michigan breaking in a new d-coordinator and a new QB I expect UW's dominance over the wolverines to continue Wisconsin wins 34-17. –J.J. Schmitz
Illinois
Ah, the Bret Bielema game. Just 3,231 days after Bielema left Wisconsin for Arkansas, Bret Bielema and the Badgers will share the field once again, this time at Memorial Stadium in Champaign. In his five matchups with Illinois as Wisconsin's head coach, Bielema was 4-1 with the four wins coming by an average of 11 points. This one shouldn't be that close.
The Illini allowed over 40 points on four occasions last year, including a 45-7 defeat at Camp Randall on Oct. 23. Illinois should be better in 2021, and having fans in the building should help the Illini cause against Wisconsin a little bit, but Wisconsin has no business losing this game.
The verdict: Wisconsin 38, Illinois 21- Jacob Swanson
Army
Army is an intriguing matchup, given it's the first time Wisconsin will face the Black Knights in its history combined with the fact that the triple-option attack is not an offense seen often in today's high-flying world of college football. It will be Bucky's sixth game of the season, and barring injuries, the offensive line should have the ability to handle their undersized counterparts and control the game.
Can Wisconsin put the ball consistently in the end zone? That's another question as Army gave up only 14.8 PPG last year, No. 2 in FBS. And while Wisconsin's defense will likely give up a few long runs on blown assignments, it will also yield plenty of three and outs and turnovers (an emphasis for Jim Leonhard this fall) resulting in prime starting field position for the Badger offense.
Expect a low scoring first half with the final score not being indicative of the fight put up by Army.
FINAL SCORE: Wisconsin 31, Army 14. – Joel Schuchmann
Purdue
After an opening day victory over Iowa, it seemed like Purdue could have a good year even in a shortened season. Purdue ended up finishing just 2-4 on the year. There is some good news as Purdue returns nine starters on offense and defense. Including their starting QB, top two RB's, and top three WR's. The Boilermakers have not had good luck going against the Badgers. As Wisconsin has won 14 straight against Purdue, the longest streak by either team in the series. Last year these two teams did not play because of COVID, but in 2019 UW beat Purdue 45-24 and out-rushed them 403 to 50!
Wisconsin has had no issues beating Purdue and I expect that to continue this year, UW wins 38-13.- J.J Schmitz
Iowa
The Badgers will face the Hawkeyes at Camp Randall in their annual homecoming game on October 30th. By the time this point in the season comes around, I expect this game to be especially important for Wisconsin in their quest for a Big Ten West title. Many have picked Wisconsin and Iowa to finish 1-2 in the Big Ten West standings. The Badgers have gone a solid 7-3 in their last 10 games against the Hawkeyes, but dropped their most recent matchup last season in Iowa City.
Iowa returns seven talented starters on both sides of the ball and received its highest preseason ranking since 2016. Though I believe this matchup will be a battle, I think the Badgers will come out ready to avenge last year's disappointing loss, especially with the extra hype that homecoming will provide.
Prediction: 24-21 Wisconsin- Mara Allen
Rutgers
Rutgers has been one of the worst teams in the FBS over the last decade. They have struggled to find any sort of consistency and their record shows it. It's never easy to play in the Big Ten East, but Rutgers hasn't made much improvement.
However, the Badgers can't take this game lightly. The Scarlet Knights have Greg Schiano in his second year and he has made some impressive improvements already. He is the last coach Rutgers has had success under and the players will play hard for him. Former Badger Aron Cruickshank is an All-America return specialist and you know he will want revenge on his former team.
Rutgers will play hard and play tough. If the Badgers survive an early punch, they should come out of this game relatively easy.
Badgers- 31 Rutgers- 17- Dylan Buboltz
Northwestern
Northwestern is a team that always gives Wisconsin fits, and that isn't likely to be any different in 2021. They went 7-2 last year en route to a Big Ten Championship Game appearance under head coach Pat Fitzgerald. The Wildcat defense gave Wisconsin quarterback Graham Mertz fits last year, forcing three interceptions and a 23-for-41, one-touchdown stat line.
Mertz should take a step forward this year, but don't expect Wisconsin to magically drop 40 points against this Northwestern defense, even with a new defensive coordinator in place for the first time in over a decade. This one is going to be low scoring, but Wisconsin should be the better team at Camp Randall on Nov. 13.
The verdict: Wisconsin 20, Northwestern 13- Jacob Swanson
Nebraska
Of all the teams in the Big Ten, Nebraska has had the hardest time getting over the hump against Wisconsin. The Cornhuskers are 1-8 all-time against the Badgers with the lone victory coming back in 2012. After a disappointing loss to Illinois to start their season, the Cornhuskers have no easy task the rest of the way.
With games against Oklahoma, Michigan, Ohio State, Iowa, Wisconsin, and at Minnesota, it will be challenging for Nebraska to find victories this season. Wisconsin know they cannot afford to let up this late in the season. With it being Senior Day in Madison, I expect the Badgers to come out victorious and gearing up for a showdown with Minnesota to end the year.
Final Score: Wisconsin 35, Nebraska 24- Ben Spiering
Minnesota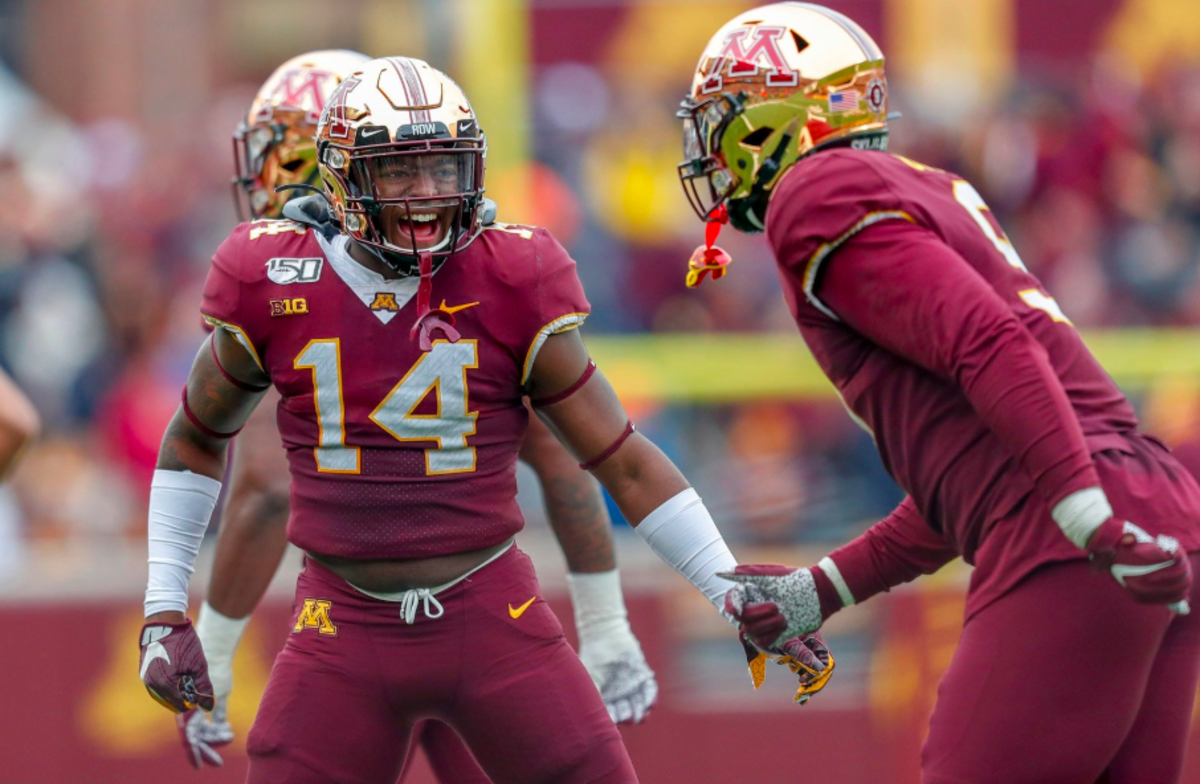 The crystal ball gets extremely fuzzy when predicting the outcome of the final regular-season game against your arch-rival on the road. One thing is certain: P.J. Fleck will be talking before, during and after the contest. The plan here is simple, Wisconsin will need to control record-setting running back Mohamed Ibrahim and the Gopher ground game. That's a tall order. We've seen quarterback Tanner Morgan perform with talented wide-outs, but Rashod Bateman and Tyler Johnson from the 2019 squad are now playing their trade in the NFL.
If Wisconsin can jump out to an early lead and effectively take Ibrahim out of the game, the game tilts heavily in the Badgers' favor. Defensively, there is only one direction for Minnesota after giving up 30.14 PPG last year – up. They have several key additions, including Clemson transfer Nyles Pinckney who played 55 games for the Tigers at defensive tackle during his career.
If Wisconsin can pack a 1-2 punch in the run game with Jalen Berger and Chez Mellusi to set up play-action for Graham Mertz, Wisconsin will once again chop down the goal posts of Huntington Bank Stadium with Paul Bunyan's Axe.
FINAL SCORE: Wisconsin 41, Minnesota 13- Joel Schuchmann
[pickup_prop id="6162″]
Follow me on Twitter @DylanBuboltz! Check out our merch page as well. Use promo code WISCO at checkout for $1 off! To read more of our articles and keep up to date on the latest in Wisconsin sports, click here!