After coming off a great win at Rutgers Saturday, the Wisconisn Badgers return home for their final two regular season games. Up first is a key matchup with the Purdue Boilermakers. Some see this as the game of the year in the Big Ten. It's a top ten matchup at the Kohl Center. This is arguably the biggest game at the Kohl Center since Duke in 2014. The Badgers would creep closer to a outright Big Ten championship with a win. Here are the keys to victory!
Johnny Davis Must Be The Best Player On The Court
What is the biggest reason the Badgers went to Purdue on January 3 and came out with a win? Johnny Davis. He was by far the best player on the court. In the first meeting, he went for 37 points and 14 rebounds. Purdue had no answer for him.
I'm not saying Davis needs to score 37 on order to win tomorrow night. However, he needs to play great and has to come up with big plays. Davis will need help from his supporting cast as well. Look for Brad Davison and Tyler Wahl to make impacts on this game.
The Post Players Must Stay On The Court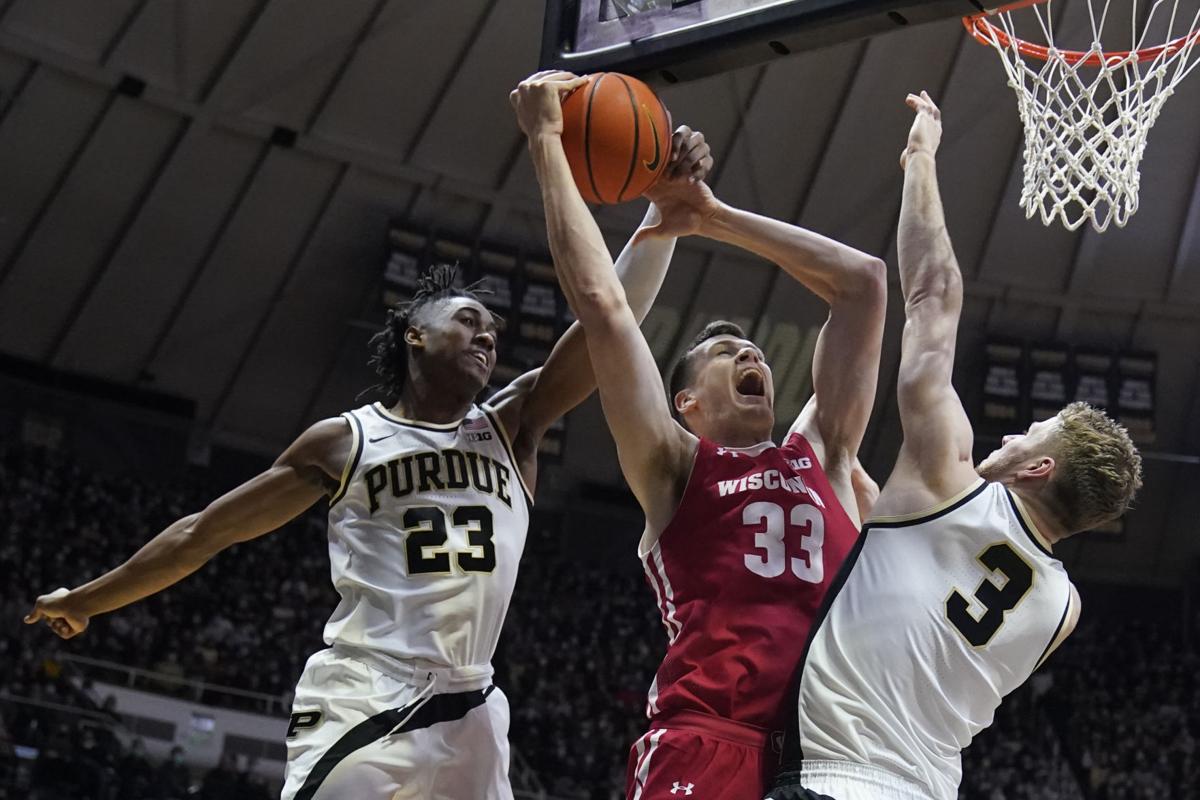 In the January 3 matchup, 7'4 Zach Edey was a problem. As a result, Steven Crowl, Tyler Wahl, and Chris Vogt all fouled out while combining for only 16 points. The duo of Edey and Trevion Williams is among the best in the Big Ten and the country.
These three must stay out of foul trouble or they can't be in foul trouble at the same time. Look for more minutes from Ben Carlson to steal before the media timeouts to avoid quick and unnecessary fouls from Wisconsin's main big men.
Take Away Either The 3 Or The Paint
Purdue can beat you from the three point line or the paint. In Purdue's last game against Michigan State, the Spartans dared Purdue to beat them from three. As a result, they only made one three while taking only nine attempts. Players such as Eric Hunter, Mason Gillis, Jaden Ivey, and Sasha Stefanovic can all beat you from three. Taking them away from what they do best limits the Boilermakers.
It's easier said than done. Wisconsin has to choose which part of the Purdue offense to take away and zone in on that. My feeling right now is that they'll let Zach Edey and Trevion Williams beat them, but not he supporting cast. The Badgers have to take advantage of Purdue mistakes and turn them into transition points and high-percentage shots.
Prediction
❕WEAR WHITE TUESDAY NIGHT❕

If you'll be at the Kohl Center:

1. 𝐖𝐄𝐀𝐑 𝐖𝐇𝐈𝐓𝐄 Badger gear!
2. Show up 𝐋𝐎𝐔𝐃 and PROUD!!
3. Help us create a special night!!! pic.twitter.com/mTtOqlFFlV

— Wisconsin Basketball (@BadgerMBB) February 27, 2022
I am very excited for this game tomorrow night. I can't wait to see the white-out and and I can't wait to see a full Kohl Center rocking from start to finish. There hasn't been a game in Madison with so many stakes in a long time.
Purdue is an experienced team and the road test won't phase them. It will be interesting to see how they come out in the first part of this game. Will they stay patient and wait to attack or will they be aggressive off the tip? A lot of these young Badgers haven't been in a game of this magnitude yet in their career. They have to channel the emotions and let the game come to them.
I am expecting a back an forth battle a majority of the time. Both teams will go on runs and both teams will give up runs. The duo of Edey and Williams does concern me, but I can't imagine a scenario where the Badgers lose three big men due to fouling out. It's so hard to win on the road in the Big Ten. At times, Purdue can look out of control despite how good they are.
I think the crowd plays a role in this game and I think Brad Davison continues to come up with late game shots. I think the Badgers win this at the foul line.
Wisconsin 70 Purdue 67
Follow me on Twitter @DylanBuboltz and follow us @WiSportsHeroics for more great content. To read more of our articles and keep up to date on the latest in Wisconsin sports, click here! Also, check out our merch store for some amazing WSH merchandise!