One win separates Wisconsin and an outright Big Ten title. After defeating Purdue Tuesday evening, the Badgers look to wrap up the season on Sunday with a win.
Wisconsin defeated the Boilermakers 70-67 with a late game winner from Chucky Hepburn with 1.5 seconds remaining.  The Badgers were led by junior forward Tyler Wahl with 19 points and a season high five steals. Freshman point guard Chucky Hepburn also provided 17 points, 11 of which came in the first half. With the win the Badgers now sit 24-5 on the year and 15-4 in conference play.
The Cornhuskers look to end their season on a positive note after a disappointing year. Nebraska is currently winners of two straight with a chance to play spoilers on Sunday. The Cornhuskers defeated Ohio State on the road 78-70 Tuesday evening. Nebraska was led by freshman guard Bryce McGowens with 26 points and four rebounds. The Cornhuskers also got 15 points off the bench from CJ Wilcher. Nebraska now sits 9-21 on the season and 3-16 in conference play.
Sunday's season finale is set for 1:00pm at the Kohl Center. Fans can catch the game on the Big Ten Network.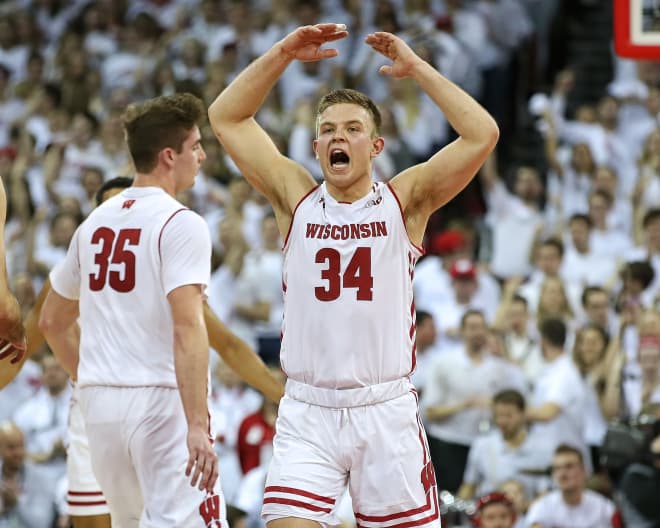 Thank You, Brad Davison
For most of my previews, I usually dive straight into the X's and O's of the game. Before I do, I wanted to take some time to recognize Brad Davison.
Some love him, some hate him. For Wisconsin though, he's been the definition of what this program is all about. Hard working, gritty, tough, never giving up. Even though Davison wasn't always the best player out on the court, he played every minute like an All American.
Back in September, I made a story about Brad and why he was the perfect leader for this season. Although an obvious choice, there was no one better for the job. After losing seven players from last seasons roster, Davison was the only returning senior. He went from one of the oldest rosters in college basketball to one of the youngest. For any team, that would be quite the challenge. However for Brad, it was just another season.
I'll never forget his freshman season. Numerous players were out due to injury and the freshman guard from Maple Grove became a starter. Fighting through a shoulder separation, it became obvious the type of player he was. Along with knowing the player, you also found out the type of man he was too.
As Davison plays his final game at the Kohl Center, I hope fans give him the send off he deserves. He will have his name up in the rafters. He will never be known as one of the all time greats at Wisconsin. However Davison deserves that recognition as one of the greatest "Badger" players of all time. Once a Badger, Always a Badger. No one lived that more than Brad Davison.
From all of Badger nation, thank you Brad for giving us what Wisconsin is all about.

Prediction
Most fans have this game going one of two ways. Wisconsin either comes out and absolutely routes the Cornhuskers from start to finish. Or the Badgers look lethargic until the pull away toward the end.
It's hard for me to think Wisconsin doesn't come away victorious as well. I'm not saying it will be easy though. The Badgers are coming off a huge program win Tuesday evening. Some think this could be a game where Wisconsin could overlook. However I have to disagree. That night, coach Gard told fans that Tuesday's celebration wasn't complete until they won on Sunday. A share of a Big Ten title is nice but the Badgers want the whole title to themselves.
So what does Wisconsin need to do to win? It will have to start with limiting Bryce McGowens. McGowens has averaged 25.5 points in the Nebraska's last two games. Limiting the talented freshman has to be a focus. Next, the Badgers need to limit three point shooting for the Cornhuskers. Nebraska has made a combined 22 three pointers in this two game win streak. It's no only kept the Cornhuskers in these games but a crucial part to their scoring. Especially for am offense that has struggled for most of the year.
The Wisconsin Badgers,

BIG! TEN! CHAMPIONS! 🥳 pic.twitter.com/RW95k72efy

— Big Ten Champs 🏆 (@BadgerMBB) March 2, 2022
Wisconsin needs to continue the success inside. Wahl, Davis, and Crowl have done a good job attacking inside of late. Their continued dominance inside will need to continue. Along with scoring in the paint, the Badgers defense needs to be mindful of guard Alonzo Verge Jr. Verge is a great facilitator and does a great job finding open looks for the Cornhuskers offense.
In the end, fans will look back at the season that was and say loud and proud "Outright Big Ten Champions".
Final Score: Wisconsin 72, Nebraska 64
For More Great Wisconsin Sports Content
Follow me on Twitter at @bennyboy615 and follow us @WiSportsHeroics for more great content. To read more of our articles and keep up to date on the latest in Wisconsin sports, click here!