Willy Adames hit a solo home run in the third inning of the Brewers 6-5 win against the Colorado Rockies on Friday night. While it was Hunter Renfroe's two-run home to tie the game in the 10th inning that received much of the attention, Adames' blast ensured him a place in Milwaukee Brewers history. The home run was his 20th on the season, making him just the fourth Brewers shortstop ever with two 20+ home runs seasons.
Willy Adames last night became the fourth player in franchise history with 20+ HR as a shortstop in a season twice.

Robin Yount
(1980 and 1982)

José Hernández (2001-02)

J.J. Hardy
(2007- 08)

Yount has the franchise record with 29 HR at shortstop in 1982.#ThisIsMyCrew

— Mike Vassallo (@MikeVassallo13) July 23, 2022
As Mike Vassallo noted in a later Tweet, Jose Valentin also hit 20+ home runs as a shortstop for the Brewers in 1996 (24). Bill Hall also hit 27 as a shortstop in 2006, a season in which he hit 35 total home runs.
Ranking the 20+ Home Run Seasons by Brewers Shortstops
Of course, Willy Adames' 2022 season is not over yet. However, it is always fun to take a look back in team history and look at some of the best individual seasons. For that reason, I ranked the 10 individual seasons in which a Brewers shortstop hit 20 or more home runs.
5. Orlando Arcia
4. Jose Hernandez
3. ❓
2. ❓
1. ❓

Our list of the top 5 #Brewers shortstops in franchise history. Do you agree? pic.twitter.com/T9viG3tlIu

— Bally Sports Wisconsin (@BallySportWI) May 20, 2020
10: Jose Hernandez- 2001
Jose Hernandez hit .249/.300/.443 with 25 home runs and 78 RBI. His .743 OPS is the lowest for a Brewers shortstops in these 10 seasons. He also led all of baseball with 185 strikeouts.
Related: Top 15 individual seasons on bad Brewers teams
9: Jose Hernandez- 2002
The good news: Hernandez's overall slash line went way up: .288/.356/.478. His .834 OPS in 2002 is the fifth-highest  in these 10 seasons and he had a .404 batting average on balls in play. The problem? He struck 188 times, leading all of baseball. At the time, the record was 189 and the Brewers benched him down the stretch to keep him from breaking the record.
Hernandez was named to his only career All-Star Game, which happened to be held at Miller Park that year. He finished the season with 24 home runs and 73 RBI.
8: Jose Valentine- 1996
Jose Valentine actually hit more than 20 home runs in a season six times. Only one of those, though, came with the Milwaukee Brewers. In 1996, Valentine hit .259/.336/.475 with 24 home runs and 95 RBI. The 95 RBI were the most in his career.  While this was a pretty good season, he also struck out 145 times.
From 2000-2004, Valentine never hit fewer than 25 home runs. All of those seasons came with the Chicago White Sox.
The 1996 season was easily Valentine's best as a Brewer. In six full seasons with the Brewers, Valentine had 11, 11, 24, 17, 16, and 10 home run seasons.
7: JJ Hardy- 2008
JJ Hardy's 2007 and 2008 seasons were very close for my rankings here. However, the 2008 season is getting ranked lower despite his having a higher OPS than in 2007. What broke the tie, really, was that Hardy was named an All-Star in 2007 and produced more runs overall.
In 2008, Hardy hit .283/.343/.478 with 24 home runs and 74 RBI. He also had career highs in doubles (31) and triples (four).
6: JJ Hardy- 2007
There have been five seasons in which a Brewers shortstop was named to an All-Star team. Jose Hernandez had one, as mentioned above. Hardy's 2007 was another (all the other three belong to Robin Yount). In 2007, Hardy hit .277/.323/.463 with 26 home runs and 80 RBI. The 80 RBI would prove to be his career-high, which he matched one other time (2011 with Baltimore).
Related: Brewers by the numbers 6-10
In addition to his career high in RBI, Hardy also had career highs in hits (164), runs (89), and total bases (274).
5: Willy Adames- 2022
It is very possible that Willy Adames' 2022 season will end up higher on this list by the end of the year. However, for now, it comes in at fifth. So far this season, Adames is hitting .221/.295/.476 with 20 home runs and 53 RBI. Earlier this season, he set the Brewers' record for most home runs by a shortstop prior to the All-Star break (19).
While it is probable that Adames will end up with more home runs than he did last year, his season ranks lower for now due to his low on-base percentage and high strikeout number (87). His .771 OPS is the second-lowest on this list, though it could most definitely improve. Adames is currently the Brewers' leader in home runs this season.
4: Willy Adames- 2021
After the Brewers acquired Willy Adames for two pitching prospects, the veteran short stop enjoyed the best run of his career. With Milwaukee in 2021, he hit .285/.366/.521 with 20 home runs and 58 RBI. He also struck out 105 times in 99 games.
The addition of Adames, though, had rippling effects throughout the entire roster. The trade allowed a struggling Luis Urias to shift over to third base where he enjoyed his own 20-home run season. He also brought a level of fun to the dugout that had not been seen for years.
3: Robin Yount- 1980
The legendary Brewers shortstop enjoyed his first All-Star season in 1980. That year, he hit .293/.321/.519 with 23 home runs and 87 RBI. Yount also stole 20 bases, making 1980 the only season in which he achieved 20 home runs and 20 stolen bases in the same year. Additionally, he scored 121 runs, the second highest total in his career. Yount led the American League with 49 doubles, which is also his career-high.
2: Bill Hall- 2006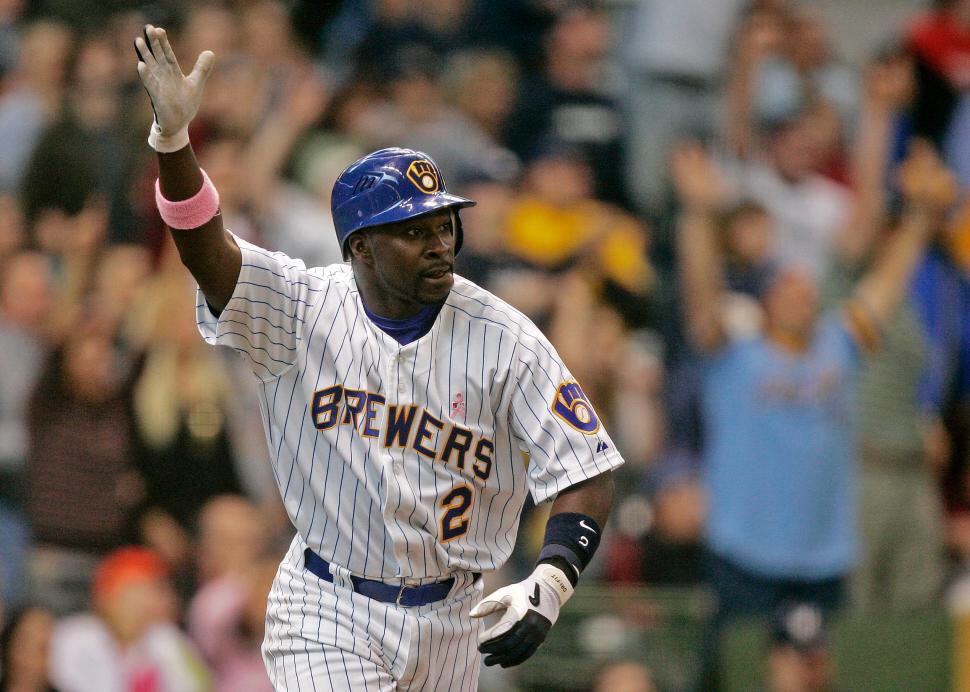 After JJ Hardy went down with a season-ending injury, utilityman Bill Hall was tasked with being the everyday shortstop. Hall delivered with one of the best seasons by a Brewers' shortstop ever. Overall, Hall hit .270/.345/.553 with 35 home runs and 85 RBI. His .899 OPS in 2006 is the second-highest on the list, behind Yount's 1982 MVP season.
Related: The top-five walk-off home runs in Brewers history
Of course, Hall's 2006 season is remembered every year, specifically on Mother's Day. Hall hit one of the most famous walk-off home runs in team history when he used a pink bat to hit the game-winning home run against the New York Mets.
1: Robin Yount- 1982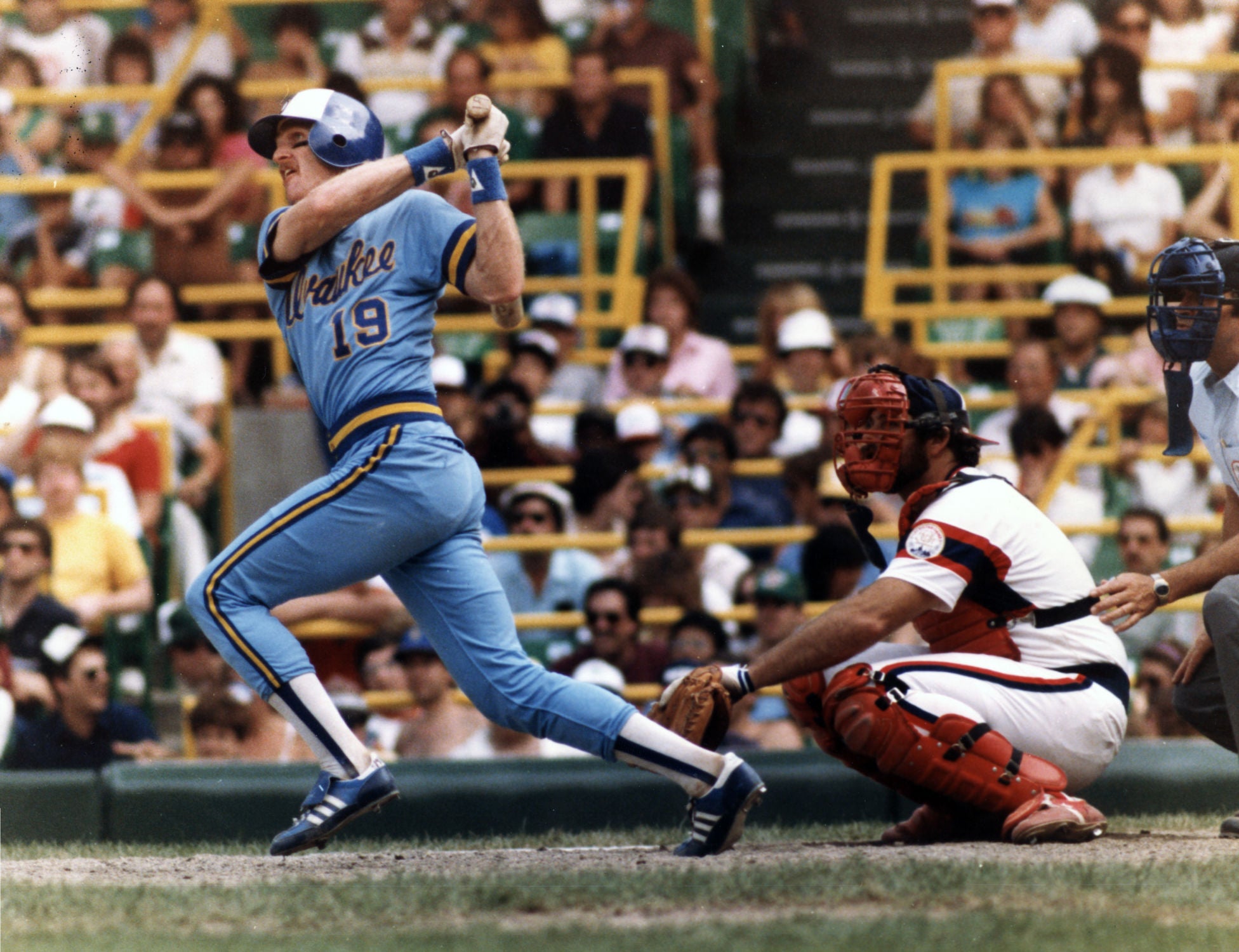 The Hall of Fame face of the Brewers franchise enjoyed his best season in 1982, leading the Brewers to their only appearance in the World Series. That year, Yount hit .331/.379/.578 with 29 home runs and 114 RBI. His 29 home runs remain the record for a Brewers shortstop (eight of Hall's 35 home runs in 2006 came when he was playing other positions).
Related: Brewers by the numbers 16-20
In 1982, Yount led the league in hits (210), doubles (46), slugging percentage (.578), OPS (.957), OPS+ (166), and total bases (367). Not only did Yount win MVP that year, but he also was awarded a Gold Glove, Silver Slugger, and was named to the All-Star team. He also set career highs in hits, batting average, and triples (12).
To Read All the Latest Milwaukee Brewers News, Click Here!
For More Great Wisconsin Sports Content
Follow me on Twitter at @theotherRobin19 and follow us @WiSportsHeroics for more great content. To read more of our articles and keep up to date on the latest in Wisconsin sports, click here! Also, check out our merch store for some amazing WSH merchandise!