About a week ago, I was not feeling very hopeful that we would have baseball. I wanted to attempt to keep up hope that baseball will be played in 2022. So, I started a list of the best players to wear each jersey number in Milwaukee Brewers' history. If baseball wasn't going to happen, at least looking back on fond moments in team history would help. In the first installment, I covered the best Brewers players to wear jersey numbers one through five. For this next edition of the series, I will take a look at the best players to wear jersey numbers six through ten.
#6- Lorenzo Cain (2018-Present)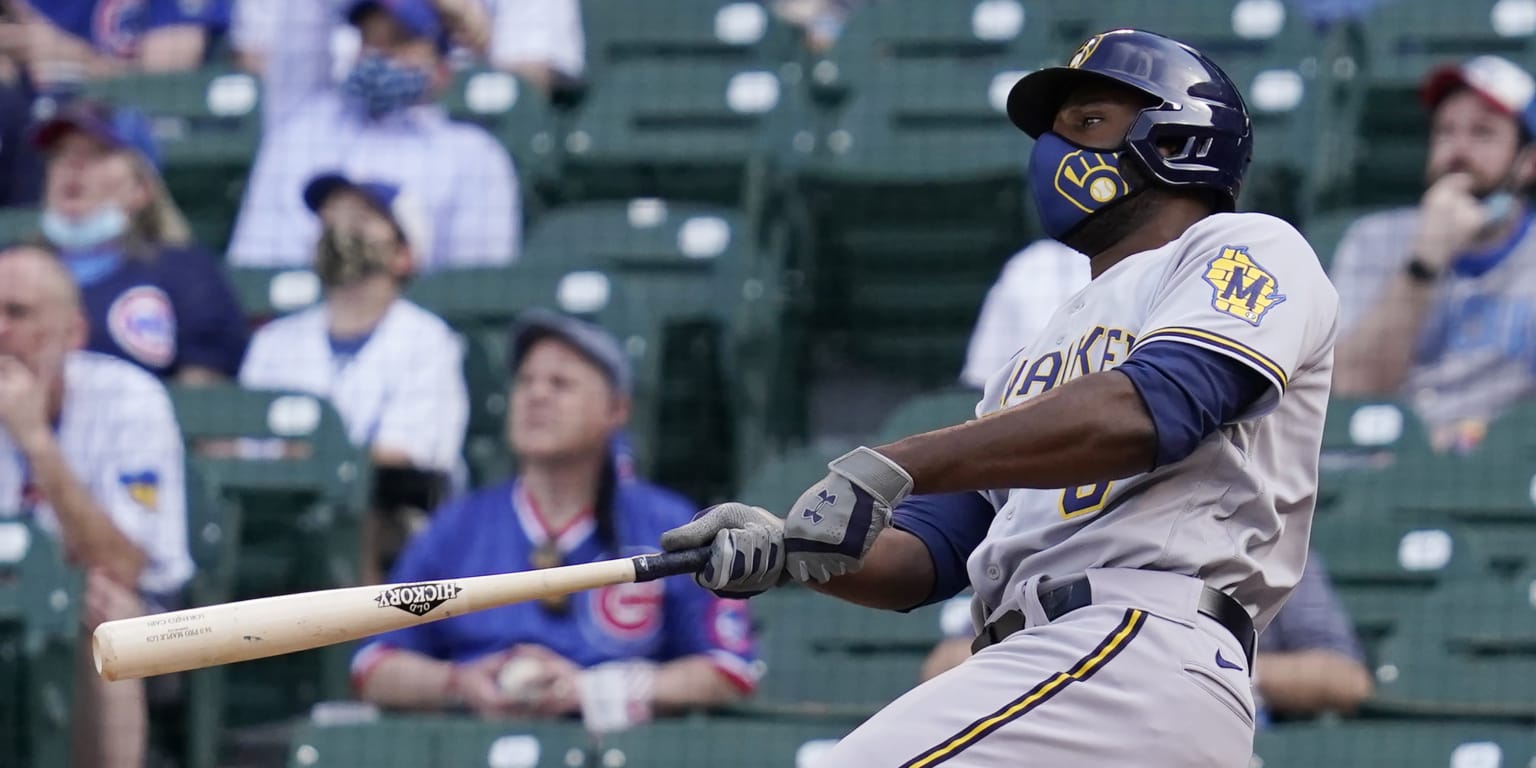 Note: Cain wore #36 during his first stint with the team in 2010.
The number six is one that has not been used by players all too often in Milwaukee Brewers' history. Prior to the arrival of Lorenzo Cain back in 2018, coach Ed Sedar wore the number. In fact, there have been three separate stretches of eight years or more that the number six was not worn by a Brewers player. When Lorenzo Cain donned the number in 2018, it was the first time that a player had worn the digit since 2006 when Jeff Cirillo wore it on his second stint with the team. Now entering his fourth season with the Brewers, Cain has also worn the number longer than any other player to claim it in team history.
In five years with the Milwaukee Brewers (four of which wearing number six), Lorenzo Cain has hit .282/.354/.397 and stolen 68 bases. He was an All-Star in 2018, slashing .308/.395/.417 with 10 home runs, 38 RBI, and 30 stolen bases. The next season, 2019, Cain won his first and only career Gold Glove in center field. In 2020, Cain opted out of the COVID-shortened season after just a few games. This past year, 2021, Cain battled injuries that limited him to just 78 games. 2022 is the final year of his contract, and perhaps the last of his career. After all, he is 36 years old and hasn't been completely healthy in over 3 years. Even his 2019 Gold Glove season was marred by injuries that he just played through (even though he probably should not have).
Regardless of whether or not this is the end for Lo Cain, he is already the greatest Brewers player ever to wear number six.
Honorable Mention: Jeff Cirillo
[pickup_prop id="21207″]
#7- Don Money (1973-1983)
This was a tough one. So tough, I took a Twitter poll to see who other people thought was the best player in Brewers history to wear number seven. However, it appears that we did not agree on our conclusions.
The best #Brewers player to wear jersey number 7 was… (my answer coming tomorrow)

— Robin Adams (@theotherRobin19) March 11, 2022
I am suspecting that there was a lot of recency bias that went into the voting. JJ Hardy, after all, was an All-Star with the Brewers and is one of the best defenders the Brewers have had at short stop in team history, Eric Thames, Mr. April and May, was a cult hero in Milwaukee during his three-year tenure with the Brewers. However, despite all of these things, Don Money HAS to be the choice for the greatest Brewer to wear number seven.
Don Money played for the Milwaukee Brewers for 11 years, hitting .270/.338/.421 with 134 home runs and 529 RBI. Money was also named as an American League All-Star four times, including three-straight seasons from 1976-1978. During that three-year stretch, Money hit .280/.348/.442 with 51 home runs and 199 RBI.
Of course, I would be remiss if I didn't mention that Don Money was an important contributor to the 1982 Milwaukee Brewers team that made it to the World Series. That season, in 96 games, Money hit .284/.360/.531 with 16 home runs and 55 RBI.  After his playing career ended, Money spent decades coaching and managing in the Brewers farm system. He is responsible for helping to develop the offensive talent of many other players on this list, including the guy at number eight.
Honorable Mentions: Dale Sveum, JJ Hardy, Eric Thames, Jeff Cirillo (again), but certainly not Sal Bando, whom I will never forgive for low-balling Paul Molitor.
#8- Ryan Braun (2007-2020)
Was there really a debate over who should be here as the greatest Brewers player to wear number eight? Despite the scandal that he was involved in during the 2013 season, Ryan Braun is one of the three or four greatest players in Milwaukee Brewers history. He is also, easily, the greatest Brewers player to wear number eight (no disrespect intended to Mark Loretta).
Ryan Braun is the Milwaukee Brewers career leader in several important advanced stats, but is best recognized as the team's all-time home runs leader with 352. During his 14 seasons with the Brewers, Braun hit .296/.358/.532 with those 352 home runs to go along with 1,154 RBI. His accolades are well-known to Brewers fans, and include:
2007 NL Rookie of the Year
Six-Time All-Star
2011 NL MVP
Five-time Silver Slugger
2012 NL Home Run Leader
Prior to 2013, it could be argued that Ryan Braun was the best player in all of baseball. From 2007-2012, Braun hit .313/.374/.568 with 202 home runs and 643 RBI. After 2013, Braun battled a string of injuries that limited his playing time. However, he always did what he could for the team, even moving to right field for a time. His playing career came to an unceremonious end in 2020, with no fans in the stands because of COVID-19.
Ryan Braun was recognized in September of the 2021 season where he officially retired from baseball at American Family Field. It was at that time he got the send-off he deserved in front of fans. Now, will the Brewers retired the number eight? Personally, I think they go the Jim Gantner route and unofficially retire his number without hanging it in the rafters.
Honorable Mention: Mark Loretta
#9- Larry Hisle (1978-1982)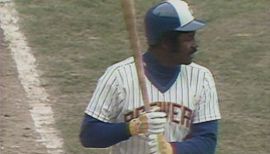 This was a tough call. Not because there were so many good players to wear number nine, but because there were so many players who wore number nine that either were not impactful or just had one good season with the club. What it came down to, for me, was Larry Hisle's one All-Star season was better than Jean Segura's one All-Star season. Sure, Manny Pina wore the number the longest and was an immense fan-favorite. However, he was mostly a backup catcher who was a streaky hitter at best. His canon of an arm simply wasn't enough to put him here.
Larry Hisle played five seasons for the Milwaukee Brewers, hitting .276/.361/.506 with 49 home runs and 161 RBI during that time frame. Unfortunately, the last four years of his career were absolutely decimated with injuries, and he only played in 79 games between 1979-1982. In 1978, though, Hisle hit .290/.374/.533 with 34 home runs and 115 RBI. He was named to the American League All-Star team during the season and finished third in MVP voting.
As mentioned, unfortunately Hisle's career after 1978 was marred with injuries. Also, as mentioned, this was a tough decision to make. Hopefully another Brewers player can come around soon and take number nine to new heights.
Honorable Mentions (I guess): Jean Segura, Marquis Grissom, and Manny Pina
#10- Yasmani Grandal (2019)
No disrespect to All-Star Omar Narvaez, who is the current Brewers player wearing number ten. However, Narvaez's 2020 season was, well, not good. 2021, of course, was a different story as he made the NL All-Star team. However, Yasmani Grandal's 2019 season, in which he too was an All-Star, was just a bit better. Side note: the fact that the Brewers two most recent starting catchers are the two players in consideration for this spot is a statement for how ineffective players who have worn number ten have been for the Brewers.
Yasmani Grandal, as noted, only played one season with the Milwaukee Brewers. He helped the Brewers make the postseason in 2019, hitting .246/.380/.468 with 28 home runs and 77 RBI. Unfortunately for the Brewers, the team could not lure him away from a long-term and expensive deal from the Chicago White Sox following 2019. Still, his lone season with the Brewers was one of the best ever for a catcher in the team's history. Hopefully, Omar Narvaez is able to take this spot on my list from Grandal sooner rather than later.
Honorable Mention: Omar Narvaez, Bob McClure, and not Royce Clayton
For More Great Wisconsin Sports Content
Follow me on Twitter at @theotherAdams14 and follow us @WiSportsHeroics for more great content. To read more of our articles and keep up to date on the latest in Wisconsin sports, click here! Also, check out our merch store for some amazing WSH merchandise!