Some would say that the 2021 Wisconsin Badgers had a good season after going 9-4 with six wins in conference.  However, Paul Chryst and his staff aren't content with just a "good" season. This program has goals of winning the Big Ten title and a National Championship. Their quest for those goal starts on September 3rd against the Illinois State Redbirds. What should we expect the game plan to be in Week 1?
Offensively:
Run early and often
Wisconsin's bread and butter for decades has been running the ball inside, expect more of the same in 2022. The Badgers brought in former Ravens tight ends and wide receiver coach Bobby Engram to take over for Joe Rudolph. While Engram was with Baltimore, the Ravens set an NFL record for rushing yards in 2019 and finished top 10 in rushing five times. He'll oversee an offense that ranked inside the top 25 in rushing yards (for the 4th time in 5 seasons).
The offense will run through Braelon Allen primarily, but Chaz Mellusi will get plenty of touches. Last year, this duo accounted for over 2,000 rushing yards and 17 touchdowns. They will be running behind one of the better offensive line units in the Big Ten with 4 and 5-star players up and down the line, most notably former 5-star Logan Brown at right tackle.
Wisconsin will run inside the tackles undoubtedly, but with Engram coming from the Ravens, expect them to run outside zone and get Allen and Mellusi on the edge Week 1. Engram could also take inspiration from Lamar Jackson and sprinkle a few option plays for Mertz on short yardage downs to keep the defense on their heels.
Be more consistent through the air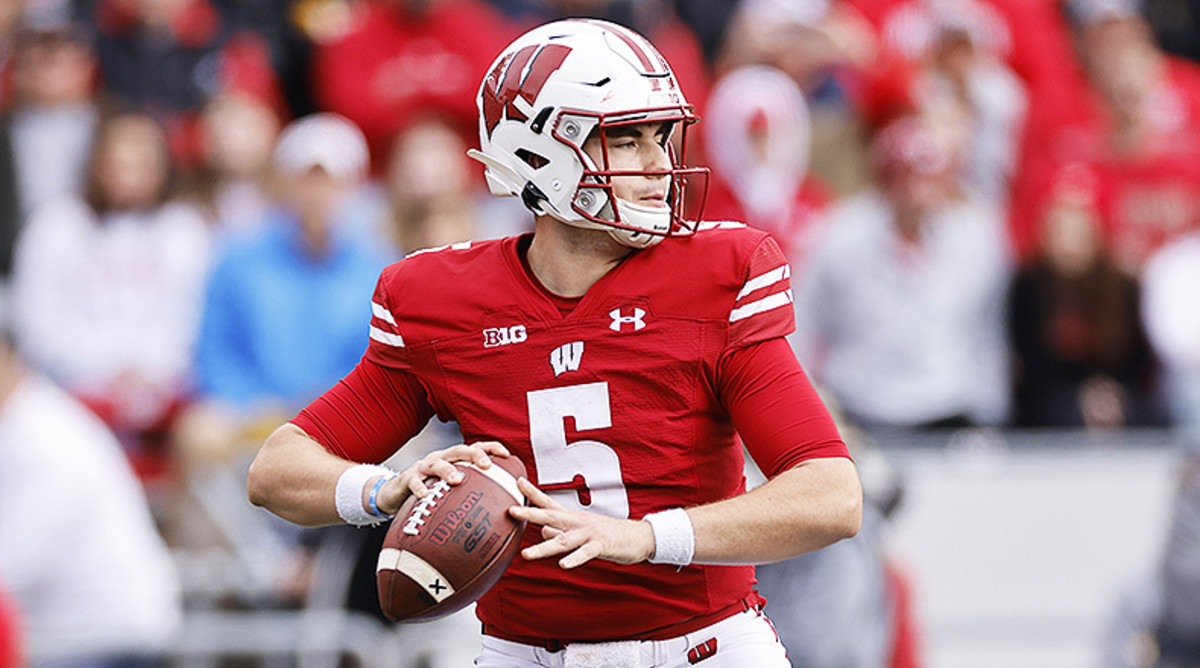 The Badgers have not been known to have a high flying passing attack, the running game is how this team wins games.  But it's 2022, the Badgers need a solid passing game to take that next step. The Badgers lacked consistency in 2021, ranking 120th in passing, averaging just 160 yards and completing under 60% of passes.  Quarterback Graham Mertz started all 13 games last year, and only had 6 games where he didn't throw an interception and 3 games above 200 yards passing.
There where stretches last season where Mertz looked like he could be this teams leader and put them in a position to make the Big Ten title game, and then there were stretches where he looked like he shouldn't be starting. In his first seven games, Mertz passed under 1,000 yards, completed 56% of his passes, threw 2 touchdowns and 7 interceptions. His next 6 games though, 5-1 record with 1,000 yards passing, 63.6% completion, 8 touchdowns and 4 picks.
Engram should try and build on the successes that Mertz had late in the season last year and get him on a roll early, especially in Week 1. Screen throws and quick hitters like slants and drag routes could be the extent of the passing game to start. But if Wisconsin can run the ball effectively, deep throws to Dike and freshman wideout Skyler Bell could be in store for the Badgers.
Defensively:
Make things uncomfortable for Illinois State upfront
In addition to being known for having a good running game, the Badgers are also known for great defense.  Since his hiring, defensive coordinator Jim Leonhard's defense has been one of the best. The Badgers have been ranked inside the top 10 in scoring four times with two top five finishes. They welcome the Redbirds into Camp Randall Week 1 after their disappointing 2021. The Redbirds finished 4-7 in 2021, due to their offense, or lack there of. They averaged less then 20 points a game, ending with a three game stretch not scoring more then 17.
Jackson Waring took most of the starting reps last season, playing in 8 games. In those 8 games, Waring threw for 879 yards, 6 touchdowns and 4 picks. However, the Redbirds brought in Minnesota transfer Zack Annexstad. Annexstad had an injury riddled Gopher career, but when on the field, played very well. He became the first Gopher QB to start 3-0 as a freshman before getting injured mid way through the year. Whoever starts for ISU, will be pressured heavily and will be tasked with matching Wisconsin step for step.
Leonhard knows that ISU will be playing someone who either hasn't played in 2 years or played poor last season.  His goal is to make it as hard as possible for them to get in a rhythm. He has young defense who is itching to get going, and with the step down in competition, 5 and 6 man pressures could be the game plan for Leonhard's defense.
As a whole:
New faces filling in big shoes, while familiar faces lead by example
Wisconsin lost 11 players to the NFL last season, leaving big holes all over the roster. These spots will be filled with mostly unproven players looking to make an impression. Players like the aforementioned T.J Bollers and Clay Cundiff haven't seen the field and are projected to play large roles in 2022. Meanwhile, players like Braelon Allen and Nick Herbig are tasked with becoming leaders, something new to them.
All in all, Wisconsin's Week 1 opponent is an FCS opponent who is coming off a bad season. But that does not mean that this team should take this game lightly. This season could be special for Wisconsin and they need to come out and set the tone for the season.
Follow us @WiSportsHeroics for more great content. To read more of our articles and keep up to date on the latest in Wisconsin sports, click here!