Where will New York Giants star running back Saquon Barkley be playing in 2023? All signs point to him returning to New York, but if he doesn't, oddsmakers compiled a list of the most likely teams to be in the running to land the three-time 1,000+ yard rusher.
Saquon Barkley's first four seasons in the NFL were full of highs and lows. He went from being named offensive rookie of the year and being voted to the pro bowl in his first season, to suffering a season-ending ACL tear and MCL sprain in Week 2 of the 2020 season.
It has not been an easy road back for the Giants RB, however, this season he reminded New York why they selected him No. 2 overall back in 2018. During the 2022 season, Barkley rushed for a career-high 1,312 yards and chipped in with 10 rushing and four receiving touchdowns. His performance earned him his first pro bowl selection since his rookie year, and he also helped lead the Giants to their first playoff berth since 2016. But will he be back for another season?
Where Will Saquon Barkley Play In 2023?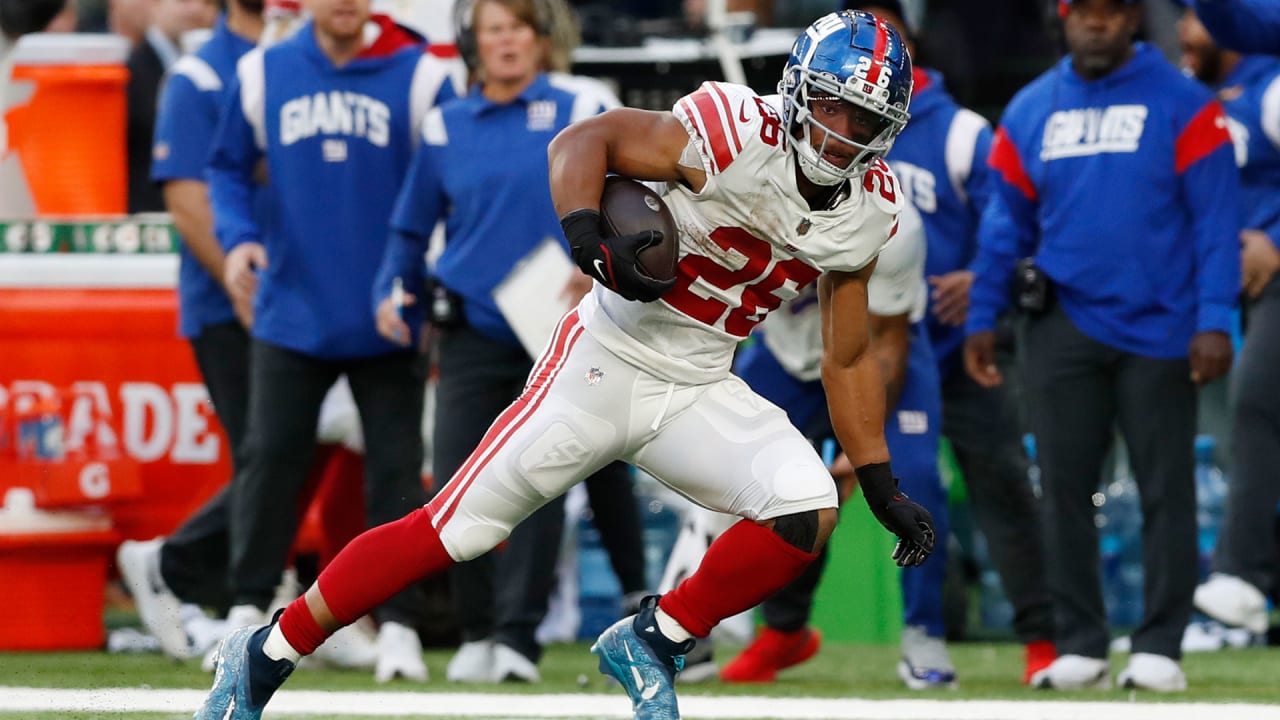 New York's season came to an end after a 38-7 loss to the Philadelphia Eagles in the divisional round of the playoffs. Now Saquon Barkley is a free agent. Does New York see a future with Barkley in it? Oddsmaker Adam Thompson at Bookies.com tried his best to predict where the Giants' star running back will end up in 2023.
| | | |
| --- | --- | --- |
| Team | Odds | Implied Probability |
| New York Giants | -250 | 71.4% |
| Miami Dolphins | +750 | 11.8% |
| Chicago Bears | +1000 | 9.1% |
| New England Patriots | +1200 | 7.7% |
| Arizona Cardinals | +1500 | 6.3% |
| Houston Texans | +1500 | 6.3% |
| The Field | +1400 | 6.7% |
It's been reported that Saquon Barkley is looking for around $14 million per year. During New York's bye week this season, Barkley reportedly rejected a multi-year extension that would have paid around $12 million annually. 
The odds are clearly in the Giants favor, with their implied probability of retaining Barkley being over 71 percent. However, if a deal isn't able to materialize between the two parties, where could the two-time pro bowl running back end up?
Miami Dolphins
The Dolphins made the playoffs while having the 25th-ranked rushing attack in the NFL. Now that Miami's season is over, running backs Raheem Mostert and Jeff Wilson are free-agents. Barkley would provide a boost to the Dolphins offensive while taking some much-needed pressure off quarterback Tua Tagovailoa, who has been struggling with concussions.
Chicago Bears
Imagine Justin Fields and Saquon Barkley teaming up in Chicago. The Bears led the NFL in rushing in 2022 with 3,014 yards. It's a possibility that they will lose David Montgomery to free agency. Chicago has the most salary cap to bring in a superstar in 2023, and Barkley would provide an extra layer to an already impressive ground game.
New England Patriots
The Patriots were in the bottom fourth of the league in rushing. They could lose running back Damien Harris to free agency and also rank No. 4 in available cap space for 2023. In his second season, Rhamondre Stevenson rushed for 1,040 yards and has a bright future in New England. But, adding Barkley would provide a great one-two punch and could elevate the Patriots to a playoff caliber team next season.
Arizona Cardinals
The Cardinals' 2022 season did not go as planned, to say the least. They lost Kyler Murray for the season after suffering a non-contact ACL tear and finished 4-13. Arizona ranked 22nd in rushing and are 12th in cap space. They have a solid running back in James Connor, but adding another powerful runner in Saquon Barkley wouldn't hurt.
Houston Texans
Houston is not an appealing destination for free-agents, as they are in total rebuild mode. But money talks, and the Texans have plenty to offer. Rookie running back Dameon Pierce had a great year and will be a major piece in the rebuilding process moving forward. Houston is likely to draft a QB in 2023, so adding Barkley would take some pressure off and make an easier transition for whomever they draft as their new signal caller.
For More Wisconsin Sports News:
Follow me on Twitter at @alex_ratliff and follow us @WiSportsHeroics for more great content. To read more of our articles and keep up to date on the latest in Wisconsin sports, click here!