Milwaukee Bucks midseason grades for the 2021-2022 season are in, even though we're well past the halfway point. The overall team grade is good (B+); the Bucks are 30-20 and the number four seed. Our grades are "top-heavy" with Giannis, Khris, and Jrue worth a ton of points and value for Milwaukee. There is also a ton of reality setting in for a fan base that is used to a long NBA season. 
The NBA is a fickle sport in the sense that with such a long season (late September to late June), teams turn it off and on at will. They play great for stretches and poorly for others. Ask any sports bettor out there and they'll tell you about some remarkably bad "bets" this year. Orlando whomping the Jazz (Nov. 7th), Houston beating the Nets (Nov. 24th), or even our beloved Milwaukee Bucks getting defeated by Detroit (Jan 3rd).
Eighty-two games PLUS the playoffs is just a lot of basketball, and all NBA teams have some ups and downs. But as the old sports and life cliche goes, "The cream rises to the top." The Milwaukee Bucks appear ready for a post-all-star break run that will continue to assert that they are a top-three team in the Eastern Conference. So are the rival Brooklyn Nets and seemingly upstart Chicago Bulls. (Could anyone have predicted this Bulls run and how smoothly DeRozan and Levine would be able to score together?) Remember, the Bucks are (via RealGM) the "third oldest" team in the NBA. This is a veteran group that knows how and when to ratchet up the intensity. There are plenty of reasons for mid-season optimism.
As the past is prologue, let's briefly look at the work of the rotation guys for the Bucks. How they have done so far? Where do they appear to be heading now as we approach the NBA All-Star Break? (All grades are subject to NBA standards and are, of course, highly up for debate. Please comment below.)
Nobody likes a bad grade, but unfortunately for the Bucks, those will really come out in part two of this story.
Giannis Antetokounmpo's Grade: A+++
Giannis is averaging 28.6 points per game. He cleaned up a perceived weakness with his free throw shooting (63% in the 2019-2020 season to 71.4% in the 2021-2022 season). And he's averaging 11.3 rebounds and 6.0 assists per game. (For my sports bettors, a fun player prop bet with Giannis is the pts+rebs+assts bet. Set it at 45 and just watch all the different ways Giannis can get there.)
He is top-ten in the league in scoring and in rebounds. When Giannis plays, the Bucks win. And I know it seems like "forever ago" but how great was the Christmas Day Game?! 36 points, 12 rebounds, and five assists in just 30 minutes. Giannis can do it all! Relative to the NBA, who is better? Luka – nope; KD – nope. Jokic… maybe?
Giannis is also still new to basketball. He started playing when he was 13. He was 18 when he made his NBA debut. His past and all the hard work it took for him and his family to simply survive have been well-chronicled. 
The league-wide perception is that Giannis never takes any plays off, that he never gives less than 110%. That seems to be remarkably true. The only thing that looked to stop him in the first half of this season was COVID-19. Giannis said himself, "I kinda needed the break." With his style of play and with so much depending on him, that break was certainly a bigger blessing in disguise than many of us have realized. When Giannis plays, he plays hard.
Another newly-minted league-wide thought is that because Giannis is a foreign-born player and was never subjected to the AAU grind of basketball in the US, he is still continuing to learn the game and improve. Now that is a scary thought for other teams. He's getting better every year and is only now starting to enter his prime. The Milwaukee Bucks franchise is blessed to have him. 
Khris Middleton's Grade: A
Khris Middleton is the engine that makes the Bucks run. For that reason alone, he earns a grade just a smidge higher than teammate Jrue Holiday. 
COVID-19 seemed to catch Middleton off guard this season. It lead to a nasty December stretch that saw his scoring average drop from 22.1 to 16.4. But he's rebounded nicely, now scoring 20.1 pts a game. He rebounds well again at 5.6 per game and fits in nicely as a number one when Giannis is resting. Cash Money Khris is a pure scorer who can create his own shot and shoot the three, the coveted way to score in the NBA. Middleton is a "lock" as a free throw shooter, averaging 88.8% per game. And of course, as Aaron Rodgers has fondly said, "He has that great mid-range."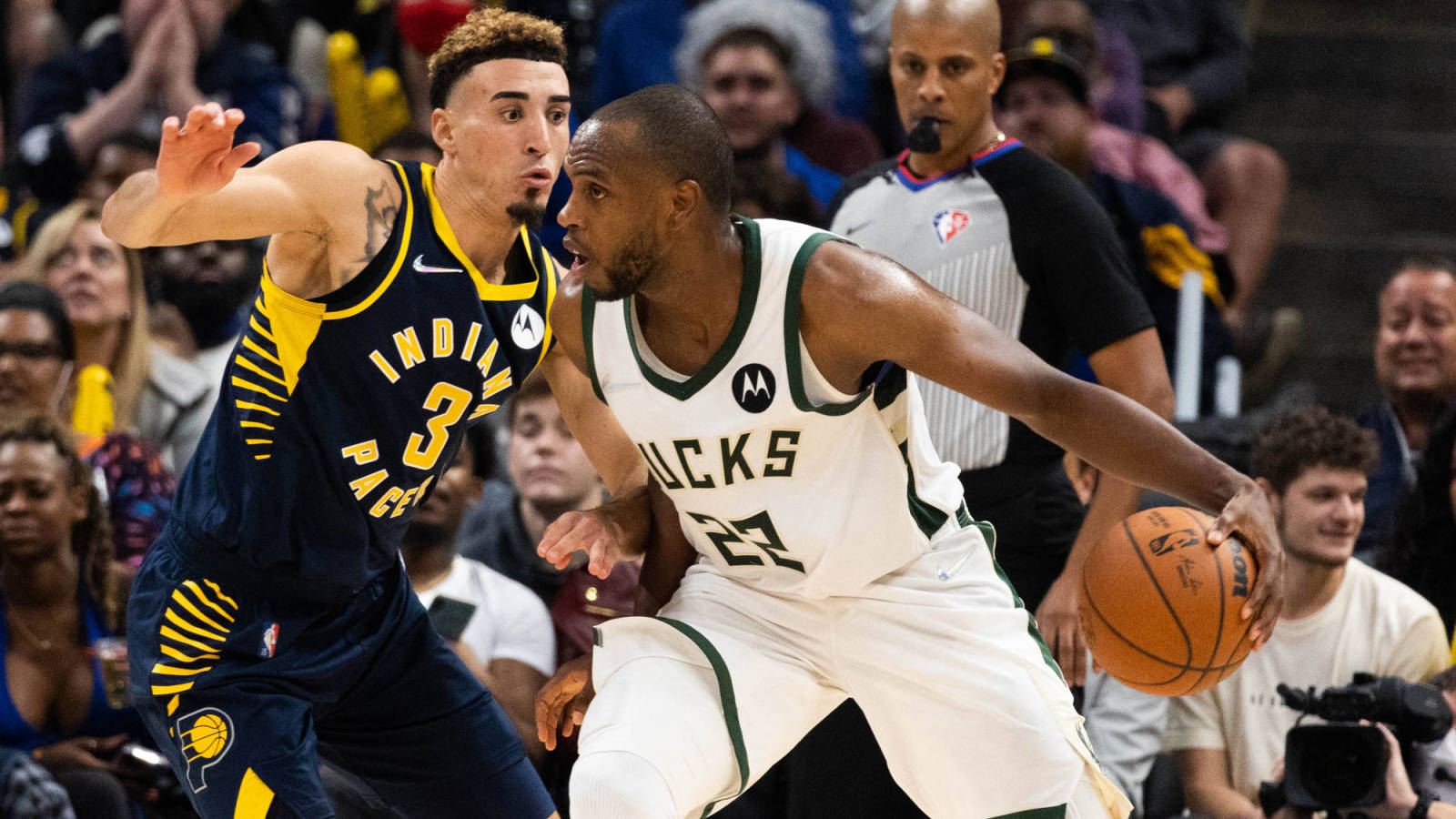 One quick reminder on Khris: he's 30 now. In NBA terms, he still has plenty left in the tank, but he's not getting any younger. The mild knee sprain he suffered in early December seemed symptomatic of that. You can certainly lean on Khris. However, making it past 35 can feel like an uphill battle in the NBA. Khris would still be a #1 on more than half the other teams out there. (Can you even imagine him on a young Spurs or OKC team and how that could make them instant playoff contenders?)
If the trend lines continue, Middleton's grade may decline while Jrue Holiday's could go up. Of course, his scoring stats and rebounding numbers, along with just about everything else, is right at or around career-high levels.
Jrue Holiday's Grade: A-
What can you say? Holiday has been "the man" this season. His numbers are up across the board and he's been a constant in the lineup, playing in 37 games. He averages 6.4 assists (down from his career-high of 8.0 for the 76ers in 2012) and his scoring average is up year over year (17.8). The Bucks gave up a ton of draft capital to get Holiday, but at this point and an NBA Championship later, it certainly seems worth it.
As the dust settles on this deal (three first-round picks, two pick swaps, and Eric Bledsoe and George Hill) it feels like a better and better trade-off for the Bucks. At the time it felt like a LOT, but getting Hill back and trading the back half of that deal (Sam Merril) to acquire Grayson Allen appears to be a John "Horstian"-coup. With Bledsoe running point, the Bucks were a perennial playoff team that was destined to face a second or third-round exit every year. With Holiday, of course, they are champions. For that reason, his health is so important to this team. 
An interesting factor in this grade also has to be that "locker room presence" we read and hear about. His charity (alongside his wife Lauren, which you can visit at www.jlhfund.org) appears to be the Tesla of NBA foundations. It's hard to think of a charity more targeted and impactful for an NBA club. There is no way that work has not helped this team feel more like, well, a team. 
[pickup_prop id="11349″]
For More Great Wisconsin Sports Content:
Thanks for checking out part one – that was easy! A+, A, and A-
Check back in 48-72 hours for part two, where things get interesting. I certainly appreciate Bobby Portis and Pat Connaughton, but their grades might surprise you. 
Follow me on Twitter @authorrudylb and on the web at www.rudylb.com follow us @WiSportsHeroics! To read more of our articles and keep up to date on the latest in Wisconsin sports, click here. Also, check out our merch store for some awesome WSH merchandise!