Thursday night marked the first night of the 2022 NFL draft. And while all off-season Packers fans have clamored for a receiver to be taken in the first round, they didn't. Green Bay instead took a pair of Georgia defenders in Quay Walker and Devonte Wyatt. Walker an inside linebacker slats to be a starter next to Campbell. While Wyatt, bring much needed depth to the DL especially after the late season departure of Darius Slayton last season.
The Packers by all accounts from MVP Aaron Rodgers statement were indeed in pursuit of a wide out early but with the guys they believed who had round 1 grades gone early decided to wait for value later in the draft. So is the well dry or is there still value for the Packers to be had on day 2? Here are 3 receivers still waiting to hear their names called, and 2 that GB could still trade for.
Draft -George Pickens- Georgia Bulldogs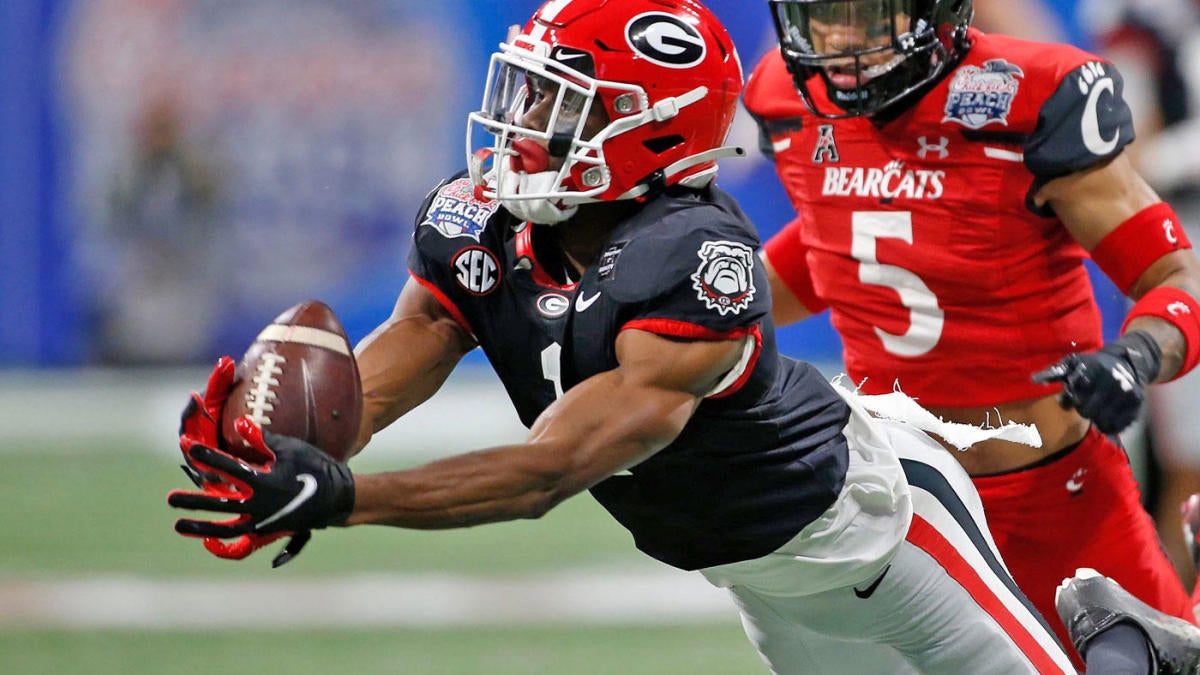 If you were on Twitter Thursday night during the draft, or really all offseason you've heard the name George Pickens. Particularly, in terms of the Packers taking him. Pickens another Georgia Bulldog, is 6'2: 210lb WR with great speed and strength. Pickens run a 4.4 40 time  in the combine and has been described as a dog on the field. The problem here is the attitude for Pickens, as a few insiders and former coaches have pointed out when discussing Pickens. Even with a few concerns Pickens likely will be an early round 2 pick, so if Green Bay wants him they likely will have to move up in the draft to grab him.
Trade- Terry McLaurin -Washington Commanders
The First of my tradeable options here is "Scary" Terry McLaurin. Washington's top WR from he past few years, and one likely to be headed in the direction of a big contract soon. McLaurin has just one more year of on his contract so his likely would involve a new contract something in the range of 5 year 85M. McLaurin would fit well into Matt Lafluers systems and slate into WR1 right away. With three straight years of at least 900 yards he would be a big step in replacing Davante Adams. Don't be surprised if this trade includes Love either.
Draft- Christian Watson -NDSU Bison
The other name many fans have heard a lot about is NDSU WR Christian Watson. Watson my personal favorite in this draft is a 6'4 210lb WR with great speed and size. Think former Packer Marquez Valdes-Scantling but without the drop concerns and a better blocker. Watson in my opinion was a guy who could have battled as a top 5 WR in this class if he was from a bigger school. Like Pickens Watson is a guy who likely goes early in round 2 and could see multiple teams trying to jump up to snatch him. NDSU WR Christian Watson Highlights 🔥🔥🔥 ᴴᴰ – YouTube
Trade- Laviska Shenault Jr. -Jacksonville Jaguars
The former 2nd round pick in 2020, Shenault had a productive rookie season with over 600 yards receiving and 5 TDs. However, last season while surrounded by the turmoil that was Urban Meyers, Shenault didn't seem to take the next step. Now in year three with his third head coach Laviska looks to have fallen down the depth chart in Jacksonville. Maybe a change of scenery to Green Bay could be just what he needs. For Green Bay, they would get a young, and cheap WR who has shown some great flashes. Laviska while likely wouldn't be a clear number 1 WR would be a very solid number 2 or 3 WR and would likely only cost GB in the neighborhood of a third round pick
Draft- Alec Pierce-Cincinnati Bearcats
Alec Pierce is a 6'3 WR with good strength and speed who similar to Watson played majority of his career against lower level opponents and took until their senior seasons to truly breakout. Pierce is the first of my WRs that I could see being available closer to Green Bays first 2nd round pick. However, if Pierce lives up to his NFL comparison Green Bay fans will be really happy. Seeing shades of Jordy Nelson, as Pierce and Rodgers will be connecting a lot over the next few years.
Others
Green Bay could also look Jalen Tolbert out of South Alabama. John Metchie III out of Alabama, or Romeo Doubs out of Nevada tonight could also be possibilities.
The Packers are in need of receiver help, however Green Bay has done extremely well drafting WR in the second round for years. So for the fans that are worrying sit back and R-E-L-A-X
NFL Draft coverage starts
Friday April 29th at 7pm CST with RDs 2-3
Saturday April 30th at 12pm CST with RDs 4-7
For More Great Wisconsin Sports Content Follow me on Twitter @Letitflysports and follow us @WiscoHeroics1for more great content. To read more of our articles and keep up to date on the latest in Wisconsin sports, click here!