The Brewers hosted the Diamondbacks for a four game series! Check out the big moments and performances from our Brewers weekend recap!
Hot Brewers sweep away the snakes 
The Arizona Diamondbacks came to Milwaukee for a four-game series against the Brewers. The Diamondbacks are in a free fall. They have lost a remarkably awful 13 consecutive games on the road going into Thursday. The Brewers, winners of four of their last five games, would try to avoid being snake bitten and use this part of their schedule to climb in the central division.
And that they would do: through the combined efforts of great hitting and pitching, they swept the series from Arizona by scores of 7-4, 5-1, 7-5, 2-0. Here are nine takeaways from the series that was:
1) Is the power back on?
How many times have we seen the brewers put good wood on the ball only to see it turn into a warning track fly out? With notions of an altered baseball preventing as many long balls across major league baseball, it has felt like that has been a major contributor for the Brewers' power outage. Coming into the series, the brew-crew had 64 homeruns with Avisail Garcia being the lone player with double digit homeruns.
In the four game set, the offense combined to for 11 Homeruns.
In game one, Jackie Bradley Jr was the first to begin the homerun parade with his fifth homerun to left center field. Christian Yelich took a first pitch changeup and sent it out like a laser for his second homerun on the season in the same inning. Then the top two team leaders in homeruns got into the fold as Luis Urias hit his seventh and Garcia his 11th in the eighth inning. The barrage would continue throughout the weekend. Daniel Volgelbach, Willy Adames, Daniel Robertson, and Tyrone Taylor would all be contributors. Yelich and Omar Narvaez (more on him later) would hit back to back homeruns late on the Saturday afternoon game to propel the Brewers to victory.
So what flipped the switch? Warmer weather, different colored bats, or D-back pitching? Maybe it is not just one thing.  Perhaps the offense is finally turning a corner.
After the game on Saturday, Yelich told reporters "I know everybody thought we weren't going to score any runs all season, that we had a terrible offense and that's how it's going to go. We knew if we just stuck with it, it's going to click; its going to warm up and we're going to get in a grove."
2) More Injuries….
Three days seemed like a long time for this team to not have an injury.
Kolton Wong, who had already been on the Injured List this season for an oblique issue, will be making another trip for a similar problem. Based upon the reporting, the consensus is this could be a longer stint. It is another blow to the Brewers who had already placed Gold-Glover outfielder Lorenzo Cain on the IL earlier this week.
The team will once again need to rely on depth; they called upon Infielder Pablo Reyes to help cover a multitude of positions if need be. His original stint saw a .270/.270/.324 slash line in 37 at bats.
The primary player at second base will however be Luis Urias.
3) Maybe he is a super utility player!
After the Brewers swung the trade for Wily Adames, the role of Luis Urias' future with the club was communicated as that of a "Super Utility Player." One may have thought this was just something one would say to help instill some confidence to a young player who just lost his starting job.
Since the Adames trade on May 21st, Urias has been on a tear with a slash line of .303/.361/.363.
On Thursday, in his first at bat after taking over for a departed Wong, he would take a 2-2 changeup and send it over the right field wall. Along with the bat, his glove at second base would make a number of great plays including a "no-hit" saving dive off of a Christian Walker near bloop single.
Overall: a fantastic (and needed) series from Luis Urias. Time will tell if he is able to keep this great play up, but Urias has handled much adversity in the last couple of weeks and responded well. Perhaps we are seeing the Luis the Brewers thought they were getting when they acquired him. Either way, it is hard not to root for the guy.
4) Happy Birthday Freddy
People handle their 25th birthday differently. Some keep it lowkey and take a day off of work. Others succumb to their quarter life crisis and buy something they should not have like a car or a boat.
Freddy Peralta, on his 25th birthday, went out and pitched brilliantly.
7.1 innings pitched, nine strikeouts, three walks, and he only gave up one hit. He was five outs away from throwing the first Brewers no hitter since Juan Nieves did it in 1987. The combination of his fastball, changeup, and slider saw the D-backs swinging and guessing wrong on a number of at bats. Fastball Freddy had their number and all Arizona could do is hope to get enough contact on the ball in order to get a base hit. Shortstop Nick Ahmed was the only successful Diamondback hitter to do so as he got enough of a 1-2 sinker to dump it in left field.
Peralta would leave the game but not before a well deserved standing ovation from fans in attendance. While it may not had been a no-hit night, the effort itself was fantastic in a already fantastic season. Mike Vassallo, Senior Director of media relations, tweeted out that this was Freddy's fourth start of 2021 with 5+ IP and one hit. He has allowed 29 hits in 64 innings this season with 92 strikeouts.
5) Woodruff struggled but did not break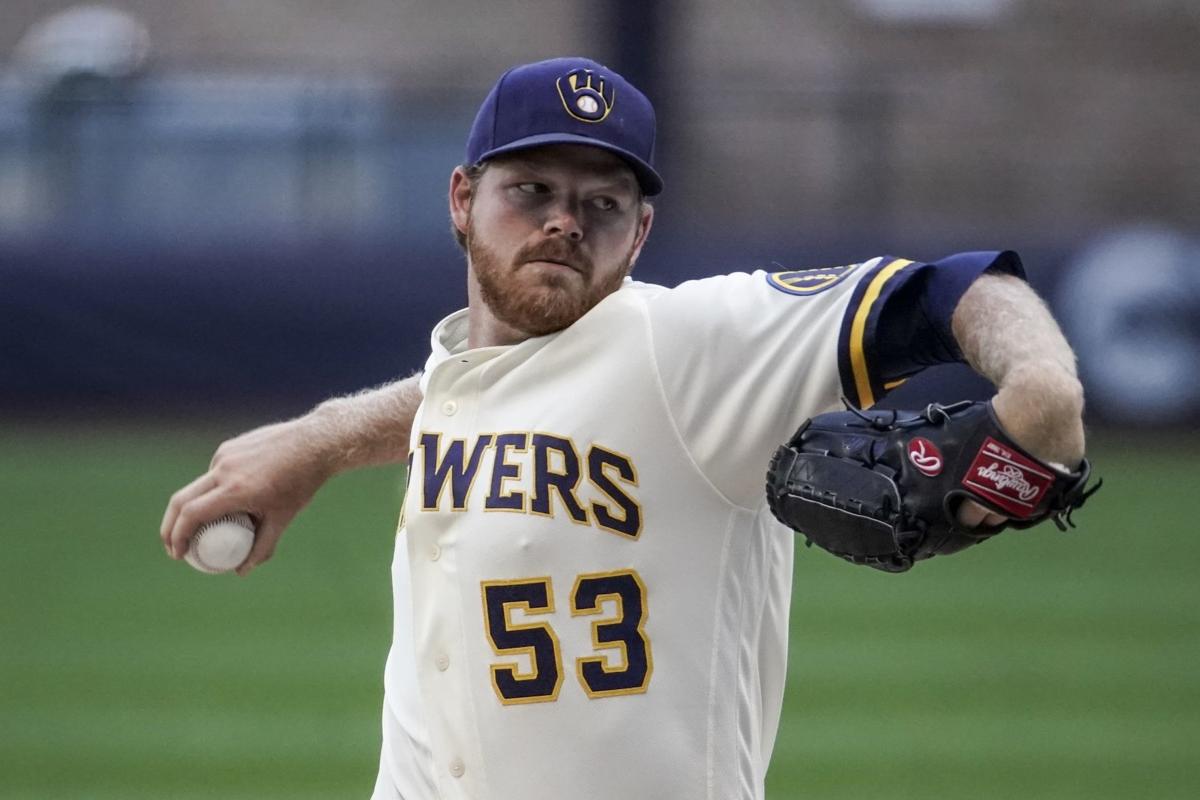 After being named the national league player of the week, no one could blame Brandon Woodruff for a rough start in the near future. In game three, Woodruff would battle some command issues. The D-backs, to their credit, had an excellent approach to Woodruff; there were extremely patient and squared the ball up enough for six hits and two runs.
[pickup_prop id="6599″]
By about the fourth inning, Woodruff had a high pitch count. That suggested he was not going to continue his streak of 10 consecutive Quality Starts. However, Woody would do enough to keep the team in the game and leave in line for the win. If this was considered a "bad start," that is still pretty good.
6) Taylor is contributing 
Tyrone Taylor is tied for third on the team with six homeruns. Why is that significant to know? Because in his "yo-yo" season between the majors and the the minor leagues, those homeruns have come on less games and at bats (35 games, 87 plate appearances) compared to the players he is tied with, Travis Shaw and Omar Narvaez, who have played more. Taylor is making good use of the opportunities he is given.
One such opportunity came on Saturday's game in the fourth inning; the bases were loaded with Taylor coming to the plate. A passed ball would allow a run to score, then Taylor would drive a single to left field to see Yelich and Narvaez score to make it a 3-2 game at that point. On Sunday, in the sixth inning with the Brewers holding on a one run lead, Taylor would handle a low 93mph pitch and send it out for a solo homerun for some insurance.
With Cain on the IL and Bradley still scuffling, Taylor may not be a player to overlook.
7) Corbin Burnes Dominated
You almost have to feel a little sorry for the Diamondbacks. After a dealing with Peralta and Woodruff, they were probably hoping to get some relief for getaway day.
But Nope-they got Burned.
Seven shoutout innings, four hits, no walks, & 13 strikeouts which would set a career high for Corbin Burnes. The cutter and the curve saw the snakes from out west swinging at junk, looking at strikes at the knees or the edge of the zone, and then looking for their first flight out after a rough series.
After his start, Burnes' ERA &WHIP (Walks and Hits per inning pitched) would lower to 1.93 and 0.71 on the season.
8) Player of the series?
It was a fun weekend of baseball and there are certainly a lot of players for consideration. Many players contributed to the weekend sweep. The popular choices could easily be Freddy Peralta or Corbin Burnes.
I would argue however for the man behind the plate, Omar Narvaez. In addition to doing a fair amount of catching, against the Diamondbacks, Omar had a weekend tally of five hits, six runs, two homeruns (not counting the little league homerun), and three RBI.
It seems as if Omar is picking it back up after returning from his IL stint. The 5'11' backstop from Venezuela is starting look like a huge threat in that Brewers lineup. Manager Craig Counsell told reporters this weekend that Omar "had as good of an offensive season as probably any catcher in baseball right now."
9) Tied for First
Remember when the Brewers were two games under .500 and the season felt lost?
Well, cheer up Brewers Twitter. After this series, the Brewers have matched their high water mark of seven games over .500 for a 33-26 record. They are tied atop the Central Division with the Chicago Cubs who had dropped three of four games against the San Francisco Giants over the weekend. The St. Louis Cardinals are streaking in the wrong direction as they are in the middle of a five game losing streak.
Now the Brewers will take a trip out to Great American Ball Park to visit the Cincinnati Reds starting Tuesday night. It was a solid weekend all around, and a great start to the month of June.
Statistics courtesy of baseball reference & MLB
As Always…
Follow me on Twitter @WordOfThe_Weiss! Check out our merch page as well. Use promo code WISCO at checkout for $1 off! To read more of our articles and keep up to date on the latest in Wisconsin sports, click here!