For over 100 years, Camp Randall has been the home to the Wisconsin Badgers football team. What makes the Badgers so great is the countless fans that come out to watch them play. Fandom in Madison is unlike any other. With numerous block parties and tailgates, Wisconsin fans can't wait for each game hosted at home.
Like other numerous sporting events in 2020, the home of 80,000+ fans was left empty for the season. That meant no Jump Around, no 5th Quarter, and no way of Badger fans watching a game at Camp Randall.
Although the season went on, it was sometimes difficult to watch games without fans in the stands. We weren't able to enjoy Graham Mertz five-touchdown game against Illinois. We were unable to enjoy Wisconsin keep Paul Bunyan's ax after defeating Minnesota. More importantly, we were unable to get away from everyday life and watch our favorite team play.
Even though the season ended with underwhelming results, a new leaf has been turned. Camp Randall will be open again this Fall and we as fans will be able to enjoy Camp Randall once again. With high expectations, a defense hungrier than ever, and an offense ready to work, Badger fans should be excited for the season to come.
As I get ready for the season, I wanted to tell my story of my first game at Camp Randall and one of the greatest experiences in my lifetime.
My First Game at Camp Randall
Although I've been a Badger fan for most of my life, it wasn't until October 9th, 2010 were I was able to attend my first game. As a junior in high school, I woke up at 7:00 am to make the drive to Madison. My friend Joey and I, fueled on Gatorade and snacks, made our way to Madison.
It also was the first time I've ever been to Madison. I remember driving down John Nolan Drive taking in the Lake Monona and thinking how amazing it was to be there. It wasn't until we got closer to Camp Randall where everything truly kicked in.
The atmosphere was unlike anything I've seen. My closest comparison was my time at Lambeau Field watching the Packers play. Surrounded by a sea of red, you could see fans walking the streets left and right. The students were out on their house balconies tailgating like they do best. It was something I've truly never seen.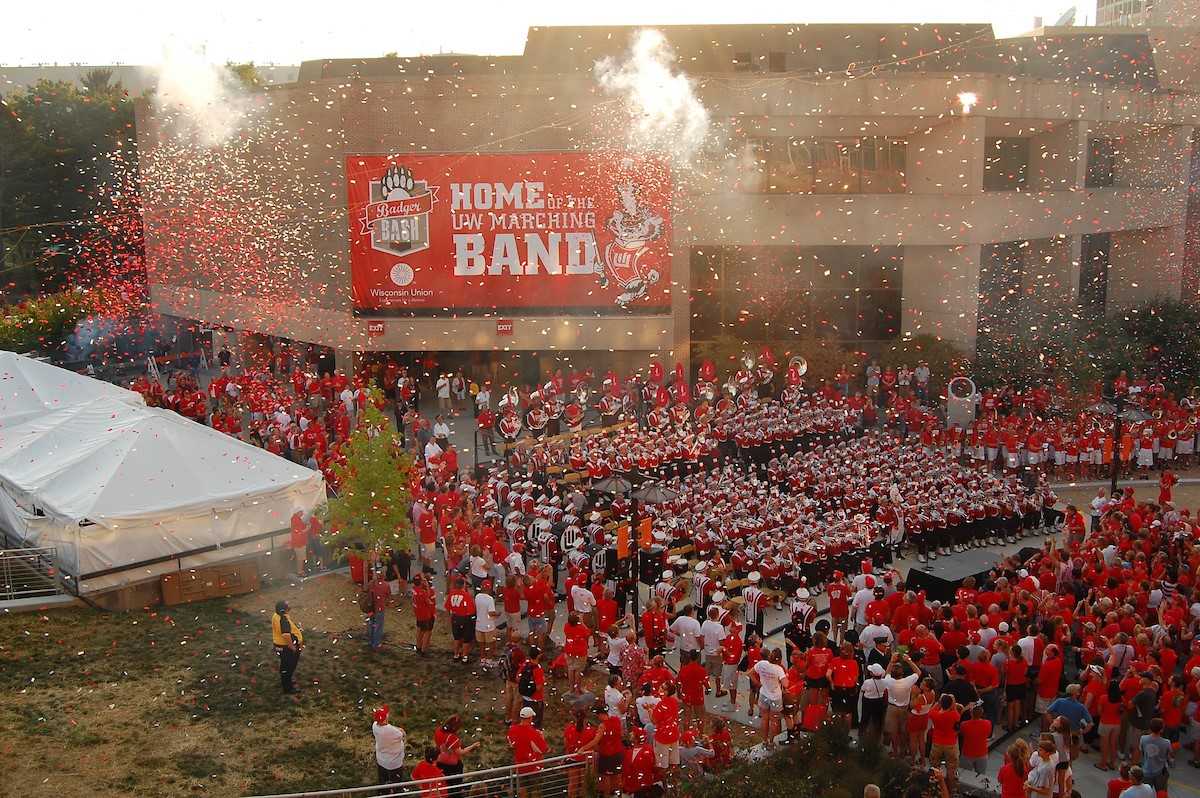 As we made the walk up past the Memorial Arch, I could finally see it. Camp Randall was right in front of me. Once we got to our gate, there was no turning back. It's time to go enjoy my first-ever Badger game inside Camp Randall.
What It's Like Inside Camp Randall
As we made our way to the tunnel where our seats were, I remember feeling nervous heading in. What was it going to be like? Would I be a bad luck charm as this is my first time? Shortly after exiting the tunnel, that thought completely left my mind.
Looking around the stadium, it was breathtaking. To see so many fans and the field was an amazing sight. From the field, seeing all the Badger greats I've watched before, I was blown away by what it was like. With the names Ron Dayne and Al Ameche placed in the rafters, I knew this was going to be special.
When the game began, I was glued to my seat watching the entire game. I didn't want to miss a single play. From James White and John Clay combining for 230 yards rushing to Scott Tolzien finding Lance Kendricks and Nick Toon, I was wired in.
Wisconsin shook off some rust to start but broke away in the third quarter, cruising to a 28-9 lead heading into the 4th quarter. And then the music stopped…..it was time for Jump Around.
Jumping for that long is quite the workout. My calves were burning but I didn't care one bit. We went the whole song dancing and jumping the entire time. It was even cool to see the players start doing it on the field. It's a tradition in football that will never be missed and one that should live on for the rest of Wisconsin history.
A Day I'll Never Forget
As the clock struck zero to end the game, the Badgers were victorious. Fans were cheering and the players were a little more excited than usual. That's because it was a game against Minnesota for Paul Bunyan's Ax. They paraded the ax around to all the fans. We snuck down to the lower level and I even got to touch it. The players went from one endzone to another and per tradition chopped the goalposts down.
As we drove back home completely exhausted, I thought about the day I just had. My first time in Camp Randall was something I'll never forget. We may have been two broke high schoolers by the end of the trip (having just enough gas money to make it home) but it was worth every penny.
To every Badger fan out there, Wisconsin Football is back and it's right around the corner. If you've never experienced a game before, at Camp Randall, I highly encourage doing so. It will be an experience that will leave chopping at the bit to come to another game shortly after going.
[pickup_prop id="6162″]
For More Great Wisconsin Sports Content
Follow me on Twitter at @bennyboy615 and follow us @WiscoHeroics1 for more great content. Check out our merch page here and use promo code Wisco at check out for $1 off! To read more of our articles and keep up to date on the latest in Wisconsin sports, click here!