Johnny Davis was nothing short of amazing this season. The Wisconsin Badgers defied virtually everyone's expectations during the 2021-2022 season. Predicted to finish tenth of 14 teams in the Big Ten, the Badgers won the regular season conference title, were crowned Maui Invitational champions, and were consistently ranked in the top-25. While many members of the team contributed to this success, Davis was the biggest factor. 
Davis, the Big Ten Player of the Year and AP first-team All-American, led the Badgers in points (19.7) and rebounds (8.2). His stellar sophomore season has him primed to be a first-round NBA draft selection. 
Did Johnny Davis play his last game as a Badgers against Iowa State? Possibly, but here are three reasons why he might be drawn to stay at least one more year in Madison. 
The future looks bright in Madison
Not many people thought the Badgers would be very good this year. After losing a lot of seniors at the end of the 2020-21 season, the 2021-22 season was considered a "rebuilding" year for Wisconsin. It was anything but a rebuilding year. Brad Davison is the only senior starter, and while his departure will be a huge loss for Wisconsin, it's encouraging that the majority of this squad will be back. Davis leaving for the draft would be a huge blow to Badger seasons down the road. The future looks extremely bright for Wisconsin, with Tyler Wahl, Chucky Hepburn, and Steven Crowl developing even further. Add Davis in there, and Wisconsin could very well find themselves winning more titles. 
If Davis were to enter the draft, he could miss out on a lot of success this young Badgers squad could see in the next few years. 
Two words: Jordan Davis
Not many people get the opportunity to play Division I college basketball with their twin brother. Johnny and Jordan Davis are some of the few. The twins were a dynamic duo at La Crosse Central High School, excelling in both football and basketball. 
The two are close, which factored into their decision to go to Wisconsin to play together. Though Jordan made the most out of his opportunities, he didn't had many this season, only averaging 6.5 minutes a game. 
If Johnny were to leave for the draft, the Davis twins wouldn't have played much college ball together. If that was a big goal for the pair, Jordan could be a huge piece to keeping Johnny in Madison, at least for one more season, hoping Jordan would continue to improve and see more minutes.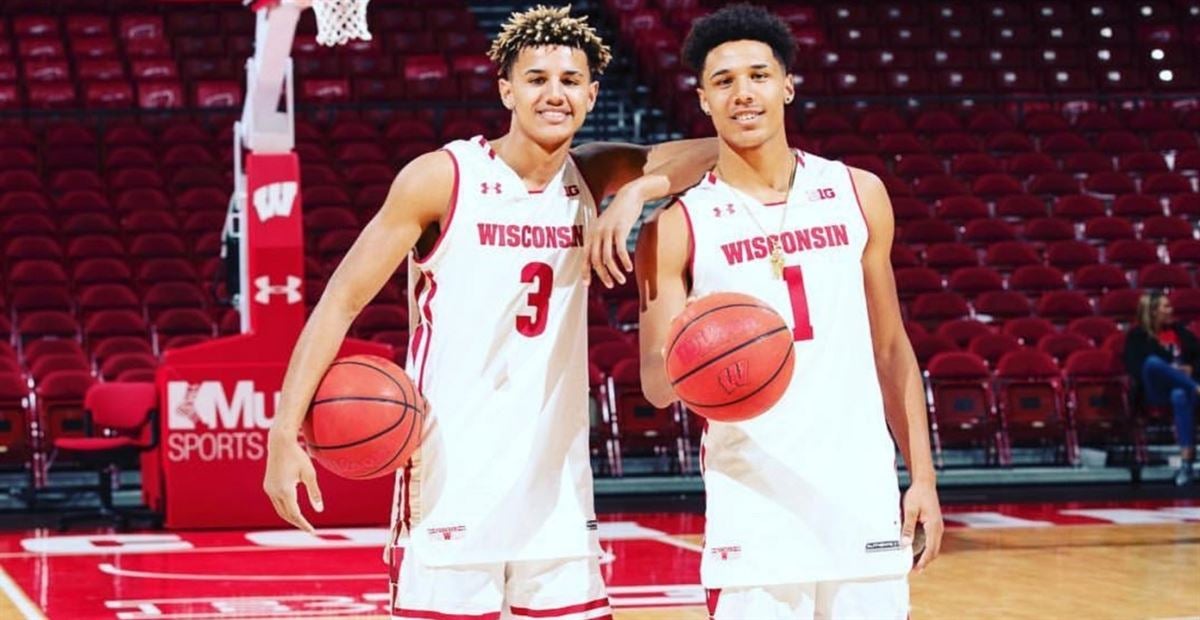 Learning from past Badgers?
Wisconsin isn't known for producing much long-lasting, successful NBA talent. While some Badgers (Michael Finley, Devin Harris) have found some success in the league, the program hasn't contributed much talent to the NBA recently. Even Wisconsin's best players of the last 15 years (Sam Dekker, Ethan Happ, Nigel Hayes, etc.) couldn't find much success in the league. Frank Kaminsky, the 2015 National Player of the Year, the best player in college basketball, hasn't made much noise at the next level. 
Could Johnny Davis change this? Absolutely. It wouldn't surprise me if he did. However, Davis gets one chance to wear the cardinal and white, while the NBA is a possibility for years to come. 
Seeing the success fellow Badgers have had after deciding to return to Madison for their remaining collegiate seasons (for example, Kaminsky winning a Big Ten title and playing in the National Championship game) vs. seeing those who decided to forgo their eligibility (Dekker) and not have much success in the NBA could be something Davis weighs. 
For those of you adamant that Johnny should and will declare for the draft, don't worry. I will have a piece that supports your position next. 
For more…
Follow me on Twitter @Mara__Allen and follow us @WiSportsHeroics for more great content! For the latest in Wisconsin sports, click here. Check out our merch store for some WSH merchandise!