With Graham Mertz and Chase Wolf testing positive for COVID-19, what is next for the Wisconsin Badgers?
What A Beginning
Badger fans could not have asked for a better starting debut from highly-touted freshman quarterback, Graham Mertz. In a lopsided 45-7 victory over Illinois, Mertz finished the game with a program-best 95% completion clip, 248 passing yards, and a program-best 5 TDs. Mertz was awarded the Big Ten's Freshman of the Week award and was named a Co-Offensive Player of the Week.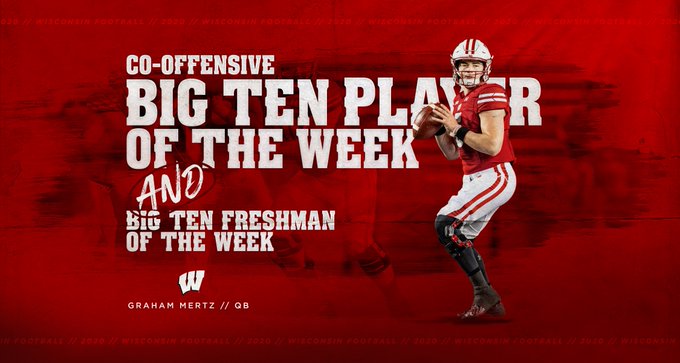 Too Good To Be True
Unfortunately, the excitement of Mertz's success is overshadowed by the news of COVID tests. This was first reported by Jeff Potrykus of the Milwaukee Journal Sentinel on Saturday night. Mertz's positive test was later confirmed with a second positive test, as reported by Dennis Dodd of CBS Sports. To make matters worse, Mertz's replacement, Chase Wolf, was not seen at practice Monday and has reportedly also tested positive for COVID. Although, this has yet to be officially confirmed. This is a Badgers football team that is already without last season's starter and senior leader, Jack Coan, who is sidelined indefinitely with a foot injury.
Next Man Up
With both Mertz and Wolf out, it marks the beginning of the Danny Vanden Boom era at quarterback. The only other quarterback listed on the roster is true freshman Daniel Wright. Vanden Boom is a junior from Kimberly, Wisconsin, and is a former three-star recruit, per 247 Sports. A pro-style QB, Vanden Boom was the 2016 recipient of the Dave Krieg Award — an award given to Wisconsin's top senior quarterback. His only game action for the Badgers occurred in 2018 where he saw limited action in 3 games. His career passing stats are brief: 1-1 for 3 yards and a touchdown.
Now What for Mertz and Wolf?
Losing Graham Mertz and Chase Wolf is a tough pill to swallow for Badgers fans. Especially after Mertz's phenomenal debut against Illinois. It should also be noted that the Badgers are running out of quarterbacks on the roster and are running out of any wiggle room for additional positive COVID tests. The Big Ten Conference's rigid COVID protocols state that a team can have no greater than 5% of its active roster test positive. On a 100 man roster, that would mean only five players.
Additionally, per Big Ten's COVID protocols, if a player confirms positive they cannot see game action for 21 days, at a minimum. These players must also undergo comprehensive cardiac testing to include labs and biomarkers, ECG, Echocardiogram, and a Cardiac MRI. Additionally, these players will have to receive a cardiac clearance from a university cardiologist before returning to the field. That is a lot of moving parts that could quickly result in a delay. If all things do go as planned, Mertz would be eligible to return for the November 14th  matchup against Michigan. Although, that is the exact 21-day mark and he would need to be both healthy and in playing shape. It may come down to a last-minute decision on game day. In the meantime, it is the Danny Vanden Boom show against Nebraska, Purdue.
Follow me on Twitter at @Coach_Riley76 and follow us at @WiscoHeroics1 for more great content!  To read more of our articles and keep up to date on the latest in Wisconsin sports, click here