It's not even 2021 and the Badgers have started adding players to the 2022 class. On Tuesday, the Badgers received a commitment from Fond du Lac safety Braelon Allen. Allen is a four-star safety who chose Wisconsin over Michigan, Notre Dame, Michigan State, and Iowa.
According to 247 Sports, Allen is listed as an inside linebacker, but he really plays safety. He may, however, grow and be able to slide into a linebacker spot eventually. He is 10th ranked inside linebacker in the country and 202nd overall.
Allen is the first commitment for the Badgers' 2022 recruiting class. This is significant because the state of Wisconsin's 2022 class, known as the "Super 6," is loaded with talented players. The class of 2021, which is currently the highest-rated recruiting class in Wisconsin history, has a popular group text that has been huge in recruiting other players. Allen will look to do something similar in the 2022 class. Here are other players in the state of Wisconsin that the Badgers will be targeting next.
Carson Hinzman – Offensive Guard
Hinzman is a 6-4, 270 lb offensive lineman from St. Croix Central in Wisconsin. His recruiting has blown up recently. He has offers from a lot of big-time schools. His current offer list includes Wisconsin, Alabama, LSU, Michigan, Notre Dame, Iowa, Penn St., Oregon, and more. According to 247 Sports, he the number four-ranked offensive guard in the country and 145th overall.
247 Sports has a crystal ball prediction for most prospects. These predict where the prospect will go along with a confidence level that is on a scale of 1-10. One is least confident and ten is most confident. Right now, Hinzman has just one prediction, which is on Wisconsin with a confidence level of '6.'
It's early, but it sounds like Wisconsin is in a good spot with Hinzman. He would be a great addition to Wisconsin and have a good chance to be one of the next great offensive linemen to come out of "O-Line U."
Joe Brunner – Offensive Tackle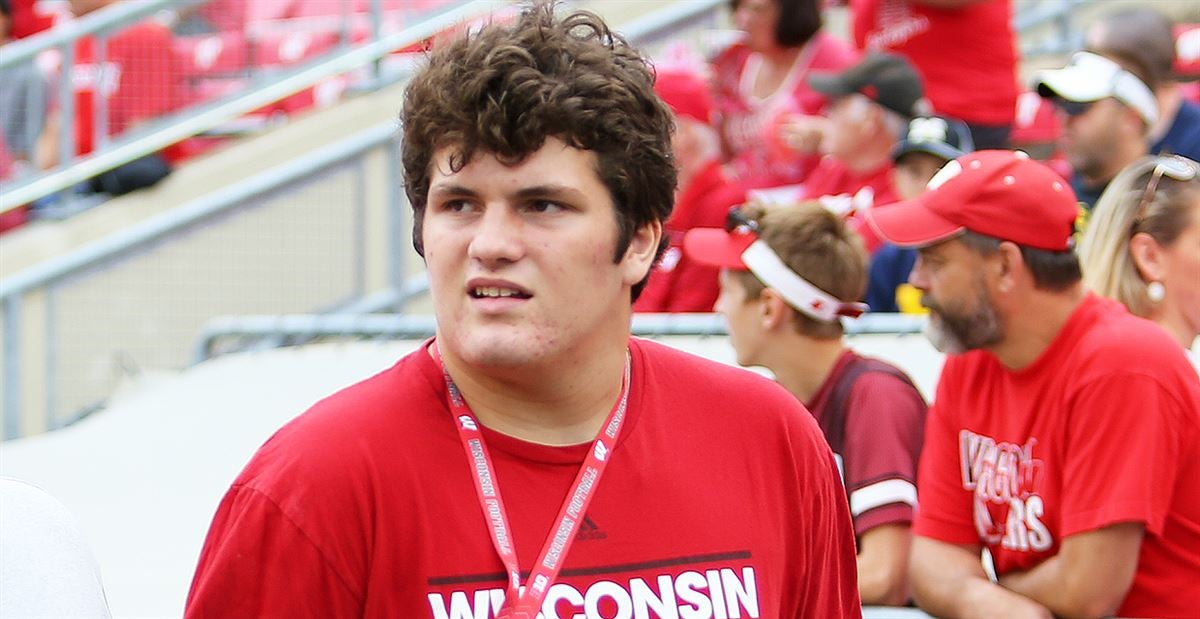 Like Hinzman, Joe Brunner is one of the top offensive lineman prospects in the country. Brunner, from Whitefish Bay (Milwaukee), is 6-5 and 265 lbs. He also has a big list of offers from some pretty big schools. Right now his list consists of eleven offers, most notable from Wisconsin, Arizona State, Iowa, LSU, Notre Dame, Penn State, and Tennessee.
On 247 Sports, he is the top-ranked prospect in Wisconsin, the eighth offensive tackle, and 73rd overall. Currently, there are two crystal ball predictions, both are in favor of Wisconsin. Both of those predictions are a '6' in confidence. Right now, things are feeling pretty good for Wisconsin. If they can land both Hinzman and Brunner, they will get a couple of studs to anchor their offensive line in the future.
Billy Schrauth – Defensive Tackle
The next big guy coming out of the state of Wisconsin is Billy Schrauth. Schrauth, like Braelon Allen, is from Fond du Lac but goes to St. Mary Springs. He is 6-5 and 265 lbs. Schrauth is listed as a defensive tackle, but according to 247's Evan Flood, Wisconsin likes him on the offensive side of the ball. If Wisconsin could grab all three of these lineman, that would be quite the haul. Right now, Schrauth is a four-star recruit and rated as the 12th defensive tackle in the country and 139th overall.
Schrauth, like the previous players above, has a multitude of offers. He holds offers from Wisconsin, Ohio State, Penn State, Michigan, Iowa, Notre Dame, and more. There are currently no crystal ball predictions for Schrauth.
Isaac Hamm – Defensive End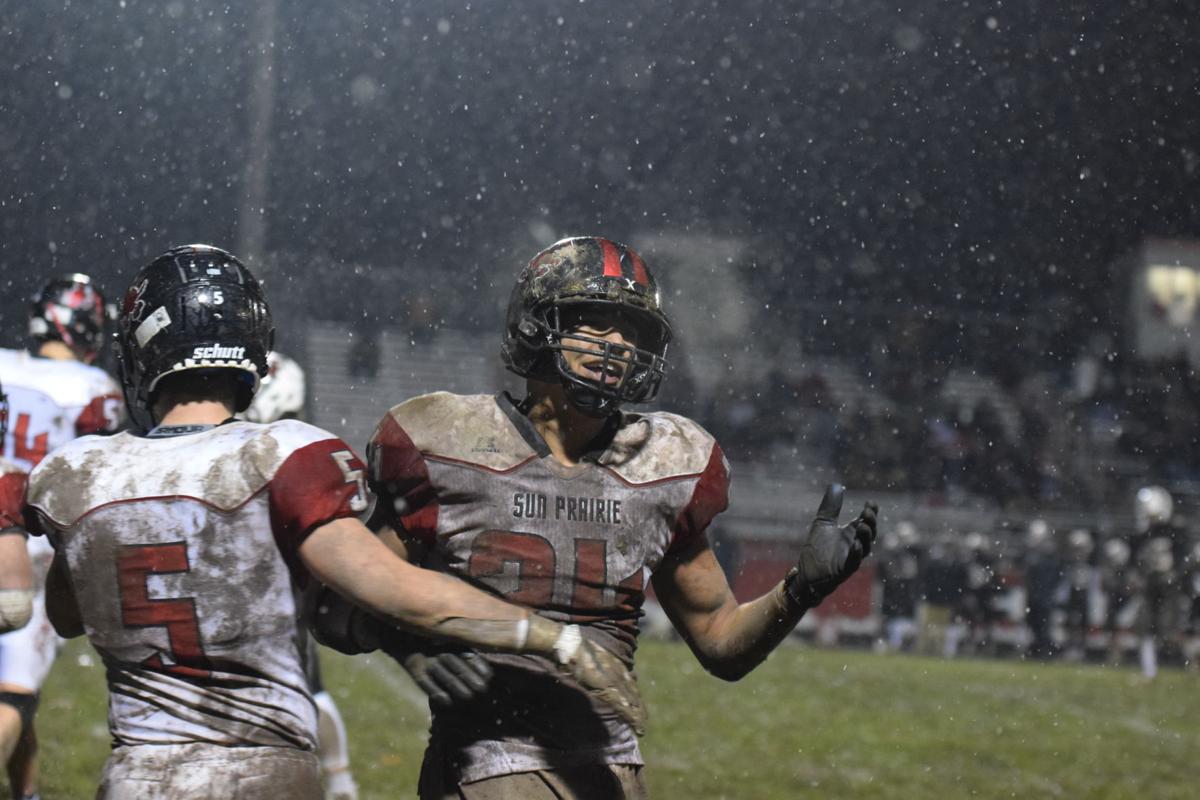 The last of the "Super 6" on the defensive side of the ball is Sun Prairie defensive end Isaac Hamm. Another four-star recruit who isn't getting as much attention as the others. Right now, he has just three division one offers. That may be because he hasn't blown up yet, or other programs feel that Wisconsin is so far ahead in his recruitment that they aren't getting too serious about him.
Hamm is the 11th ranked strong-side defensive end (SDE) in the country and 160th overall. He holds offers from Wisconsin, Minnesota, and Iowa. Wisconsin is the favorite for Hamm on 247's crystal ball predictions.
Jerry Cross – Wide Receiver
Jerry Cross is 6-6 and 218-pound tight end out of Milwaukee. The four-star tight end has eight offers according to 247 Sports from teams like Wisconsin, Iowa, Michigan, Michigan State, Purdue, and more. If he continues to blow up, he will surely get more attention from bigger programs around the country. Even though he is listed as a tight end, there is a possibility he would be able to play receiver at the next level.
247's crystal ball has Wisconsin as the favorite with one prediction at a '6' confidence level. His recruitment has a long way to go, but as of right now, I think Wisconsin should feel pretty good about where they sit.
---
This is quite possibly the most talented group of players coming out of Wisconsin ever, at least in the time there have been online ratings. While the Badgers have been great keeping the homegrown players, it may not be the most realistic to expect the Badgers will grab all six of these recruits.
2022 is a long way away, but this should be a fun class to keep an eye on throughout their high school careers and recruitment.
---
*All ratings and rankings are courtesy of 247 Sports.
Follow me on Twitter at @christianborman and follow us @WiscoHeroics1 for more great content! To read more of our articles and keep up to date on the latest in Wisconsin sports, click here.