Green Bay Packers fans are undoubtedly the best fans in the NFL (I don't make the rules, I just follow them). From their inception as the Acme Packers in 1919, to joining the National Football Association in 1921, to today in 2021, Packers fans have remained the most loyal to their team.
After a century of being around, Packers fans have come to create their own universe centering around the Packers. You don't even have to be from Wisconsin to be a Packers fan; Packers fans are everywhere, even worldwide! Here are ten things that only a Packers fan would understand.
1. Lambeau Leap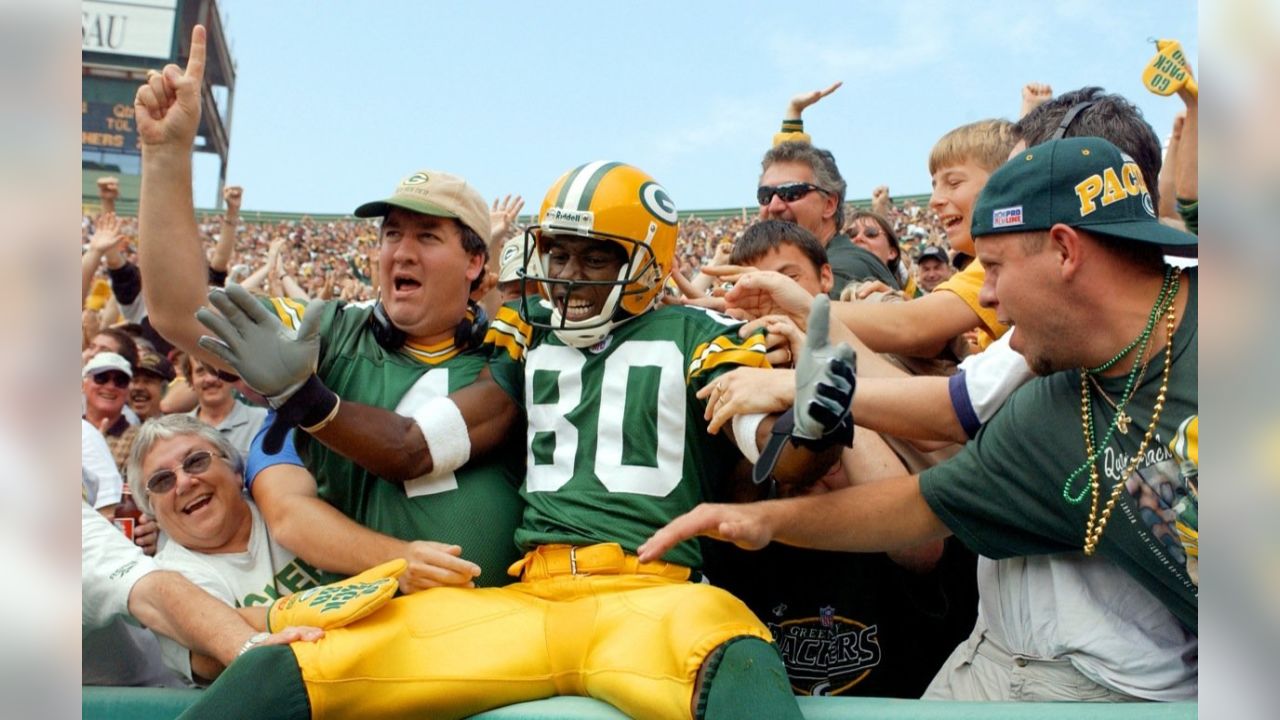 A cherished celebration in Green Bay, the Lambeau Leap has made itself known as one of the best in history. In 1993, LeRoy Butler decided to jump into the arms of Packers fans in the end-zone after scoring a defensive touchdown. It wasn't initially known as the Lambeau Leap, but when other opposing teams try to do said leap, they're nine times out of ten going to be shoved back. Only a Packer can perform the Lambeau Leap.
2. Parking Lot? Try Front Lawn.
Parking in the actual parking lot at Lambeau will cost you an arm and a leg nowadays. However, if you ever make it over to Lambeau Field, you'll likely find someone who lives near the stadium offering their front yard to become a parking stall. Who knows? Maybe they'll invite you over for a game of cornhole and a beer after a Packers win!
3. Wearing a Cheesehead is Acceptable Anywhere.
You probably have heard of the term 'cheesehead' when talking about the Packers. What is a cheesehead? Well, you're in Wisconsin! The 'Dairy State', you're going to see cheese everywhere, even on someone's head. A cheesehead is a triangular foam hat that Packers fans dawn as they watch football with their friends and families. If you don't have a cheesehead, are you really a true Packers fan??
4. Green Bay is the Frozen Tundra
With a temperature of 15 degrees below zero and a wind chill of almost 50 below at kickoff on New Year's Eve in 1967, Lambeau Field wouldn't be dubbed as the 'Frozen Tundra'. Well, that's just one part of it. Lambeau Field can get COLD. You have to bundle up in layers upon layers to comfortably sit on the cold bleacher seats (Unless you have a box seat, then this doesn't apply to you).
For example, on Jan 20, 2008 in the NFC Championship Game against the New York Giants, the temperature at the start of the game was -1 degrees. Just a month earlier in that same year, it was three degrees.
Heck, we even have a 'mascot' for the Frozen Tundra.
5. 'Owner of the Green Bay Packers'
The Green Bay Packers are the only publicly owned, non-profit sports organization in the United States. With over 361,300 stockholders, you can put some of your own money into the Packers to help them thrive; For a nice price of $300, respectively.
You'll probably see more people that have license plates with the words "OWNER OF THE GREEN BAY PACKERS" on it, than you'll see an actual Packers season seat holder.
6. Roll Out the Barrel.
"Zing boom tararrel, ring out a song of good cheer. Now's the time to roll the barrel, for the gang's all here!"
If you're a Brewers fan as well, you're probably familiar with this catchy tune. While the Brewers have you get on your feet during the 7th inning stretch, the Packers have fans roll out the barrel in the fourth quarter. Pro tip: You might wanna listen to the song before coming to the game, you don't want to embarrass yourself by not knowing the lyrics.
Even Lil Wayne knows it.
7. "Fourth and 26".
We cringed too. Mention this to a Packers fan, and they'll be quick to make you regret saying those words to them. The "fourth-and-26" reference comes from an infamous play in a 2004 divisional playoff game between the Packers and the Eagles. Going into the fourth quarter, the Packers led the Eagles 17-14 when Philadelphia, who had no timeouts remaining, faced fourth down with 26 yards to go. Donovan McNabb converted a 28-yard pass, that led to a field goal, that then led into overtime for the game. Ultimately, the Eagles would win in overtime and eventually eliminate the Packers from the playoffs entirely. It hurts. We don't like to talk about it.
8. Owner of the Chicago Bears
While the 'correct' answer is Virginia Halas McCaskey, Packers fans (and even Bears fans) know that the true owner of the Chicago Bears is Aaron Rodgers. Since his entrance into the league in 2005, Aaron Rodgers has faced the Chicago Bears 26 times. Rodgers holds a 21-5 record over their rival. Remember Bears fans, he still owns you.
9. 'Our Coach is Hotter than Yours'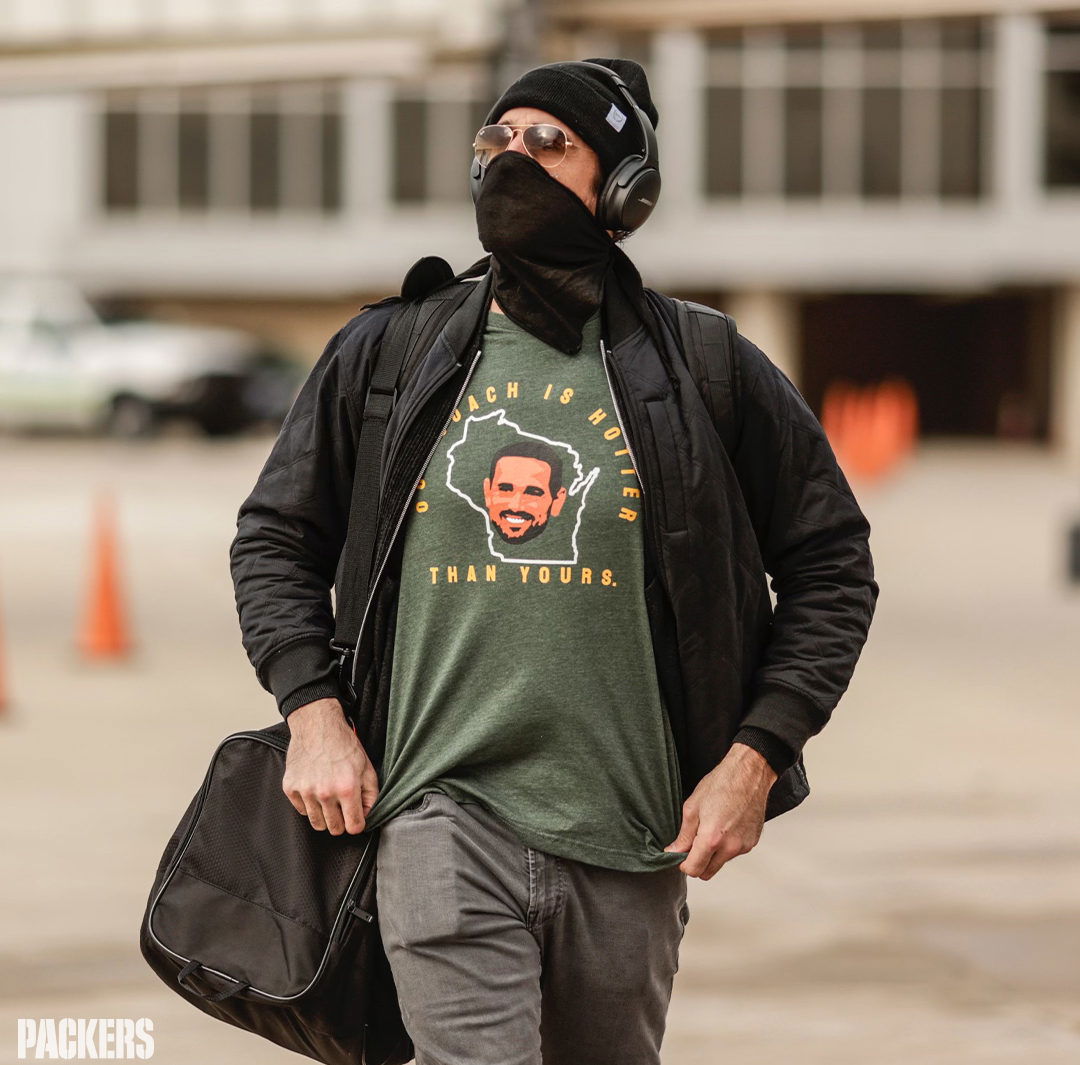 According to a poll on the subreddit Green Bay Packers, head coach Matt LaFleur was dubbed the hottest coach in the NFL. He's in his third season as the Packers' head coach and has an incredible 37-9 record. Some would say that having LaFleur on the sidelines is a bit of eye candy, hence the shirt. But, no one wears it prouder than Rodgers himself.
10. Pre-Game Tailgating.
Are you getting the full Packers game experience if you don't tailgate? Tailgating before a Packers game is like a rite of passage int he state of Wisconsin, you haven't fully experienced the state until you've done so. It's always a fun time with whoever you decide to tailgate with, even if they're wearing the opponent's jersey! You'll always find yourself in a group that makes you feel like you're part of their family. Just make sure to have a Spotted Cow in one hand and a brat in the other.
Now, this list displays just ten things that a Packers fan would understand. I'm sure there's more, but that's for another day! For now, we continue to celebrate the Pack and support them as they make the run for the NFC Championship and eventually that Super Bowl ring! Go Pack Go!
For More…
Follow me on Twitter at @sarahspooon and follow us at @WiSportsHeroics! For all things Wisconsin sports, click here!