Coming off a disappointing 16-10 loss, Wisconsin looks to pick up their first win of the season Saturday evening. The 18th ranked Badgers square off against the Eastern Michigan Eagles at Camp Randall Stadium. Kick off for the game is set for 6:00 pm on FS1.
Although last weeks game was against a good Penn State team, several Badgers left the game with a sour taste in their mouths. Senior safety Collin Wilder said "You're trying to watch other games, just to see college football, and you keep seeing (our) highlights over and over. My gosh."
Despite four turnovers, Wisconsin still had a chance until the very end to win the game. However, the Badgers shot themselves in the foot and failed to put points on the board in the red-zone. Many compared the game to Wisconsin's second half of the season in 2020.
With a new week, the Badgers look to put the game behind them as they prepare for their against Eastern Michigan. Here are the keys to the game for Wisconsin Saturday evening.
Continue Effectiveness Running the Football
If there was a positive to the game a week ago, Wisconsin's run game seemed to find success against a tough Penn State front seven. Junior running back Chez Mellusi led the Badgers with 121 yards and scored Wisconsin's lone touchdown. Along with Mellusi, junior Isaac Guerrendo complimented Mellusi well averaging 4.3 yards a carry for 56 yards.
One thing that stood out between the two backs was their patience in the backfield, allowing the play to develop and then hitting the hole. Although Wisconsin's offensive line struggled throughout the entire game, the two backs found ways to be successful. That performance was also without sophomore running back Jalen Berger who many thought would take a step forward from a stellar season ago.
Paul Chryst says "there is not a sideshow" going in with RB Jalen Berger, who did not play against Penn State. He adds that he's had a good week of practice.

— Michael Hogan (@MHoganReports) September 9, 2021
This week I expect the running back group to continue that success. When Wisconsin is at their best, the run game is a staple in their offense. I expect Chryst to continue going to his strong duo of Mellusi and Guerrendo as well as seeing some carries from Berger this Saturday.

Offensive Line Needs to Turn a New Leaf
Although Graham Mertz deserves the criticism he had for his poor performance, his offensive line did him zero favors. According to Pro Football Focus, not one one offensive lineman had a rating above a 60, including a 0 rating for senior left tackle Tyler Beach in pass blocking.
For the success Wisconsin has with offensive linemen, this performance was a complete head scratcher. Coach Joe Rudolph even tried switching up the line after the first two series, changing out the left and right guard and center. Even after switching it still didn't make much of difference.
I don't think the Badgers will have long term issues throughout the season but this is a must needed change going forward. If we see issues from the line Saturday against a lesser Eastern Michigan defense, we may be in for a long season for this offensive line group. However, with Notre Dame right around the corner, I expect the group to get their heads right and have success this Saturday.
Wisconsin's Defense Continues to Look Elite
Expectations were high for the Badger's defense going into this year with the group that returned from last season and boy did they look sharp last week. Wisconsin's defense held Penn St to just 16 points and held the nittany lion offense to 44 total yards in the first half.
Even though Wisconsin gave up a few big plays due to broken coverage, the front seven looked as sharp as ever. Senior linebacker Jack Sanborn was second in the group with tackles as well tied for top in sacks and tackles for a loss. Sanborn would fly around the field and was a big problem for Penn States offense all game long.
Love this from Jim Leonhard & the #Badger defense.

3rd and 6, opening drive: PSU stacks Dotson/Strange, Clifford is looking for Dotson out of the break the whole way…

but Noah Burks drops in coverage after showing blitz, gives Sanborn time to get home pic.twitter.com/ynKQrX44H5

— Ben Kenney (@benzkenney) September 5, 2021
Along with Sanborn, Wisconsin also had strong performances from defensive lineman Keeanu Benton and Matt Henningsen. The experienced group did a great job limiting Penn State to just 50 rush yards and opened up the Badgers pass rush to get after Penn State quarterback Sean Clifford quite a bit.
The defense isn't perfect but there's a lot of reasons to be excited about what they could be as a group this season. I expect Jim Leonhard to continue making opposing teams uncomfortable and create some turnovers this Saturday. Something that Wisconsin had issues doing a season ago.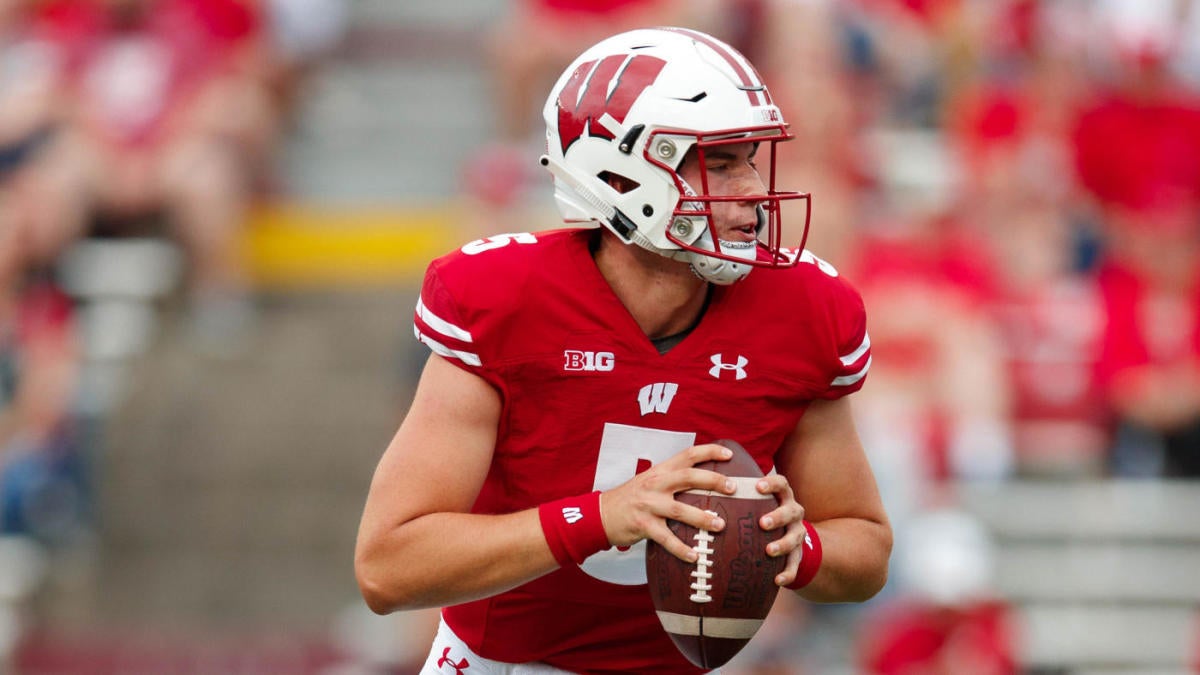 A Humbled Graham Mertz Needs a Strong Showing
Following his poor performance, quarterback Graham Mertz had an interesting perspective on his performance. "I know I can play a lot better football," Mertz said. "I've got to learn from it. I've got to learn and grow."
For being Wisconsin's highest rated quarterback in program history, his performance has been scrutinized for many reasons. After a strong start against Illinois and Michigan last year, it looked as though Mertz was the QB of the future that the Badgers have been looking for. Following his stint with Covid-19, that completely changed. Mertz struggled mightily and looked like a completely different player.
Much like those poor performances from a season ago, we experienced those same struggles against Penn State. Unable to hit receivers when needed, Mertz even had a chance to win the game and missed a streaking Chimere Dike late in the fourth quarter. The overthrown ball was something that Mertz said he wish he had back.
Although many Badger fans are done with Mertz disappointment, I still believe the quarterback Wisconsin needs moving forward. If the offensive line can help protect the young QB better and Graham is able to find some rhythm with the offense, he can find the success he had early last year. Mertz also does have typically have strong performances against lesser teams.
With a strong Notre Dame team coming in a few weeks, hopefully a strong performance against Eastern Michigan and a week off can help Mertz come ready against a stingy Irish defense.
Score Prediction
It's easy to look past a game like this with a difficult test right around the corner. However, I think the loss last week really helped Wisconsin realize they need to correct some wrongs to move forward. I'm not saying that losing is a good thing but it really helped the Badgers see what they need to do to get better.
One thing I want to see from the Badgers is for the offense to get more players involved. Senior Danny Davis had a great game after missing the majority of the season ago. With eight catches for 99 yards, the experienced receiver is someone Mertz needs to go to more. Along with Davis, Senior Kendric Pyror and Dike didn't see much production. Coach Chryst needs to get the receivers more involved instead of Mertz eyeing down his favorite target Jake Ferguson.
It's time for Wisconsin to move forward and I expect them to do so Saturday evening, picking up their first win of the season.
Final Score: Wisconsin 38, Eastern Michigan 10.
[pickup_prop id="11090″]
For More Great Wisconsin Sports Content
Follow me on Twitter at @bennyboy615 and follow us @WiscoHeroics1 for more great content. Check out our merch page here and use promo code Wisco at check out for $1 off! To read more of our articles and keep up to date on the latest in Wisconsin sports, click here!