It is officially the postseason for high school football in Wisconsin. Earlier today, the WIAA did a one-hour show on Bally Sports Wisconsin, revealing the teams who made the playoffs. There are seven divisions for high school football in Wisconsin. The playoffs begin next week as teams start their journey to hopefully make it to Camp Randall Stadium next month. Here is a recap of each division for the WIAA Football Playoffs.
WIAA Football Playoffs: Division 1
WIAA Football Division 1 was led by top seeds Bay Port, Arrowhead, Waunakee, and Muskego. I like all four of these teams and would expect them to be the final four teams standing by Nov. 11. Subsequently, Neenah, Hudson, Verona, and Mukwonago received two seeds.
Waunakee has a brutal stretch for being a one seed. After being in division 2 for a number of years, the Warriors could see either Neenah or powerhouse Kimberly in level three. Muskego could see defending state champion Franklin in the second round and then potentially Mukwonago in level three. Those two regions are probably the toughest in division 1. I certainly think Bay Port is the favorite and the team to beat in these WIAA Football Playoffs.
Division 2
River Falls, Kettle Moraine, Brookfield Central, and Hartford are the one seeds in Division 2. Kettle Moraine has been in a tough conference all season so they should be poised to make a run. However, they could potentially face Sun Prairie East in level three. Sun Prairie only had one team last season and made it to the state championship in Division 1, falling to Franklin, This year, Sun Prairie split into East and West. East is the two seed.
I'm sure Division 2 is happy to see Waunakee out and up to Division 1. I do see Kettle Moraine as the favorite. However, don't sleep on either of these other top seeds or Sun Prairie East. I think this WIAA Football Playoffs division is potentially wide open.
WIAA Football Playoffs: Division 3
The one seeds in Division 3 are West Salem, Monroe, Onalaska, and Martin Luther. Mosinee, Reedsburg, Port Washington, and Mount Horeb/Barneveld are the two seeds.
I would keep an eye on the Monroe section and they could consequently face Pewaukee. The Pirates are the defending Division 3 state champions. They will certainly feel the disrespect of being under-seeded. This could potentially be an upset in level two. Do not sleep on the four-seeded Pirates throughout the WIAA Football Playoffs.
Division 4
The ones seeds in Division 4 are Catholic Memorial, Racine St. Catherines, Colombus, and Little Chute. Lodi, Ellsworth, Freedom, and Kewaskum are the two seeds.
This is Catholic Memorial's division to lose. Ellsworth gave the Crusaders a good fight in the Division 4 title game last season. However, there is a ton of division one talent on this roster. I think they certainly cruise into the WIAA Football Playoffs Division 2 Championship. It's just all who they see in Madison will be intruding.
WIAA Football Playoffs: Division 5
Prairie Du Chien, St. Croix Falls, Southern Door, and Mayville are the ones seeds in Division 5. Aquinas is the three seed in the St. Croix Falls pod and they are the defending champs in Division 5. However, this sets up a potential rematch with Mayville if the chips fell.
I think the setup is really nice for Mayville. I would certainly not be surprised if they saw themselves playing for the gold ball for the second straight year. If Aquinas and St. Croix Falls meet in level three, I think the winner of that game would subsequently face Mayville for the WIAA Football Playoffs Division 5 Championship.
Division 6
The top seeds are Grantsburg, Marshall, Coleman, and Kenosha St. Josephs. The two seeds are Darlington, Stratford, St Mary's Springs, and Bangor. I think this is a loaded division. Coleman was the runner-up in Division 7 last season. Springs was the runner-up in Division 6 last season. These two teams could meet in level three. What a game that would be.
I would keep an eye on Stratford in this division. They are good enough to get to the state title game and consequently would give these teams all they could handle. This is my dark horse in the Division 6 WIAA Football Playoffs.
WIAA Football Playoffs: Division 7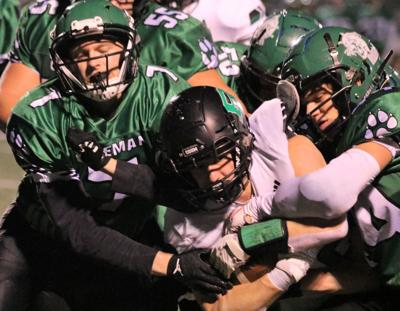 Division 7 is led by Regis, Cashton, Pepin/Alma, and Cambria-Friesland. Regis seems to be the favorite in the small school division. They are a consistent powerhouse. Don't be surprised if they are in Madison for the WIAA Football Playoffs Championship.
One team to watch is Cashton. They fell to Reedsville 47-8 in the state semi-finals last season and will look to rebound and get over the hump. Keep an eye on Shiocton as well. The Chiefs are a two seed in the Cambria-Friesland pod. They could shock a few teams and subsequently play Cashton in the semi-finals.
For More Great Wisconsin Sports Content
Follow me on Twitter @DylanBuboltz and follow us @WiSportsHeroics for more great content. To read more of our articles and keep up to date on the latest in Wisconsin sports, click here! Also, check out our merch store for some amazing WSH merchandise!