Training camp is often a time for positional battles and fringe players fighting for roster spots. For Packers QB Jordan Love, it is something different. This is Love's third year after the Packers spent a 1st round pick on him. This years training camp is Jordan Love's last chance to impress.
Love's First Two Years
The first couple of years have been anything but impressive for Jordan Love. In his defense, his rookie year was unprecedented. The Covid-19 pandemic shut down all in person workouts and camps. Other rookies get orientations, OTAs, camps and plenty of in-person learning opportunities. Love got none of those. He spent his rookie season totally inactive. In 2021, Love saw the field but training camp was pure chaos. In the wake of QB Aaron Rodgers requesting a trade, Love saw first team reps during the training camp and preseason. After the Rodgers situation was resolved, it was back to the bench. He came in for the two games: The game where Rodgers was out with Covid and the last game of the season when the conference was wrapped up. Love's journey has been anything but normal.
Love's On the Field Performance
In training camp and the preseason, Love had mixed results. There were throws he would make that made Packers fans hopeful that they had another franchise guy on their hands. Then there were throws that made Packers fans bury their face in their hands. It was wildly inconsistent. When it was announced that Love would start against the Chiefs, I personally had low expectations. Unexpected start, short amount of time to prepare, and limited game time did not spell success in my book. The stat line wasn't horrible throwing for 190 yards and a touchdown but Love never looked comfortable in that game.
In the last game of the season against the Lions, Love came in for the second half and looked awful. A measly 134 yards was one thing but it was the decision making that was really poor. On the last two drives, Love through picks on each of them to end the game. This was a real missed opportunity for Love. This was his chance to lead a game winning drive and end the season on a high note. While this game meant nothing for the Packers, it had the potential to mean a lot for Love.
Last Chance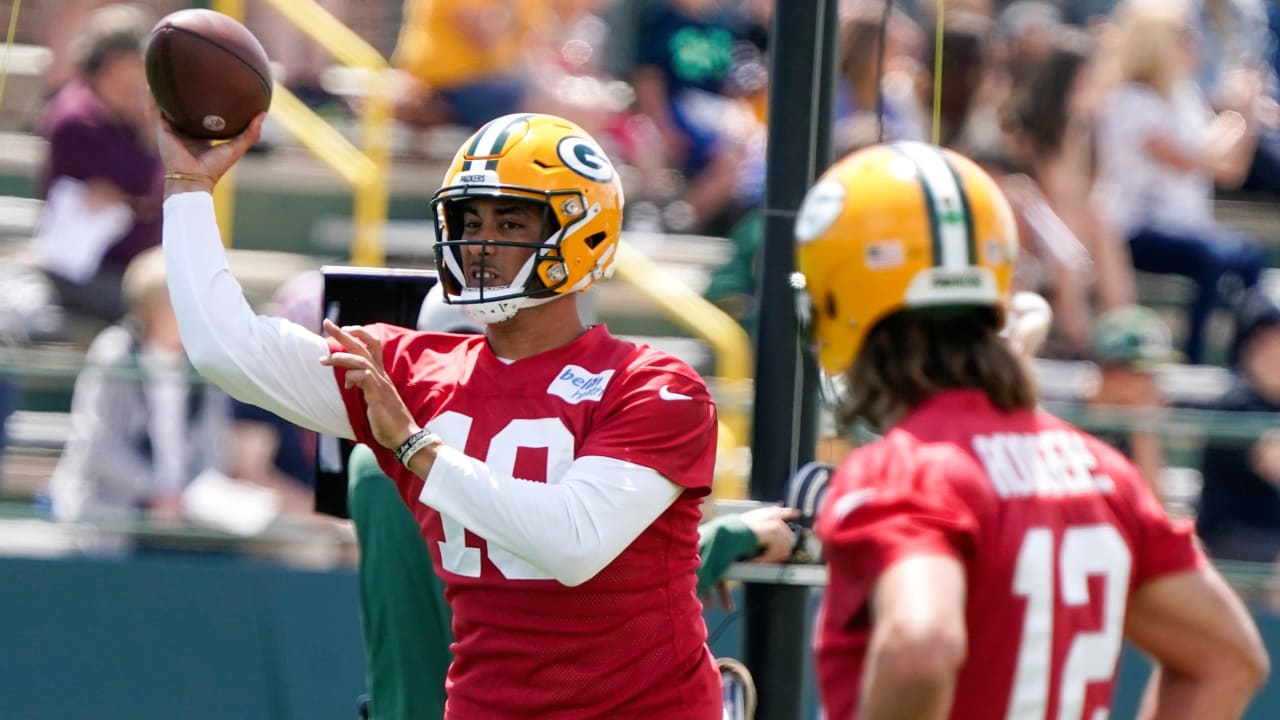 At this point, it is unclear what the Packers are going to do with Love. The vibe I get around the organization is that they want to keep Love seeing as they use a 1st round pick on him. However, trading him is always an option. Whichever situation is chosen, Love has to show improvement. 2022 training camp is normal. Rodgers will probably not play much during the preseason if at all meaning Love will have an abundance of opportunities to showcase his skills. He has had the playbook for 2 years. There are no more excuses for bad performances. On a positive note, ESPN's Rob Demovsky predicts that Jordan Love will excel. I hope so. Training camp is Jordan Love's last chance to impress. If he does not, the Packers may look elsewhere for a future QB and Love's NFL career may be in jeopardy.