It was a classic Big Ten game between Wisconsin and Northwestern Basketball tonight. It was physical, led by defense, and came down to the end. Ultimately, the Badgers fell 66-63. Boo Buie led all scorers with 20 points, while Jordan Davis led the Badgers with 15. It wasn't a good start for the three games in seven-day journey for Wisconsin. Here are three takeaways from this game.
The Role Players Did Enough vs. Northwestern Basketball
Anytime Wisconsin can get productive time from their bench and role players, it usually results in a win. That wasn't the case tonight. The Big Three of Chucky Hepburn, Steven Crowl, and Tyler Wahl only managed 31 points tonight against Northwestern Basketball. For a team that doesn't score a ton to begin with, it's not good enough for this team to win in the Big Ten.
I thought Jordan Davis had a really good game tonight. He has responded really well since being replaced in the starting lineup by Connor Essegian. After Max Klesmit was injured last Tuesday, Davis was in the starting lineup again and did his part. He was 6-10 from the field and recorded six rebounds. Unfortunately, he did foul out.
Connor Essegian added 10 points as well. The Wisconsin bench scored seven. At the end of the day, this was a game the Badgers needed their best three players and they didn't get it in what was a winnable game.
Credit Wisconsin For Fighting Back vs. Northwestern Basketball
A majority of the first half, the Badgers trailed anywhere from five-nine points. Playing on the road in Evanston and the Big Ten is a recipe for disaster. Wisconsin could have folded at halftime, but a nice tip from Carter Gilmore beat the buzzer and Wisconsin only trailed by six at the half,
The Badgers came out hot in the second half and it became a back-and-forth battle against Northwestern Basketball the rest of the way. There were 14 lead changes just in the second half. Despite the poor start and finish, this young team showed they could respond when they get punched in the mouth.
The Offense Was UGLY The Last Three Minutes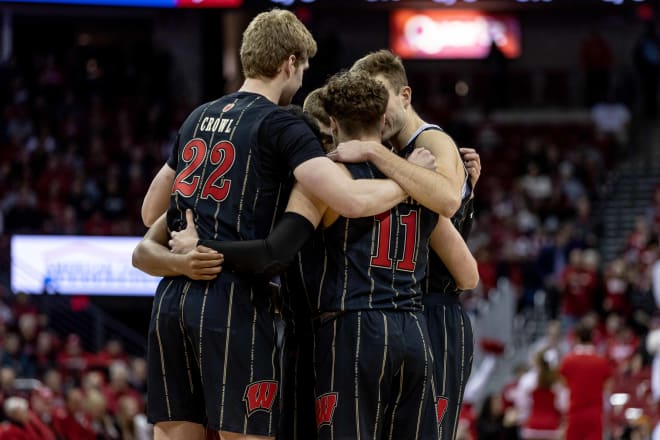 I can't remember a three-minute end to a game that was so bad and had no execution as the Badgers did tonight. Yes, that sounds harsh, but it's also true. Chucky Hepburn took two really bad threes that were not close to the rim. There was no rebounding, and they left points at the free-throw line again. Chucky Hepburn is a very good point guard, but he was bad in clutch time tonight against Northwestern Basketball.
Wisconsin won't win many more games if they execute as poorly as they did tonight. They need to be better out of timeouts and shoot better at the free-throw line. Northwestern's defense deserves a ton of credit as they are one of the best in the Big Ten. However, this was a game the Badgers should have won if they executed the way they should have at the end.
It won't get any easier for Wisconsin as they will get on a plane tonight and travel to College Park for a clash with the Maryland Terrapins.
Follow me on Twitter @DylanBuboltz and follow us @WiSportsHeroics for more great content. To read more of our articles and keep up to date on the latest in Wisconsin sports, click here! Also, check out our merch store for some amazing WSH merchandise!