The Wisconsin Badgers head to Purdue tomorrow night for a top 25 showdown with the Boilermakers. After letting a golden opportunity slip Saturday against Illinois, the Badgers are looking for a good win to begin the month of March. The Badgers fell to Illinois 74-69 Saturday. Below are the keys tomorrow night's game!
March Momentum?
This Badger teams needs something. They need any sort of momentum headed into the Big Ten tournament next week and the NCAA tournament the week after. The good news? The Badgers have beaten teams they should be beating. The bad news? They have yet to beat a team above them in the Big Ten standings. The opportunity is there tomorrow night.
How things look entering the final week: pic.twitter.com/bGNOpdfLWo

— Big Ten Network (@BigTenNetwork) February 28, 2021
The Badgers find themselves a game and a half behind Purdue and Ohio State. A win tomorrow night at Purdue would help Wisconsin bump themselves into the top 5 and potentially a double bye. However, a double bye seems unlikely at this point.
The Badgers also need all their seniors to play better. Nate Reuvers, Brad Davison, and Aleem Ford have not had good years to this point. All three continue to struggle with confidence and putting the ball in the basket. However, D'Mitrik Trice and Micah Potter have been very good for the Badgers. The time is now for Reuvers, Davison, and Ford to step up and play the way we know they're capable of.
Potter/Reuvers vs Williams/Edey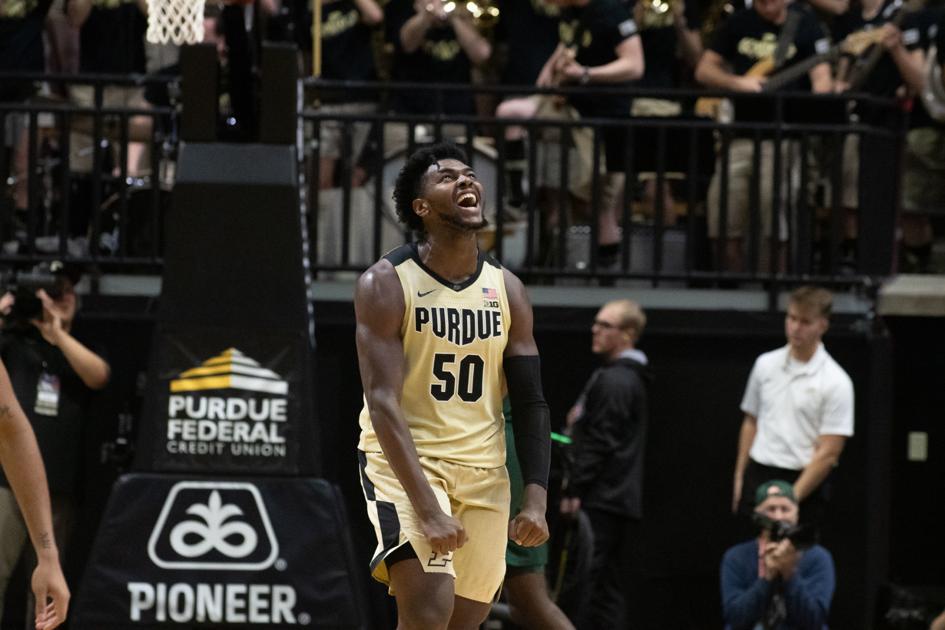 In my opinion, this game will be decided how Micah Potter and Nate Reuvers can defend Purdue's Zach Edey and Trevion Williams. Williams is a 6'10 265 pound junior who is a load in the paint and plays really well with contact. He also leads Purdue with 15.8 points per game and nine rebounds a game. It doesn't get easier when Williams leaves the court. Zach Edey is a 7'4 (yes you read that correct) freshman. Edey is the next seven foot center to come into Purdue. He follows the trails of AJ Hammons, Isaac Haas, and Matt Haarms.
Not only is Williams physical and really good in the paint, Nate Reuvers does not play well with physical bigs. While he's taller than most, he gets pushed around fairly easily. The Badgers have to hope Micah Potter stays out of foul trouble. If he can't, Purdue will most likely have a field day in the paint.
Rebounding From Supporting Cast
Wisconsin has struggled with rebounding all season. It's hard to imagine when they usually have a 6'10 or 6'11 or both on the court that they struggle to rebound. While the Badgers are 12th in the Big Ten in rebounding, Purdue enters this contest tied for fourth in rebounding in the conference.
Why is this important? Offensive rebounds lead to second chance points. Purdue will have either a 6'10 or 7'4 big man on the court most of the time tomorrow. It's already a tall task for Micah Potter and Nate Reuvers to defend them. Wisconsin's role players will have to limit the offensive rebounds from the Purdue guards. Look for Trice, Davison, Davis, Anderson, Wahl, and Ford to box out and win the 50/50 rebounds.
Prediction
This has been a tough Wisconsin team to figure out since the calendar turned to 2021. Every time the Badgers have won a game recently, they've had a poor showing the following game. When they have a poor game, they've usually responded the next game. So what team is this? The team that's 0-6 against the teams above them in the conference or the team that's 10-2 against the rest of the conference?
The Badgers could benefit facing someone in the NCAA tournament not from the Big Ten. However, struggling to shoot the ball, offensive and defensive lapses, and lack of energy are all things the Badgers can control. It's hard to think they will fix it now when it's been a constant problem all season.
Purdue will want to grind this game out. I expect them to expose the lack of depth Wisconisn has at forward early and often. Trevion Williams and Zach Edey are going to get a ton of touches. How does Wisconsin counter? They need to bring the energy, emotion, and win the 50/50 balls. Wisconsin also needs to play from the inside and get easy shots that are higher percentage. This is the only way they'll see the three ball fall. Continuing to force the three ball has not worked and won't work moving forward.
At the end, I see Wisconsin making this a game. I see them hanging around with Purdue. However, after watching Luka Garza, Kofi Cockburn, and Hunter Dickinson have their ways with Wisconsin, I don't see this being much different with Trevion Williams and Zach Edey.  I think this is the difference in the game.
Purdue 68 Wisconsin 61
Follow me on Twitter @DylanBuboltz. Check out our merch page. Use promo code WISCO at checkout for $1 off! To read more of our articles and keep up to date on the latest in Wisconsin sports, click here!