Everyone knows, well except for Colin Cowherd and Skip Bayless, just how good Aaron Rodgers is. After all, he has won the NFL MVP Award four times. This includes wins in each of the past two seasons. It shouldn't be a surprise, therefore, that the media outlook Pro Football Focus (PFF) has graded Rodgers very highly over the past two season. How high? Try the highest graded quarterback in the NFL.
The highest-graded QBs since 2020🎯 pic.twitter.com/zpYSdZz2y8

— PFF (@PFF) May 26, 2022
Related: NFL analysist continue to slander Aaron Rodgers
Aaron Rodgers Saw His Production Drop in 2018 and 2019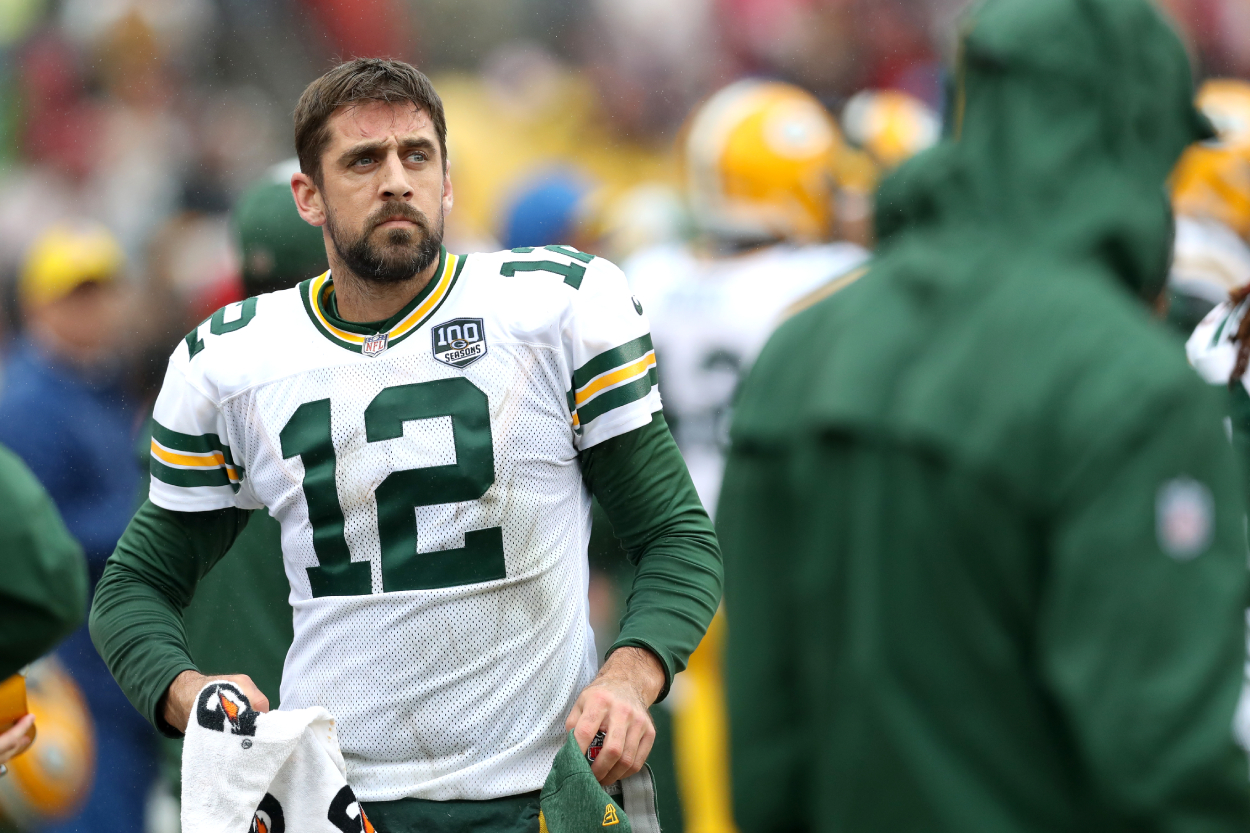 For all of the criticism that Brian Gutekunst and the Packers front office get for drafting Jordan Love, many people forget that the move made some sense at the time. In 2018, Rodgers and the Packers finished 6-9-1 and Mike McCarthy was fired with four games remaining in the season. For his part, Rodgers had the worst completion percentage of his career to that point (62.3%). Though he threw just two interceptions and was named to the Pro Bowl, he had just 25 touchdown passes. He also had the worst QBR of his career to that point (58.0) and a passer rating well below his career rating (97.6 compared to 104.6).
In 2019, Matt LaFleur took over as head coach. In many ways, the Packers were a better team, as evidenced by their 13-3 record. For a good portion of the season, though, Rodgers seemed to struggle. His completion percentage fell to 62%, as did his QBR (52.5) and passer rating (95.4.). He threw 26 touchdowns against just four interceptions and was named to the Pro Bowl again.
It seems kind of strange throwing out these numbers and saying that they indicate a quarterback was in decline. As Aaron Rodgers stated himself, down years for him are career years for most other players. Yet, the Packers were faced with a decision in 2020. For all intents and purposes, Rodgers appeared to be on the decline. For that reason, they drafted Jordan Love.
Related: Jordan Love's future in Green Bay is up in the air
Aaron Rodgers Returns to MVP Form in 2020 and 2021
Of course, we are all familiar with the offseason speculation and drama from the 2020 and 2021 offseasons. We will not focus on those here. Rather, we will take a look at how significant the jump was for Aaron Rodgers from his so-called down years of 2018 and 2019.
In 2020, his second in LaFleur's system, Rodgers took his game to a level people thought was part of his past. He led the NFL is completion percentage with 70.7%. Additionally, He led the NFL in passer rating (121.5) and QBR (78.9). Oh, not to mention he threw 48 touchdowns. Green Bay, again, went 13-3 before losing in the NFC Championship Game for the second consecutive season. Aaron Rodgers, though, won his third career MVP Award.
The next year, Aaron Rodgers proved that his bounce back MVP season was no fluke. Again, Rodgers led the NFL in passer rating (111.9) and QBR (69.1). He also threw 37 touchdowns against just four interceptions. The Packers, again, won 13 games and were the number one seed in the NFC. Of course, everyone knows that last season ended in disappointment. However, the point here is this: Aaron Rodgers is still the best quarterback in the NFL. He won his second MVP in a row and fourth overall.
What is to say he won't do it again in 2022?
For More Great Wisconsin Sports Content
Follow me on Twitter at @theotherRobin19 and follow us @WiSportsHeroics for more great content. To read more of our articles and keep up to date on the latest in Wisconsin sports, click here! Also, check out our merch store for some amazing WSH merchandise!