Green Bay lost out on hosting the 2024 NFL draft to Detroit.  Detroit, Washington D.C., and Green Bay were the three finalists.
"The draft has become a prominent offseason event across the country.  We are excited to work with the Lions and their partners to bring the 2024 NFL Draft to the Motor City.  NFL Commissioner Roger Goodell said in a statement. "With the help of Visit Detroit, the Detroit Sports Commission.  The City of Detroit the Lions passionate fan base and all visitors will be treated to an incredible three-day experience."
Packers Response to losing the bid to Detroit: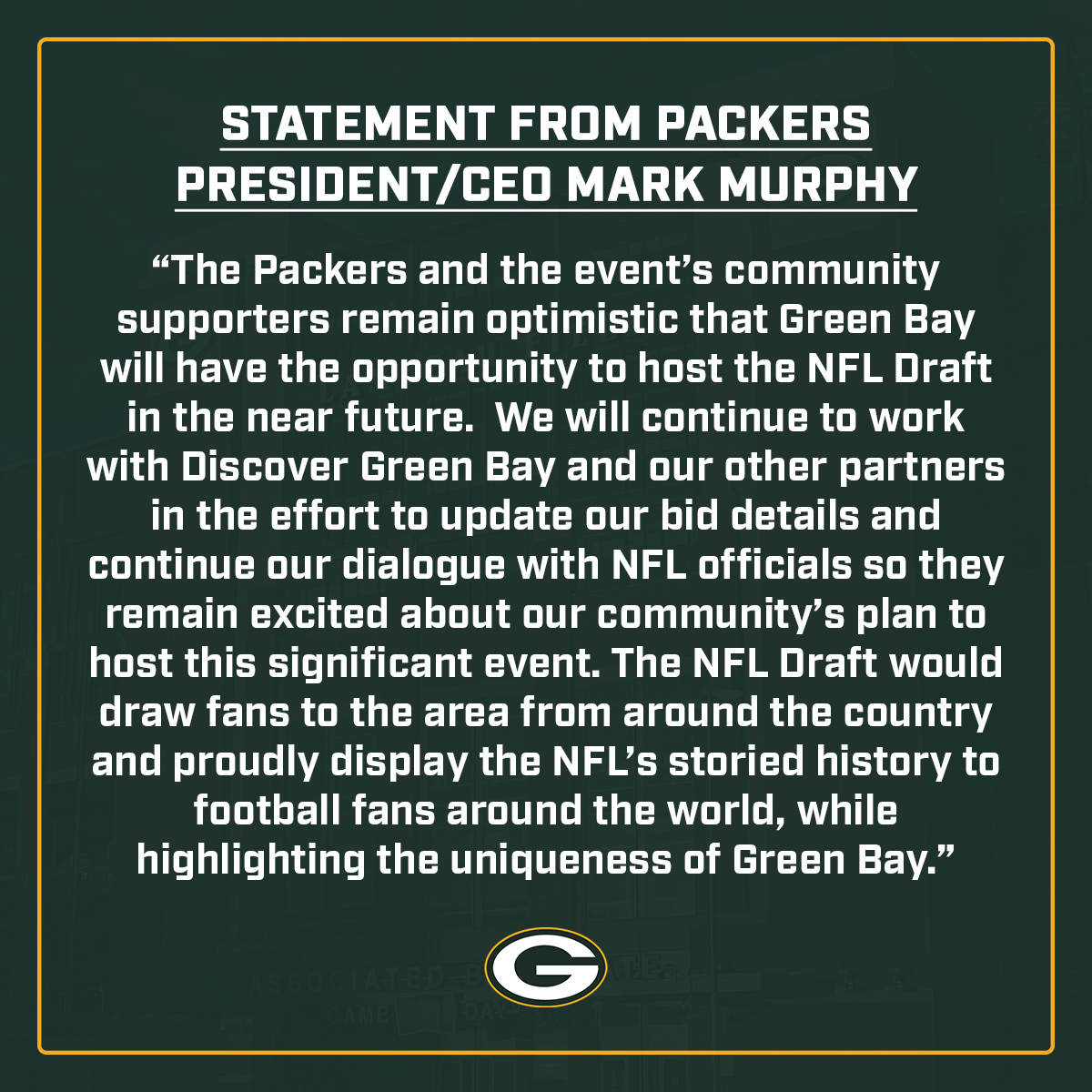 The Packers have spent a lot of time and money building up the areas around Lambeau Field in hopes of hosting an event like the draft.  Most notably the new and improved "Title Town District."  In previous years, the draft was held Chicago, Philadelphia, Dallas, Nashville and Cleveland.  Today we may have had a glimpse of when it will happen.  
Mark Murphy's Comments About The Draft:
Mark Murpyh said Green Bay likely will host the draft in 2025 or 2027.  Green Bay will not try for the draft in 2026 because it is scheduled to host a University of Wisconsin-Notre Dame college football game that year.
"We will be given strong consideration," Murphy said at his post-meeting press conference. It was a not guarantee, but he said he was confident. "We've been close on the other ones, too."
With how much Green Bay has been pushing for the draft, it only feels like a matter of time.
For More Wisconsin Sports News…
Follow me on Twitter at @mcquadewarnold and follow us @WiSportsHeroics for more great content. To read more of our articles and keep up to date on the latest in Wisconsin sports, click here!