Lorenzo Cain reached 10 years of Major League service on Saturday. Once he attained that milestone, the Milwaukee Brewers designated him for assignment. The decision was a mutual one as Cain had seen his playing time dwindle more and more. After the announcement was made, Cain himself gave an interview in which he made it seem like retirement was the next step for him.
Lorenzo Cain after being DFA'd by the Brewers:

"To say that i've played ten plus years in the show, I couldn't ask for anything more. It's been a great ride for me… If it's the end, I can't be upset about anything."

(via @AdamMcCalvy)pic.twitter.com/5RSyO6rAog

— FOX Sports: MLB (@MLBONFOX) June 18, 2022
Jonathan Davis was called up from Triple-A to take Cain's spot on the roster. He went 2-4 with a walk while playing center field. Following the Brewers' 7-3 win in which many players paid tribute to Cain, Davis shared a heart-warming message of his own.
Jonathan Davis on Lorenzo Cain: "Lo, he was a rock in the game for many people. He contributed to this game in many different ways and I'm thankful to come up behind him and set that example like he did, hopefully." pic.twitter.com/9D6K1S3pGH

— Adam McCalvy (@AdamMcCalvy) June 19, 2022
Players, Fans, and Analysts Post Tributes to Lorenzo Cain
Lorenzo Cain was such a positive person to be around. Players, fans, and analysts all had nothing but good things to say about Cain when the news broke that he was being DFA'd. Here are some of the best posts:
Fewer Brewers have been more exciting to watch than Lorenzo Cain for me. Could argue that he was the team's engine during that great 2018 season, along with Yelich.

Tip of the cap to him and whatever his future holds. pic.twitter.com/OyBPY8HVWz

— Jordan Treske (@JordanTreske) June 18, 2022
I'm gonna miss Lorenzo Cain being around baseball. He was the best player on that 2015 team https://t.co/YgvGKsmizt

— Cody Tapp (@codybtapp) June 18, 2022
In his prime, Lorenzo Cain was an outstanding baseball player. He was always a tremendous CF and he could hit. Father time caught up with him. Cain turned 36 in April. I'm sure it wasn't easy for @Brewers to make that decision. But I will always consider Lorenzo Cain a winner.

— Bernie Pleskoff (@BerniePleskoff) June 18, 2022
Lorenzo Cain was the best player on a World Championship team, the most important team I've ever rooted for. He scored from first base on a single *twice* in the same postseason. And at his peak he was the best defensive outfielder I've ever watched every day. Godspeed, LoCain.

— Rany Jazayerli (@jazayerli) June 18, 2022
Had the privilege to do one more television interview with Lorenzo Cain on Wednesday night. It has been a joy watching him play and covering him all these years. Thanks, 'Zo. https://t.co/fYs0JCCEJH

— Ken Rosenthal (@Ken_Rosenthal) June 18, 2022
A look back at Lorenzo Cain's historic 2018 season:

.308 BA
.395 OBP
30 SB
6.9 WAR (9th best in franchise history)

According to Fangraphs, this season was worth 48.7 MILLION DOLLARS!!! pic.twitter.com/EuOnptVYO5

— Brewers Stats (@BrewersStat) June 18, 2022
Lots of fun and laughs with LoCain over the years. Here we are doing intros for the Bucks championship run last season. #ThisIsMyCrew pic.twitter.com/2UUNn6LPlQ

— Mike Vassallo (@MikeVassallo13) June 18, 2022
Lorenzo Cain Began His Journey with the Brewers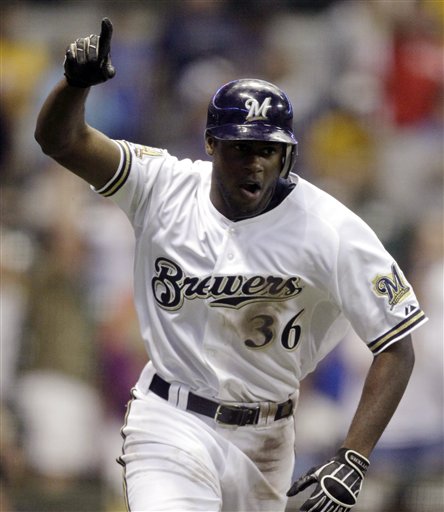 Lorenzo Cain was drafted by the Milwaukee Brewers in the 17th round of the 2004 amateur draft. He signed with the Brewers on April 24, 2005.
Cain started out his professional career on a tear. In 2005, his first season as a pro, he hit .341/.408/.528 with 78 hits in just 56 games. Of those hits, 18 were doubles, five were triples, and five were home runs. He also drove in 38 runs and stole 12 bases.
The next season saw Lorenzo Cain playing for the West Virginia Power, then the team's A-level affiliate. In 132 games that season, Cain hit .307/.384/.425 with six home runs and 60 RBI. He also stole 34 bases and scored 91 runs.
Cain continued to hit his way through the minor leagues until 2010 when he got the call up the Milwaukee Brewers. Left-handed pitcher Doug Davis went on the injured list and Cain was called up to take his spot on the roster. He made his major league debut with the Brewers on July 16, 2020 against the Atlanta Braves.
Cain ended up playing in 43 games for the Brewers that season. In that time, he hit .306/.348/.415. After the season was over, though, Cain was dealt to the Kansas City Royals along with Alcides Escobar, Jeremy Jeffress, and Jake Odorizzi for Yuniesky Betancort and Zack Greinke.
The Kansas City Royals
Despite his early success on the Major League level with the Milwaukee Brewers, Lorenzo Cain did not immediately become a fixture in the lineup of the Kansas City Royals. In fact, he appeared in just 67 games for them between 2011 and 2012.
Cain took over as the everyday center fielder for the Royals in 2013. In his first full season in the Majors, he hit .251/.310/.348. The next season, though, 2014, is when Cain became a star.
The Kansas City Royals represented the American League in the World Series in 2014, and their best player was Lorenzo Cain. That season, he hit .301/.339/.412 with five home runs and 58 RBI.
He was even better in 2015, the year that the Royals won the World Series. That year, Cain hit .307/.361/.477 with 16 home runs and 72 RBI. He made his first career All-Star team and finished third in AL MVP voting.
A Return to Milwaukee
After Lorenzo Cain became a free agent following the 2017 season, he signed with the Milwaukee Brewers on the same day that the team traded for Christian Yelich. In his first season back home in Milwaukee, Cain hit .308/.395/.417 with 10 home runs and 38 RBI. He also stole 30 bases for the first and only time in his career. Cain made his second All-Star team and came in seventh in MVP voting.
The next season, Cain played through a plethora of injuries which affected his play at the plate. However, he was still an amazing defender in center field and won his only career Gold Glove in 2019.
After sitting out all but five games in 2020, Cain returned to the team in 2021. Unfortunately, injuries and time had caught up with him and he was not the same player. He struggled even more this season, which led to his DFA from the Brewers.
Some Fun Facts about Lorenzo Cain's Career
Lorenzo Cain and Hall of Famer George Brett are the only players to win a World Series with the Kansas City Royals AND finish in the top three of AL MVP voting.
Cain finishes his Brewers career third in franchise history in defensive WAR. Only Jim Gantner (9.9) and Carlos Gomez (7.4) have higher dWAR than Cain (6.9).
Named ALCS MVP after he hit .533/.588/.667 in the Kansas City Royals' four-game sweep of the Baltimore Orioles in 2014.
Played in two World Series (12 games) and hit .271/.375/.333 with seven runs scored, eight RBI, and four stolen bases.
For More Great Wisconsin Sports Content
Follow me on Twitter at @theotherRobin19 and follow us @WiSportsHeroics for more great content. To read more of our articles and keep up to date on the latest in Wisconsin sports, click here! Also, check out our merch store for some amazing WSH merchandise!