The Milwaukee Brewers defeated the Cincinnati Reds 7-3 on Saturday afternoon. Prior to the game, Lorenzo Cain was designated for assignment, ending his run with the team that drafted him. During their 7-3 victory over the lowly Reds, Brewers players paid tribute to their former teammate whenever they could.
Christian Yelich: Leadoff Hitter
Christian Yelich has taken over Lorenzo Cain's former job as the Brewers leadoff hitter. Prior to the game, Yelich shared his thoughts about Cain and what he will miss about him the most.
Here's Christian Yelich on the respect he has for Lorenzo Cain — and what he'll miss most behind the scenes. pic.twitter.com/PiLl2WNovh

— Adam McCalvy (@AdamMcCalvy) June 18, 2022
Fast forward to the actual game: Christian Yelich was 2-5 with two singles and two runs scored against the Reds. After his first single of the day, he threw up Lorenzo Cain's signature hand gesture:
Christian Yelich has been on a tear since taking over as the Brewers leadoff hitter. Yelich started batting leadoff on June 8, and since then has been hitting .326. He also had a nine-game hitting streak during that span.
Rowdy Tellez Also Pays Tribute to Lorenzo Cain
Rowdy Tellez finished the day 1-3 with a RBI double and two walks. His RBI came in the top of the first after the first Christian Yelich single. After arriving safely at second base, Rowdy too threw up Lorenzo Cain's signature gesture.
To the gap, Brewers lead!

Vote Brewers: https://t.co/QW3CNiAUAT pic.twitter.com/lhVnzt0daT

— Milwaukee Brewers (@Brewers) June 18, 2022
The RBI was number 39 on the year for Rowdy Tellez. That total leads the Milwaukee Brewers.
Willy Adames and Hunter Renfroe Hit Home Runs for the Second Day in a Row
Coming into today's game, Graham Ashcraft had a 3-0 record and 2.22 ERA. By the time he came out of the game after the fifth inning, his ERA had ballooned up to 3.51. The Brewers tagged him for six runs on eight hits and two walks.
Willy Adames Goes Yard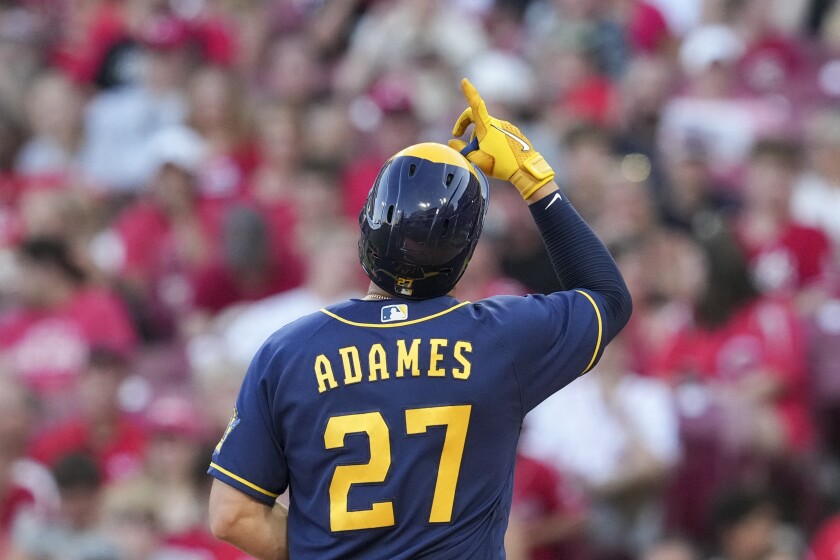 Ashcraft only gave up one home run, a two-run shot to Willy Adames:
Willy Adames goes deep! pic.twitter.com/f1j9MrKj2C

— Talkin' Baseball (@TalkinBaseball_) June 18, 2022
According to Would it dong? on Twitter, Adames' blast would have been a home run in 24/30 MLB ballparks.
Willy Adames vs Graham Ashcraft#ThisIsMyCrew

Home Run 💣

Exit velo: 103.4 mph
Launch angle: 30 deg
Proj. distance: 413 ft

This would have been a home run in 24/30 MLB ballparks

MIL (3) @ CIN (0)
🔺 3rd pic.twitter.com/bSnrKuqrcI

— Would it dong? (@would_it_dong) June 18, 2022
The home run by Willy Adames was his 13th of the year. He leads the Brewers and all National League short stops in that category.
Hunter Renfroe Hits a No-Doubter
After Graham Ashcraft was removed from the game, Hunter Renfroe went to work on the Reds' bullpen. He hit a mammoth solo home run in the seventh inning to give the Brewers a 7-3 lead.
Hunter Renfroe sent his ball packing pic.twitter.com/cSWwHNbWOi

— Talkin' Baseball (@TalkinBaseball_) June 18, 2022
According to Would it dong?, the home run Renfroe hit would have been gone in any Major League ballpark.
Hunter Renfroe vs Luis Cessa#ThisIsMyCrew

Home Run 💣

Exit velo: 105 mph
Launch angle: 23 deg
Proj. distance: 409 ft

No doubt about that one 🔒
That's a dinger in all 30 MLB ballparks

MIL (7) @ CIN (3)
🔺 7th pic.twitter.com/ZvB7BsdIBv

— Would it dong? (@would_it_dong) June 18, 2022
Hunter Renfroe's home run was his 12th of the season.
Jason Alexander Gets His First MLB Win
The Milwaukee Brewers have been hit hard by injuries this year, especially on their pitching staff. Brandon Woodruff is still rehabbing an ankle injury and Freddy Peralta is out for the long-term with a shoulder injury. Jason Alexander has been a pleasant surprise for the team and entered the day 0-0 with a 2.16 ERA.
While the Reds were able to get three runs (two earned) off of Alexander, he pitched well enough to earn his first Major League win. He ended the day with 5.2 innings pitched, eight hits, two earned runs, one walk, and two strikeouts.
Tyrone Taylor's Web Gem
The Cincinnati Reds almost got on the board in the bottom of the third inning. In fact, the ruling on the field was that a fly ball to left field dropped in for a hit allowing the runner to score. However, further review proved that Tyrone Taylor made a fantastic play.
Tyrone Taylor laid out for this catch! pic.twitter.com/uvCAuMErvi

— Talkin' Baseball (@TalkinBaseball_) June 18, 2022
The Bullpen Shuts the Door
Miguel Sanchez came into the game to get the final out of the sixth inning. Afterwards, Trevor Kelley pitched 1.2 innings of scoreless relief in the seventh and eighth innings. Hoby Milner came in and got the final out in the eighth and pitched a scoreless ninth.
Game Notes
Luis Urias was 1-3 with a RBI and two walks
Jonathan Davis replaced Lorenzo Cain on the roster and played center field. He was 2-4 with a walk
Jace Peterson was 2-4 with a walk and two RBI
The Brewers are now 37-30 and in second place behind the St. Louis Cardinals in the NL Central
Up Next
Adrian Houser (3-7, 4.21 ERA) takes the hill for the Brewers against Mike Minor (1-2, 7.36 ERA) and the Reds tomorrow at 12:40 PM CST.
For More Great Wisconsin Sports Content
Follow me on Twitter at @theotherRobin19 and follow us @WiSportsHeroics for more great content. To read more of our articles and keep up to date on the latest in Wisconsin sports, click here! Also, check out our merch store for some amazing WSH merchandise!