In news reported by the NBA, Jrue Holiday has received the Joe Dumars Trophy. The trophy represents the 2020-2021 NBA Sportsmanship Award. The award is given to the player who best represents the ideals of sportsmanship on the court. Each NBA team nominated a player from its roster for the award. Jrue Holiday was named the team nominee for Milwaukee and was declared the winner on Friday afternoon.
Milwaukee Bucks guard Jrue Holiday has received the Joe Dumars Trophy as the winner of the 2020-21 NBA Sportsmanship Award, the NBA announced today. The annual award honors a player who best represents the ideals of sportsmanship on the court.

More ➡️ https://t.co/q02VkMLF4s pic.twitter.com/htk0O8JnMZ

— NBA Communications (@NBAPR) June 4, 2021
Familiar Territory for Jrue Holiday
This is not Jrue Holiday's first time being recognized by the NBA for his personality and selflessness. Holiday was the recipient of the Twyman-Stokes Teammate of the Year Award last season. The Twyman-Stokes Award recognizes an NBA player's selfless play, on-and-off the court leadership, and commitment to the team. Furthermore, Holiday was a co-winner of the January NBA Cares Community Assist Award. Holiday was given this award due to his efforts in communities around the United States. Specifically, providing aid to those affected by the COVID-19 pandemic. Not only has Holiday proven his worth in his play, but he has also proven his worth in the respect he gives to other NBA players and the communities he supports. A teammate such as Jrue Holiday is hard to come by. However, the Milwaukee Bucks have him on their championship-contending roster.
Jrue Holiday was one of the six finalists named for the award. The other finalists were Kemba Walker, Josh Okogie, Bam Adebayo, Derrick White, and Harrison Barnes. Jrue earned 130 out of 343 first-place votes. In addition, he earned a total of 2,752 ballot points. The full results can be seen below.
Jrue Holiday: 2,752 total points
Kemba Walker: 2,474 total points
Bam Adebayo: 2,199 total points
Harrison Barnes: 2,008 total points
Derrick White: 1,635 total points
Josh Okogie: 1,280 total points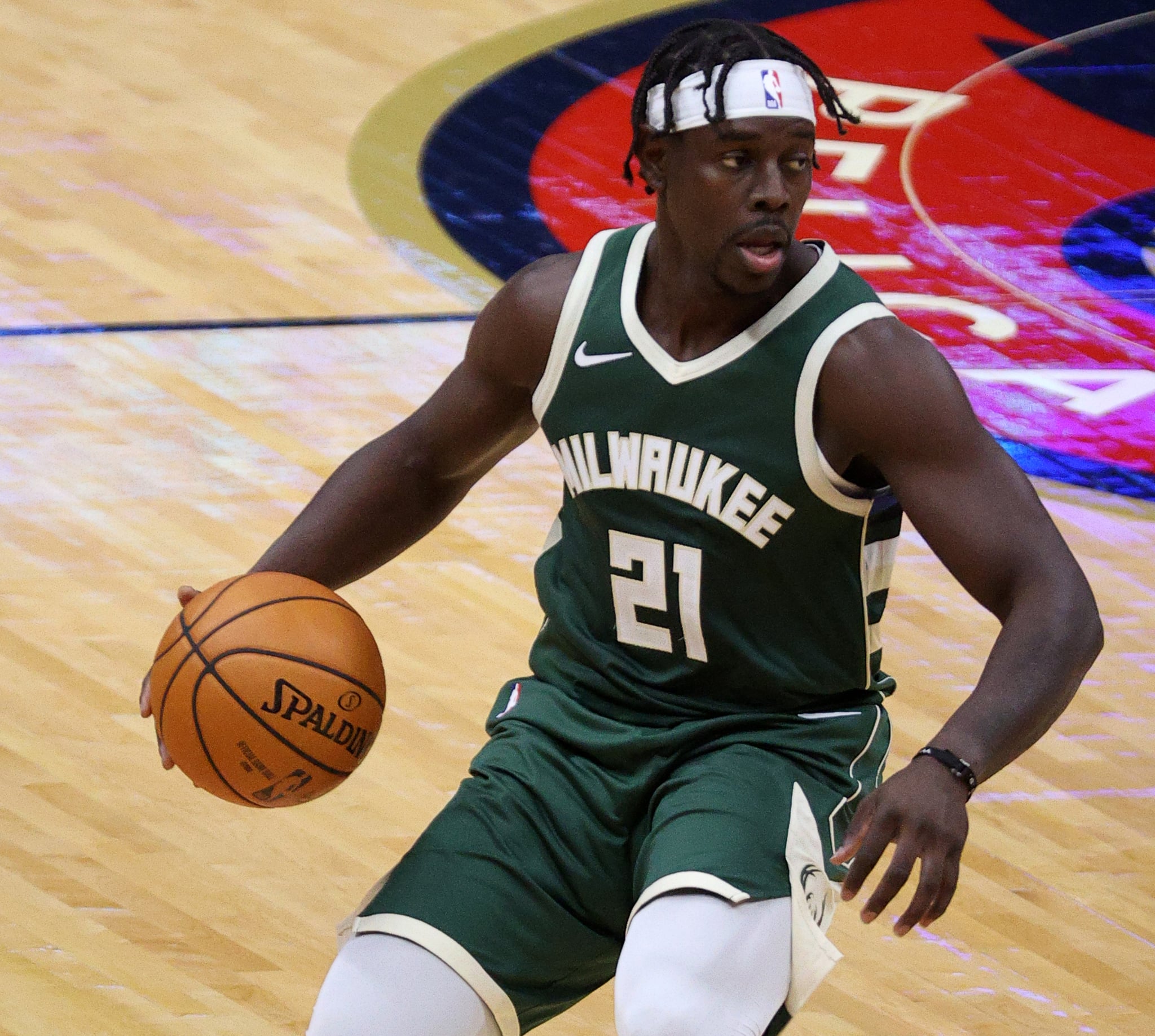 Jrue Holiday has been a fantastic addition to the Milwaukee Bucks. His play has given the Bucks an opportunity to make a run at an NBA championship. His effort on the court speaks volumes, but so does his sportsmanship and respect. Congratulations Jrue!
Jrue Holiday Booking Agent Contact Information
Call Mayfield Sports Marketing at 262-366-8188 to schedule Jrue Holiday for your corporate appearance or product promotion. Our booking agents will work on your behalf to get you the best price for your desired sports speaker.
Mayfield Sports Marketing has earned a reputation of being the one to call for booking top athletes to speak at events and trade shows. To learn more about Jrue Holiday appearance cost and booking fee, please call us today. www.MayfieldSportsMarketing.com
[pickup_prop id="8026″]
Follow for more great content!
Follow me on Twitter at @JakeJMaier and follow us @WiSportsHeroics for more Wisconsin sports content. Check out our merch page. Use promo code WISCO at checkout for $1 off! To read more of our articles and keep up to date on the latest in Wisconsin sports, click here!