The Packers have their home opener on Sunday and it couldn't be against a better opponent. The Chicago Bears are coming to town. This matchup always comes with something extra and the Packers want to continue asserting their dominance over their rivals. Lambeau Field has always been a huge advantage for the Packers and one player wants the fans to be nuts on Sunday. Jaire Alexander has a message for Packers fans.
Jaire Alexander Wants It To Be Nuts
Jaire Alexander is a bit hyped for #Packers home opener at Lambeau Field. "It's going to be lit. I just hope everybody is drinking all day, so come game time it's super loud."

— Ryan Wood (@ByRyanWood) September 16, 2022
Alexander has been talking a lot about this game. He wants a shutout which will be extremely difficult but not impossible. Part of completing this task involves the crowd. Jaire Alexander's message is simple. Be super loud. He also had a suggestion of how the crowd could get to that super loud level. He was quoted saying, "I just hope everybody is drinking all day." That's right folks. Jaire Alexander has given you the green light to drink for the betterment of the team. He wants the crowd to be nuts. Jaire Alexander's message to the fans shows the passion he has for this rivalry game.
Lambeau Field Is Always Loud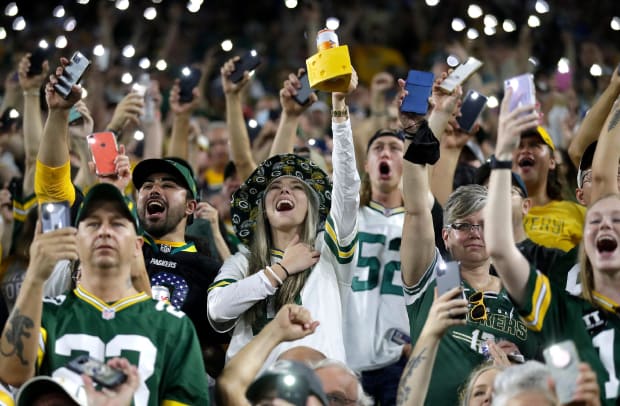 Regardless of how inebriated the crowd is, you know it will be loud. It is the home opener. It is a game the Packers absolutely need. The Chicago Bears are involved. It's a Packers game in general. The crowd is going to make their presence felt. I love Jaire Alexander's message pumping up the fans. He understands the importance of this game and wants to fans to be one hundred percent up for it. Alexander's comments also point to another desire. He doesn't just want to beat the Bears. He wants to embarrass them. Justin Fields is a young quarterback and could become rattled by an insane crowd. Jaire Alexander wants that insane crowd behind the team on Sunday.
Alexander has had some frustrations with the team in the past couple of weeks. Jaire Alexander's message to fans shows that he really does care about this team and winning. He knows this team is capable of winning a Super Bowl and they need the home crowd behind him. Let's all take Alexander's advice and, with the help of alcohol or not, be super loud on Sunday.
Follow me on Twitter at @sorcerermatt, follow us @WiSportsHeroics. To read more of our articles and keep up to date on the latest in ALL of Wisconsin sports, click here!