The month of January has not been kind to the Wisconsin Badgers. To start the new year, they were ranked in the top 20 and destined to content at the top of the Big 10 Basketball standings. However, as we approach the month of February, they have lost six of their last seven games and are most likely on the outside looking in at the NCAA Tournament. The Badgers have been hit with injuries to key players, but their play on the court has not been good at all. The issues are starting to become consistent. Now that we know that, is it time to panic?
PANIC: Lack of Talent Showing Up in the Big 10 Basketball Standings
There are a lot of players on this roster that were known as being able to shoot the ball. In college basketball and basketball in general, the three-point shot is more important now than ever. Wisconsin was dead last in in the Big 10 Basketball standings last season in shooting the three. While they have been better this year, it hasn't been consistent. We're seeing some bad misses as well as shots that are being forced.
When you look at this team, the talent doesn't seem to be there compared to years past. While I do think some of these players are asked to play more minutes then they probably should, at some point, we need to see the flashes of talent. We're seeing it, but it's very inconsistent.
DON'T PANIC: Youth & Inexperience
I lean towards youth and inexperience as an issue with this team right now. Players such as Jordan Davis, Carter Gilmore, Markus Ilver, Chris Hodges, and Isaac Lindsey are in the rotation this year and are asked to contribute. Last season, Davis played a few minutes a game. Hodges took a redshirt season, and Lindsey and Ilver hardly played at all. They didn't get consistent experience of what life is like in the thick of the Big 10 Basketball standings. That's a tasll ask for those players.
I keep seeing the Fire Gard tweets. I think it's laughable to be honest. If you look at the Big 10 Basketball standings this season, a lot of these teams have players using their extra year of eligibility from COVID-19, and there are transfer players. This conference is loaded with seniors and experience. For example, Penn State is playing seven seniors consistent minutes. Rutgers has three seniors they lean on. Illinois had transfer seniors that hurt Wisconsin in their games. Maryland has four starters that are seniors. Northwestern is full of seniors. Michigan State is full of seniors as well.
I think we forget that Wisconsin has one senior that plays. One. This is by far one of the youngest teams in the Big 10 Basketball Standings. Experience matters in this league. They need some time.
PANIC: Depth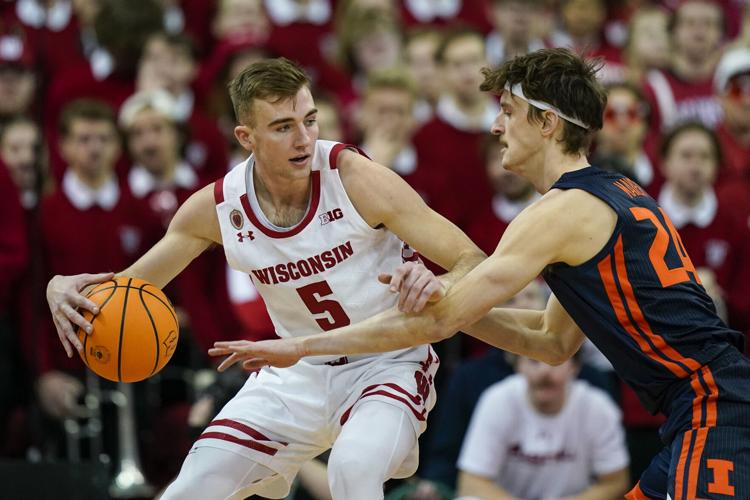 Depth is a huge problem with the Badgers to compete in the loaded Big 10 Basketball standings. We can all agree Greg Gard missed on a huge opportunity to get a big man in the transfer portal. Chris Vogt wasn't spectacular, but he did what he was supposed to do and provided really good minutes last season. Wisconsin also lost Matthew Mors and Ben Carlson in the transfer portal, and they didn't replace them. That is a big miss on Wisconsin's coaching staff.
Because of that, there isn't a true back up big man on this team. Carter Gilmore isn't a five defender so it's a tough ask for him. Kamari McGee and Isasc Lindsey can bring the ball up and give Chucky Hepburn a breather, but they won't blow you away offensively. Wisconsin is asking their starters to play a lot, and there's little room for error. That can't be the case moving forward.
DON'T PANIC: Future Within the Big 10 Basketball Standings
There's no doubt Wisconsin relies heavily on its recruiting. Yes, they lost two members in the 2021 class to the portal, but Chucky Hepburn alone makes this class a success right now. Connor Essesgian is the only member of the 2022 class, and he's been spectacular. It's been two good recruiting classes for Gard. Three, if you include Johnny Davis.
Wisconsin's 2023 class should be really good as well. Gus Yalden is a talented big man who can shoot and pass. He should contribute right away. Nolan Winter is a 6'10 big man who can shoot as well. He might need a redshirt next season, but he arguably has the highest upside of anyone in this class. John Blackwell is a good ball handler, and I wouldn't be surprised if he steals some minutes next year too.
I understand Badger fans' frustrations when they look at the Big 10 Basketball standings. It's a tough stretch right now. I still believe in this team and the direction of the program. It will take some time, but I think it will pay off.
Follow me on Twitter @DylanBuboltz and follow us @WiSportsHeroics for more great content. To read more of our articles and keep up to date on the latest in Wisconsin sports, click here! Also, check out our merch store for some amazing WSH merchandise!