The Milwaukee Bucks are the champions of the NBA for the first time in 50 years.  Whereas most teams get a few weeks to relish in their glory, the Bucks have had a very fast turnaround.  Due to the COVID pandemic, the previous season finished much later than usual.  As a result, several members of the team are already gone.  Additionally, new team members have been added.  Here, we will grade each of the Bucks' offseason moves as they prepare to defend their title.
Drafting Sandro Mamukelashvili and Georgios Kalaitzakis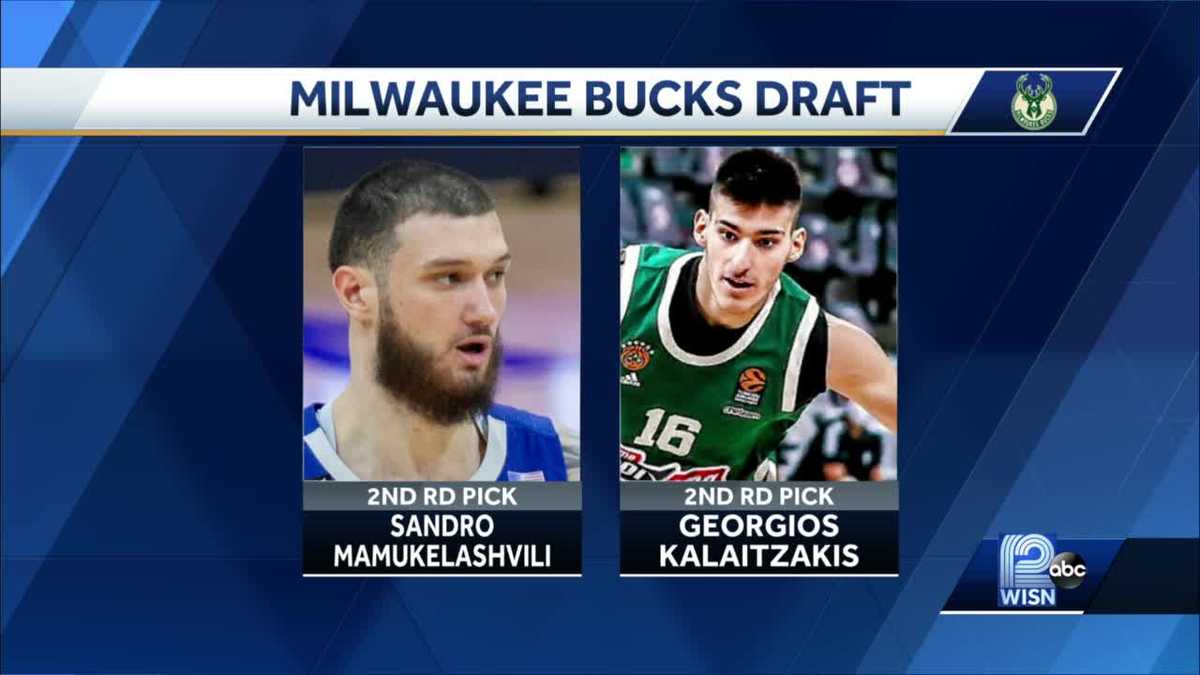 *Photo credit- WISN12
The Bucks originally owned the 31st overall pick in the NBA Draft.  This pick would have been the first overall pick of the second round.  However, Milwaukee traded it in exchange for the 54th and 60th overall picks.
Sandro Mamukelashvili played his college ball at Seton Hall and averaged 17.5 points and 7.6 rebounds in his senior season.  He has experience, having played four college seasons, but still needs time to develop.  He joins a rather stacked rotation that will allow him to compete for a few bench minutes.  His college coaches stated that the Bucks got a player who can do just about everything.  Given time, he could be an important contributor for the Bucks down the road.
Georgios Kalaitzakis was the final pick in the entire draft, like Sam Merrill was last season.  Unlike Mamu, he will not be joining the Bucks for the regular season.  Instead, he will continue to develop as he keeps playing professionally in Greece.  However, that did not stop him from flying to the US for a workout with Milwaukee's Top Dog:
.@BPortistime worked out with rookie Georgios Kalaitzakis today in Vegas. pic.twitter.com/ZmGDb9TGWl

— Scott Grodsky (@ScottGrodsky) August 9, 2021
Overall, the Bucks drafted two players that are still in need of development, but could prove to be important pieces on future teams.  Of course there was a risk, but it was a low-risk-high-reward situation.
Grade- B
Not Re-Signing Bryn Forbes
Not long after the Bucks won the championship, Bryn Forbes decline his player option and became a free agent.  Eventually, Forbes signed with the San Antonio Spurs, with whom he played prior to signing with the Bucks last offseason.
During the regular season, Forbes averaged 10.0 points per game while shooting 45.2% from three.  However, Forbes was a liability on defense and saw very little playing time in the playoffs.  In fact, he was not even on the court at all for any of the Bucks' final three games in the championship.
The decision not to re-sign Forbes was made because of the Bucks' faith in the development of Jordan Nwora.  Like the draftees above, Nwora was a second-round pick last season.  Though he did not see much playing time during the season, he averaged 22.4 points per 36 minutes.  Like Forbes, Nwora struggles on defense.  However, he is already on a rookie contract and cannot be any worse than the veteran shooting guard.
Grade- A
Not Re-Signing PJ Tucker
This move may be the most controversial of the entire offseason.  PJ Tucker quickly became a fan favorite in Milwaukee with his hard-nosed style of play.  From getting into KD's face, to stepping into a starting role, to his drunken yet inspiring parade speech, there was so much to love about him as a Bucks player.
Unfortunately, the Bucks and Tucker were not able to come to an agreement on a contract and he signed with Miami for two years and $15 million.  Could the Bucks have afforded this?  It would have sent them further into the luxury tax, but ownership is not getting any sympathy from the everyday blue-collar fan for that.
The fact of the matter is, though, Tucker is going to be 36 this season.  How much does he have left in the tank?  Perhaps he has a bit left to give, perhaps not.  In any case, it is hard to call no giving a 36-year old player a mutli-year deal a terrible move.
Grade- C
Re-Signing Bobby Portis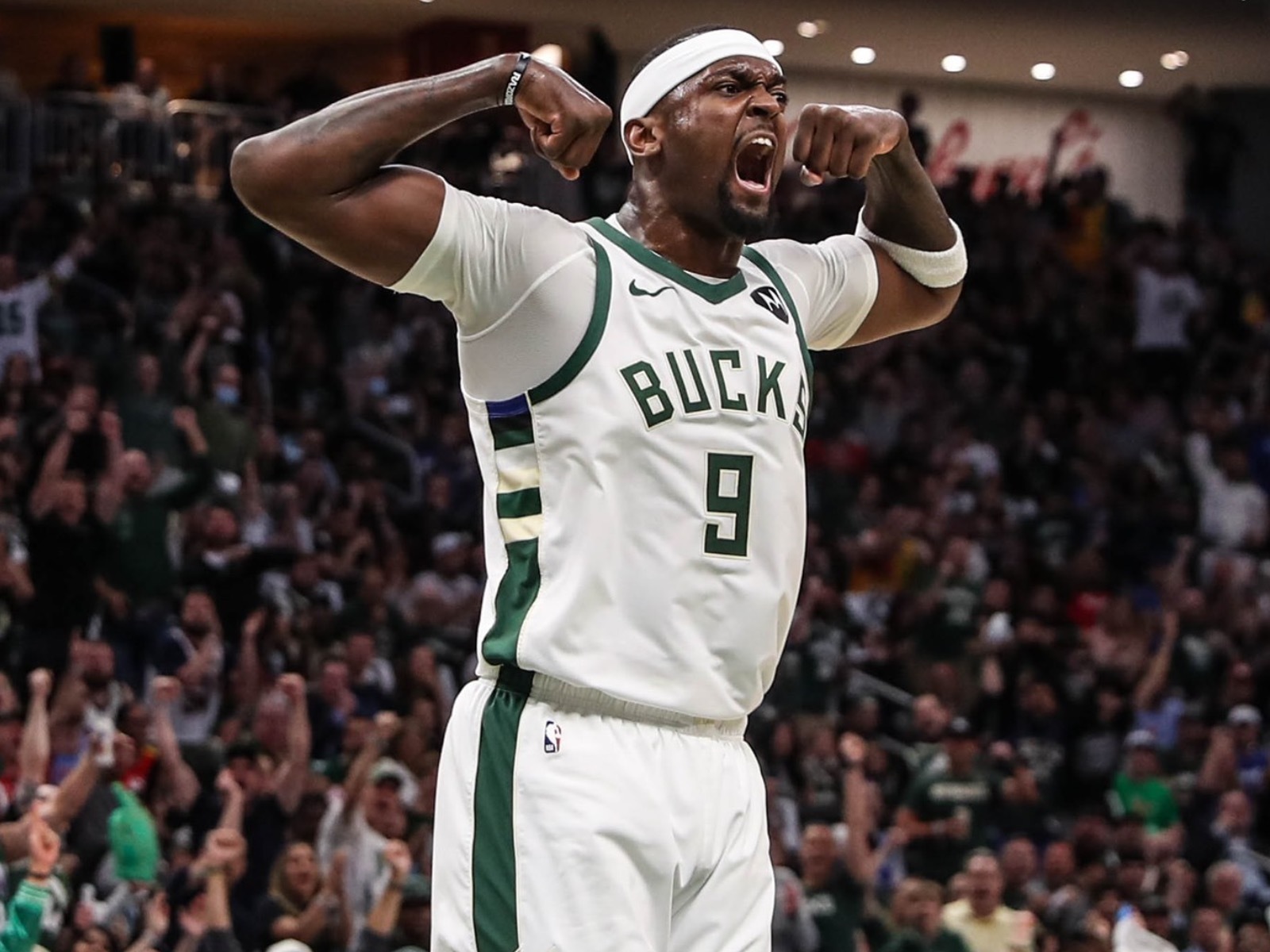 Like Bryn Forbes, Bobby Portis declined his player option after the season to become a free agent.  At one point, some fans believed both Portis and Tucker would be gone, and it was a hard thought to bear.  However, Portis re-signed with the Bucks a new deal that pays him approximately $1 million more than he would have made under his option.  He has the ability to opt out again next season for an even greater payday.
RUN THAT SHIT BACK! Proud to call Milwaukee my home. Wouldn't want to be no where else! #UNDERDOG

To the fans, thank you for your continued support. Now let's get it! pic.twitter.com/Xwp8Yfwry1

— Bobby BP Portis (@BPortistime) August 2, 2021
Bringing back Bobby Portis was, arguably, the best move of the offseason.  Not only is he a fan favorite, but he loves Milwaukee and was an incredible contributor off the bench.  When Giannis got hurt in the Atlanta series, Portis stepped into the starting role and put up 22 points in Game Six to help close out the Hawks.
Milwaukee is a blue-collar city with more than its fair share of underdogs.  Portis, the underdog who became the top dog, is a perfect fit.  There is, literally, nothing to hate about this signing.
Grade- A+
Signing Semi Ojeleye
With PJ Tucker gone, the Bucks were in need of a strong defensive presence to come off the bench.  They found one in former Celtic Semi Ojeleye.  How strong is he?  His nicknames may give indication: Muscles Jesus, The Ox, Thor, and The Man Made of Granite.
It should be noted that Ojeleye's defensive ratings are all over the place depending on what site is being viewed.  Some rate him as an above average defender; others rate him below average.  The fact of the matter is that the Bucks are not in need of a First-Team All Defense player off the bench.  They need a guy who is going to come in and make the opposing team uncomfortable.  Ojeleye is capable of doing that.  Whether or not he has the work ethic to get to that point is what is questionable.
To be fair, Ojeleye is a much better three-point shooter than Tucker.  Last season, in 17 minutes per game, Ojeleye averaged 4.6 points while shooting 36.7% from three.  For more of what the Ojeleye will bring to the Bucks, read on here.
Grade- C+
Signing Rodney Hood
The signing of Rodney Hood was not one that garnered very much excitement.  Hood had the worst season of his career in 2020, putting up 4.5 points per game on 36/30/85 shooting splits.  If one looks at his entire career, though, it is apparent that this past season was not a true reflection of his ability.
In seven season, Hood averages 11.3 points with shooting splits of 42/36/83.  He has also averaged double-figures in points in five out of his seven seasons.  Hood is a small forward/shooting guard who can provide depth and relief at either of the two positions.  If he can bounce back from his down year in 2020, he could be a very impactful weapon off the bench.
Grade- C
Signing George Hill
When the Bucks traded George Hill (and others) for Jrue Holiday, it appeared to be a messy divorce.  However, all seems to have been forgiven and forgotten as he decided to sign with Milwaukee following his release from Philadelphia.
George Hill signed a two-year $8 million deal to return to Milwaukee.  Hill's signing immediately upgraded the Bucks' depth at point guard.  DJ Augustin began the season backing up Jrue Holiday, and Jeff Teague was acquired later to fill that role.  Neither player really produced for Milwaukee and a change was needed.  Hill is a good ball-handler, excellent shooter, and great locker room presence.
However, there was one major issue many had with the signing.  Hill was signed using the mid-level exception, a contract that the Bucks could use to sign any player for up to $5.9 million.  To be frank, they were hoping for a bigger name than George Hill to be inked to that deal.  The thing is, though, the Bucks REALLY needed a good backup point guard.  Yes, there were bigger names out there, but they signed where they wanted to signed.  Milwaukee is still not high on places NBA players want to play.
Grade- B
Traded Sam Merrill for Grayson Allen
This was not a very popular trade for many Bucks fans who are also Wisconsin basketball fans.  Grayson Allen led Duke to victory over Wisconsin in the 2015 National Championship game, and many fans stated the will never not boo him, even if he is in a Bucks' uniform.  Additionally, Allen has a reputation for being a dirty player, something we went into detail about here.
However, the addition of Allen to the backcourt is a substantial upgrade from where the team was before the trade.  Merrill still needs time to develop whereas Allen is already an established NBA player.  He is a good shooter and tough defender.  Allen may even challenge Dante DiVincenzo for the starting shooting guard spot.
Grade- B+
For More Great Wisconsin Sports Content
Follow me on Twitter at @theotherAdams14 and follow us @WiscoHeroics1 for more great content. Check out our merch page here and use promo code Wisco at check out for $1 off! To read more of our articles and keep up to date on the latest in Wisconsin sports, click here!