The Green Bay Packers may be entering the end of an era.  Due to a variety of reasons, there are certain players who may not be on the team following this season.  The current roster is stacked with talent, and the Packers may finally be able to reach and win the Super Bowl this season.  Even with the Lombardi in hand, here are five players who may be gone after 2021.
Aaron Rodgers
The notion that Aaron Rodgers could be gone after this season should come as a surprise to no one.  The long, drawn-out sage of Rodgers versus the front office has dominated headlines all offseason.  Recently, the two sides came to an agreement on a new contract.  This deal opens to door for Rodgers to be traded following the 2021 season.
It was recently reported that the Packers and Rodgers have reached an agreement in this matter.  If Rodgers wants out of Green Bay after this season, the Packers will trade him.  The Packers acquired Randall Cobb in an effort to appease the disgruntled MVP, but that is just one move.  It may not be enough.
[pickup_prop id="9943″]
Davante Adams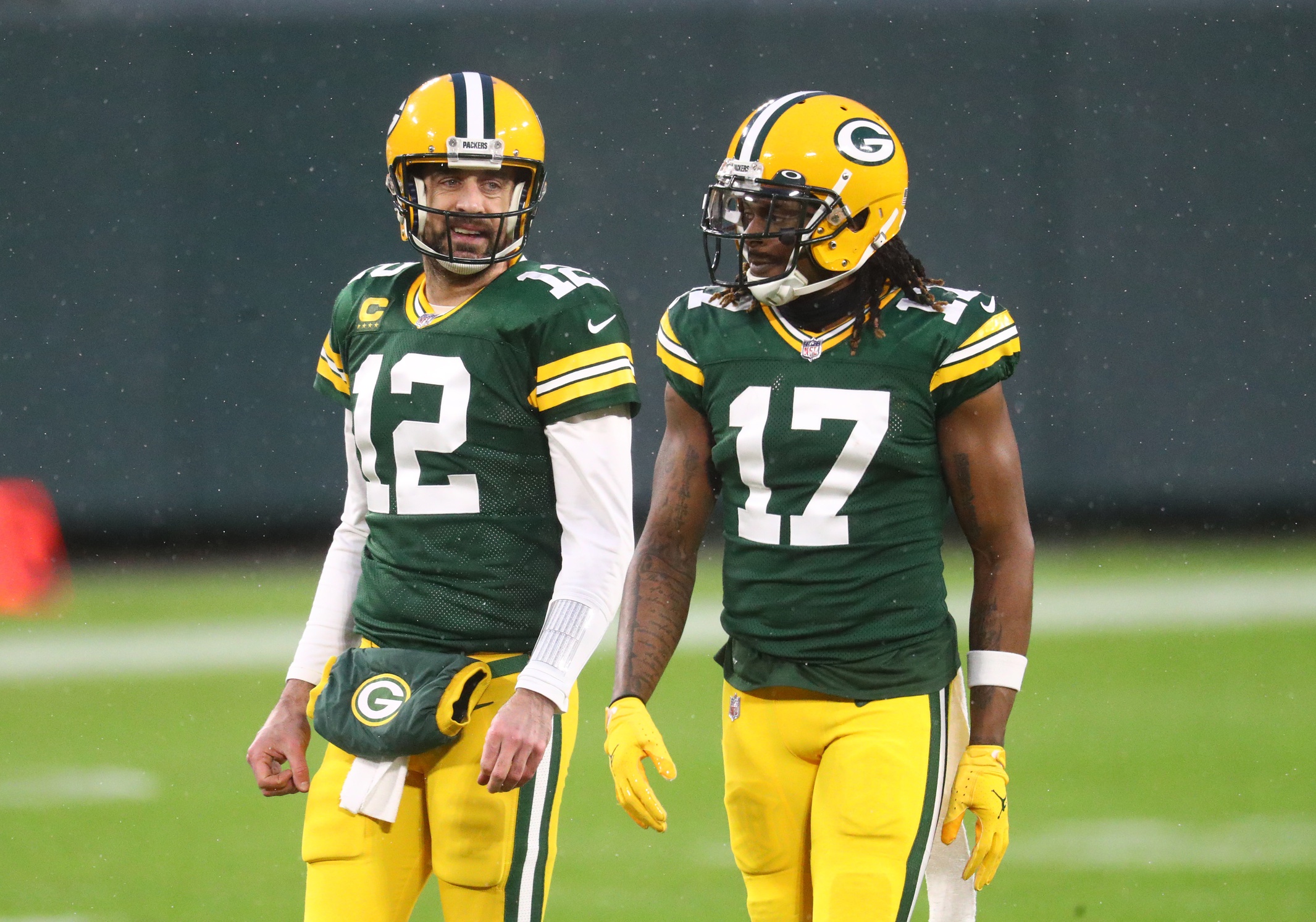 A month and a half ago, we reported that the Packers may not be able to afford Davante Adams.  Two weeks ago, ahead of training camp, it was reported that the Packers and Adams had broken off contract negotiations.  Finally, a week ago, Davante Adams told the press that he believes that he should be the highest paid wide receiver in the NFL.
The issue between Adams and the Packers is that they disagree on what figure they should be looking at when it comes to the highest paid receiver.  Adams is looking at the two-year $54 million extension that the Arizona Cardinals gave DeAndre Hopkins.  The Packers believe they should be looking at the contract as a whole, which is much less money per year overall.  In any case, the Packers are going to be in salary cap hell next season, and may not be able to bring him back regardless.
[pickup_prop id="7098″]
Preston Smith
Earlier this offseason, Preston Smith reworked his deal with the Packers to free up some cap space.  As a result, he took a lot less money than he was originally scheduled to make.  While this helped keep him on the team this year, it may not be enough to keep him on the team next season.
Next year, Smith will be due to make $8 million with a $19 million cap hit.  That $19 million is just too large a sum for the Packers to afford.  If Rodgers and Adams leave, they are going to have a major makeover in terms of who is on the roster.  With Rashan Gary playing well for a much lower price, it is likely this is last season for Preston Smith in Green Bay.
[pickup_prop id="5643″]
Adrian Amos
Like Preston Smith, Adrian Amos also reworked his deal with the Packers to free up some cap space this offseason.  Unlike Smith, Amos has been a consistent player in both of his years with the Packers.  Unfortunately, the money the Packers have kicked down the road on his deal may be too big an obstacle to overcome.
Next season, Amos will make a $7 million base salary.  This does not sound too awful.  However, his $11.9 million cap hit may be too much for the Packers to swallow.  Darnell Savage plays well next to Amos. Additionally, there are a few young safeties that the Packers have waiting in the wings.  If any of them show that they are ready to take the next step this season, Amos could also become a cap casualty.
[pickup_prop id="5647″]
Randall Cobb
As mentioned previously, Randall Cobb was brought back to appease Aaron Rodgers.  However, with the trade the Packers also inherited his contract, which next season may be too expensive.  If Rodgers decides to request a trade after this season, there is not much of a doubt that Cobb will be on his way out too.
Next season, Cobb is slated to make $7.875 million.  This, too, does not sound like much, but he carries a cap hit of $9.6 million.  If the Packers let him go, they will only have a hit of $2.7 million, nearly $7 million in savings.  For a team that is going to be hard pressed to clear space next season, that may be an easy cut to make.
[pickup_prop id="9961″]
For More Great Wisconsin Sports Content
Follow me on Twitter at @theotherAdams14 and follow us @WiscoHeroics1 for more great content. Check out our merch page here and use promo code Wisco at check out for $1 off! To read more of our articles and keep up to date on the latest in Wisconsin sports, click here!