Preston Smith's time in Green Bay got off to a wildly impressive start. But after a lackluster performance the following season, he found himself on the verge of losing his spot on the roster.
The outside linebacker's overall defensive production fell dramatically from 2019 to 2020. In his first season with the Packers, Smith racked up a career-high 12.5 sacks. The following year, he had only four. Smith also lost ground in tackles, interceptions, and forced fumbles.
Given this disappointing regression, as well as Green Bay's salary-cap issues, releasing Smith became a distinct possibility. Instead, he and the front office came to a rare win-win compromise to keep #91 in Titletown.
In order to remain a Packer, Preston Smith agreed to restructure his contract and take a significant pay cut. Smith's salary-cap number was nearly reduced in half, from $16 million to $8.75 million. This freed up $7.25 million in much-needed cap space, which Green Bay used to re-sign running back Aaron Jones. 
The 28-year-old's new contract is heavily laced with production incentives. Most notably, Smith is eligible for up to $4.4 million in accumulating bonuses if he hits 6, 8, 10, 12, and 14 sacks. With this deal, Smith actually has an opportunity to earn more in 2021 than he would have with his previous contract. 
It all comes down to one thing: how well he performs throughout the upcoming season.
Smith: "This is where I want to be"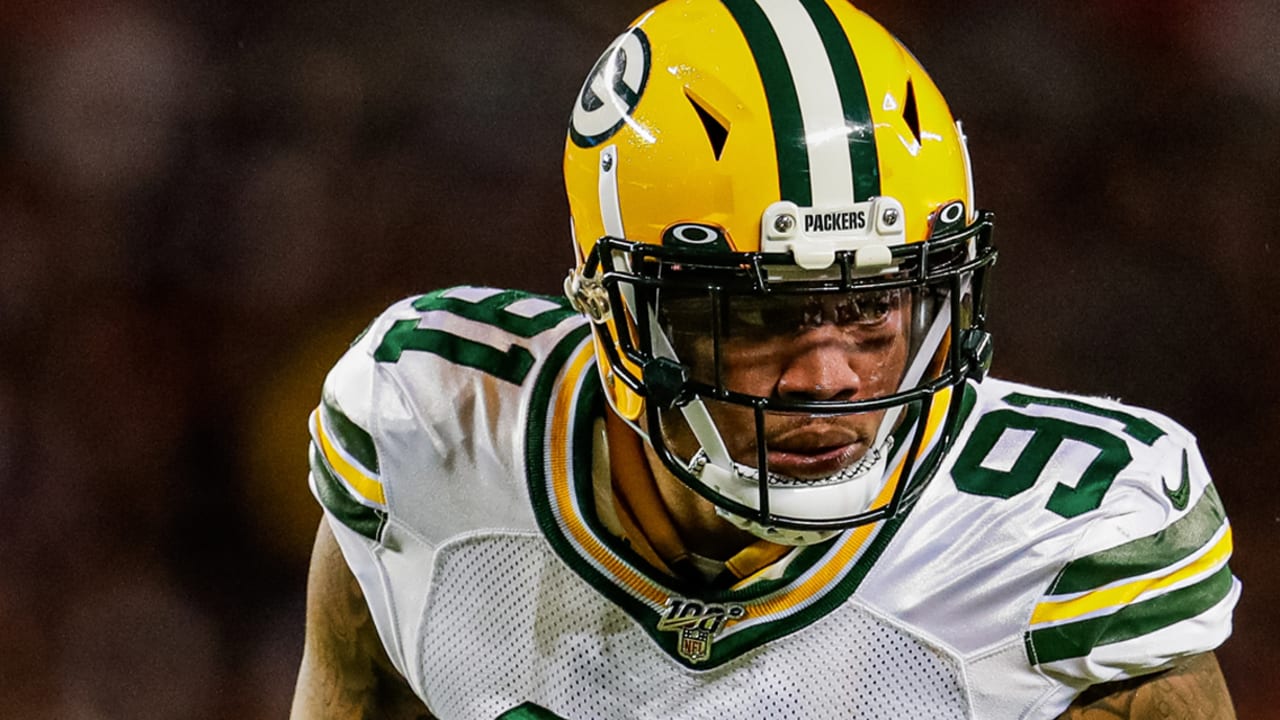 Back in Green Bay for his third Packers training camp, Preston Smith is opening up about his huge offseason decisions.
"No doubt in my mind, I knew I was going to be back," Smith said in a post-practice press conference on August 2nd. "I didn't think that I was going to be anywhere else. This is where I want to be, this is where they wanted me to be."
Smith acknowledged his underwhelming 2020 season and the reasons behind his contract restructure. "I understand business. You've got to think logically, you can't think with your feelings. So I'm thinking more like, 'OK, I didn't have a great year the year before. This is what's needed if I want to be a part of something great, which is what we've got around here. What we've established since I've been here.'"
Rather than letting these obstacles get him down, Smith is using them as motivation. "My job is to go out there and be the Preston Smith I know I can be. High production. High energy. Making plays. Causing havoc for other offenses. Doing my part for my team. Making sure I have a lot of productivity for myself."
Optimistic About the Future
Preston Smith is looking forward to having a chance to get back on the field and compete as a Packer. He doesn't have to wait much longer, as the start of the 2021 NFL season is right around the corner.
Understanding the importance of keeping their team together, Smith and other players did their part. "I took a pay cut, some of the guys took a restructure," he told reporters. Ultimately, those sacrifices paid off. "Aaron Jones is back. We've got Dave (Bakhtiari) back. We've got a lot of guys back that we needed, that were key pieces in us being successful as a team last year. I believed in the vision and I did what I had to do to be here."
After four seasons with the Washington Football Team (then the Redskins), Smith cited success as a reason for staying in Green Bay. "We came so close this past year and the year before. We've been to two NFC Championships. This is the farthest I've ever been in my career, and I've been there twice in back-to-back years." 
Above all, Smith is excited to see what his team — full of talent and potential — can accomplish this year. "I believe in what we got going on around here. It's a lot of great guys. Majority of everybody is returning and everybody here believes the same thing," he said. "We can do it. We have a chance to do it."
[pickup_prop id="10357″]
Follow me on Twitter at @mal__allen and follow us at @WiSportsHeroics! For the latest in Wisconsin sports, click here. Check out our merch page here and use promo code Wisco at check out for $1 off + free shipping!