After a 117-14 victory on Sunday, the Bucks will face off against the Brooklyn Nets once again on Tuesday night. Coming off the high of a victory, Milwaukee is looking to gain even more ground in the race for the top spot in the Eastern Conference. Brooklyn will be looking for revenge while Milwaukee is looking to make a statement. Let's take a look at things to watch for and everything you need to know ahead of the Tuesday night matchup!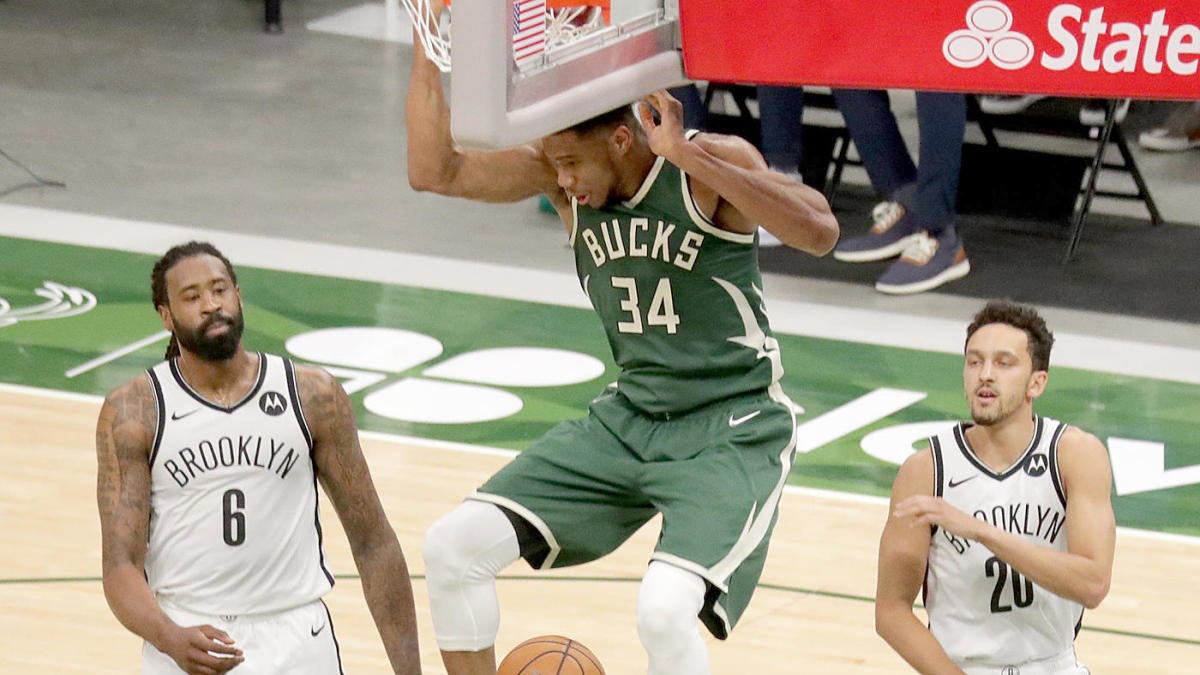 Bucks vs. Nets Game Details
Location: Fiserv Forum in Milwaukee, Wisconsin
Time: 6:30 PM CST
Where to Watch: TNT and Bally Sports WI
Potential Starters for Each Team:
Bucks – Jrue Holiday, Donte DiVincenzo, Khris Middleton, Giannis Antetokounmpo, Brook Lopez
Nets – Kyrie Irving, Joe Harris, Kevin Durant, Jeff Green, DeAndre Jordan
Injury Report:
Milwaukee Bucks – Bobby Portis (Illness) DTD, Jeff Teague (Abdominal Strain) DTD
Brooklyn Nets – James Harden (Hamstring) OUT, Chris Chiozza (Hand) OUT
Players to Watch: Bucks
Giannis Antetokounmpo: Coming off a 49 point outing in the previous matchup, the reigning MVP is poised for another big game. The Nets simply did not have an answer for Giannis, and that can be expected to continue. While Giannis may not be able to replicate his three-point shooting performance, he will still be dominant in the paint and in the midrange. Giannis matches up very well against the Nets' frontcourt. He seemingly has the advantage against every player with the possible exception of Kevin Durant. Watch out for the MVP to come alive once again.
Khris Middleton: Middleton played very well on Sunday afternoon notching 26 points on 52% shooting. While Giannis had the spotlight, Khris was able to be the second option when Giannis could not finish in the paint. Look for Khris Middleton to be waiting in three-point land or at the wing. With a day to prepare, the Nets may have a better strategy to prevent Giannis from scoring at will. This will lead to Khris Middleton getting more opportunities with the ball in his hands.
Players to Watch: Nets
Kevin Durant: Despite walking out of Fiserv Forum with a loss, Kevin Durant was dominant for Brooklyn. Durant finished the game with 42 points on 48% shooting. Kevin Durant is a bonafide superstar and possibly the greatest pure scorer of all time. When he is on the floor he will always have the opportunity to score despite the opponent's game plan. Look for another big game from Durant as he will be able to score at will. Giannis Antetokounmpo and PJ Tucker will most likely hold the defensive assignments against Durant. Although two fantastic defenders will be matched up with Durant, he is poised for another big game.
DeAndre Jordan: After a poor performance defensively against Giannis, Jordan is looking for a bounceback game. Jordan knows he did not perform well when matched up against the Greek Freak, so expect that to light a fire inside him. DeAndre Jordan finished Sunday's game with 10 points and 11 rebounds. He will need to hit some more shots in the post in order to take some pressure off Kevin Durant and Kyrie Irving. Expect a better performance from Jordan on Tuesday night.
Keys to Victory for Milwaukee
Let Giannis Control the Tempo: It can not be stated enough just how important Giannis was for Milwaukee in the previous matchup. With Milwaukee looking to gain more ground in the race for the top spot, they will need to feed Giannis the ball. Controlling the tempo throughout the game will be of the utmost importance. If Giannis is able to tire out Brooklyn's frontcourt, it will give him the upper hand while attacking the basket. Giannis will not need to necessarily run the offense. Rather, he should be given the opportunity to pick up the speed of play throughout the game.
Win the Offensive Rebound Battle: Milwaukee was unable to win the rebounding battle in the previous matchup and it nearly proved costly. The Bucks will need to take advantage of their second chances. Both of these teams have the ability to go on a scoring run at any given time. With that in mind, fighting for the offensive rebounds will be even more important. Look for Giannis and Brook Lopez to crash the boards as they look to take advantage of second-chance opportunities.
Final Thoughts
This is the second game of Milwaukee's big test in the final stretch. Having narrowly beaten the Nets in the previous matchup, taking another victory will be a true statement. The Bucks are still 2.5 games back of the Nets but that lead can shrink if Milwaukee is able to take the win. Expect another battle of the superstars between Giannis and Kevin Durant. This should be an entertaining matchup once again.
[pickup_prop id="4481″]
Follow for more great content!
Follow me on Twitter at @JakeJMaier and follow us @WiSportsHeroics for more Wisconsin sports content. Check out our merch page. Use promo code WISCO at checkout for $1 off! To read more of our articles and keep up to date on the latest in Wisconsin sports, click here!