In a battle of two heavyweights in the Eastern Conference, the Brooklyn Nets and Milwaukee Bucks squared off at the Fiserv Forum. Both teams are locks for the playoffs, and this game had heavy implications going in. Milwaukee was looking to gain ground for the top spot in the Eastern Conference while Brooklyn was looking to maintain the top seed. Let's take a look at a breakdown of all the action here!
First Half
The first half started off with a bang as Giannis posterized Kevin Durant to score the first points of the game. Both teams battled in the beginning stages, but the Nets were able to jump out to a big lead. Down 14 points, Milwaukee went on a run of their own to cut down the defecit to single digits. At the end of the first quarter, Milwaukee's big three were the only players with points on the board. Eventually, Milwaukee was able to grab the lead and take that lead into halftime. Giannis Antetokounmpo and Khris Middleton were the biggest factors in the first half. Giannis ended the half with 20 points while Middleton finished with 16. Both players were dominant in the first half. Role players also came alive in the second quarter as Bryn Forbes was able to knock down a pair of three-point shots. PJ Tucker also got into the mix with a beautiful shot from the corner and playing aggressive defense on Kevin Durant throughout. Heading into halftime, Milwaukee was able to hold a 62-59 lead.
Bucks Halftime Notables
Giannis Antetokounmpo: 20 points/4 rebounds
Khris Middleton: 16 points/3 rebounds/3 assists
Jrue Holiday: 13 points/3 rebounds
Second Half
The second half was just as close as the first half. Unfortunately, Jeff Teague exited the game with an abdominal strain, leaving Milwaukee without their backup point guard. Giannis continued to dominate in the second half as he was able to notch the first 16 points in the third quarter by himself. Khris Middleton also got involved knocking down some huge three-point shots to widen the lead. However, Brooklyn began to storm back, and eventually, the score was 90-90 heading into the final frame. The fourth quarter was sloppy with numerous turnovers by both teams. Despite losing the rebounding battle, Milwaukee was able to come away with a victory. Kevin Durant attempted the last shot for Brooklyn but was just off as PJ Tucker played sound defense to end the game. Milwaukee was able to escape with a victory behind Giannis Antetokounmpo's 49 points.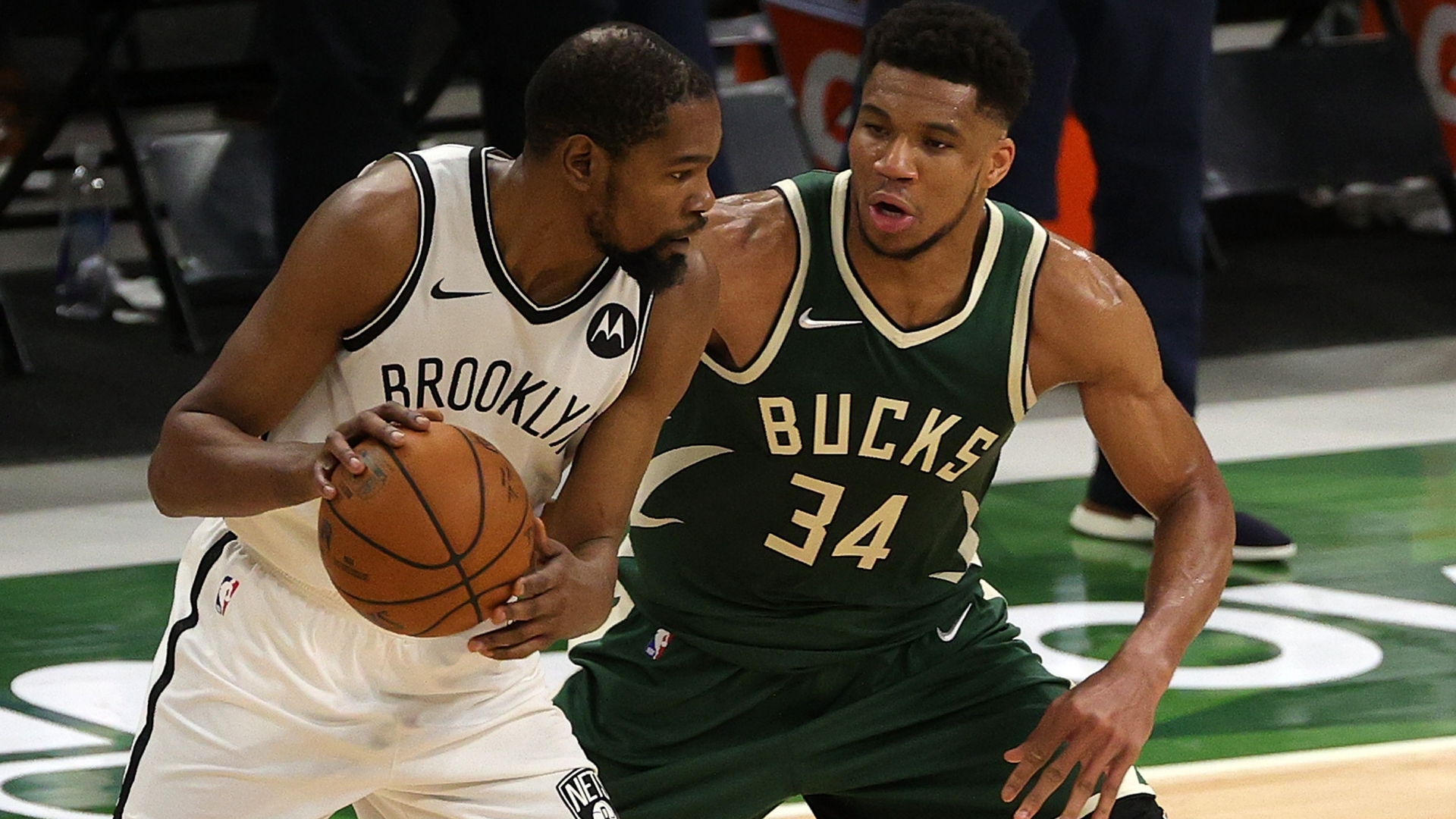 Bucks Final Notables
Giannis Antetokounmpo: 49 points/8 rebounds/4 assists/3 blocks/1 steal
Khris Middleton: 26 points/11 rebounds/6 assists/2 steals
Jrue Holiday: 18 ponts/5 rebounds/4 assists
Brook Lopez: 4 points/6 rebounds/5 blocks
Bryn Forbes: 12 points
[pickup_prop id="6443″]
Game MVP
The game MVP will go to the reigning MVP Giannis Antetokounmpo. Giannis notched his new season-high with 49 points and came just three points short of tying his career-high. Not only was the 49 points impressive, so was his three-point shooting. Antetokounmpo was able to hit 4 of his 8 three-point attempts. For someone known for dominating the paint, it's always impressive to see numbers like that. Giannis scored his 49 points in only 36 minutes, an unbelievable feat. Giannis is continuing to prove why he is solidified in the MVP discussion.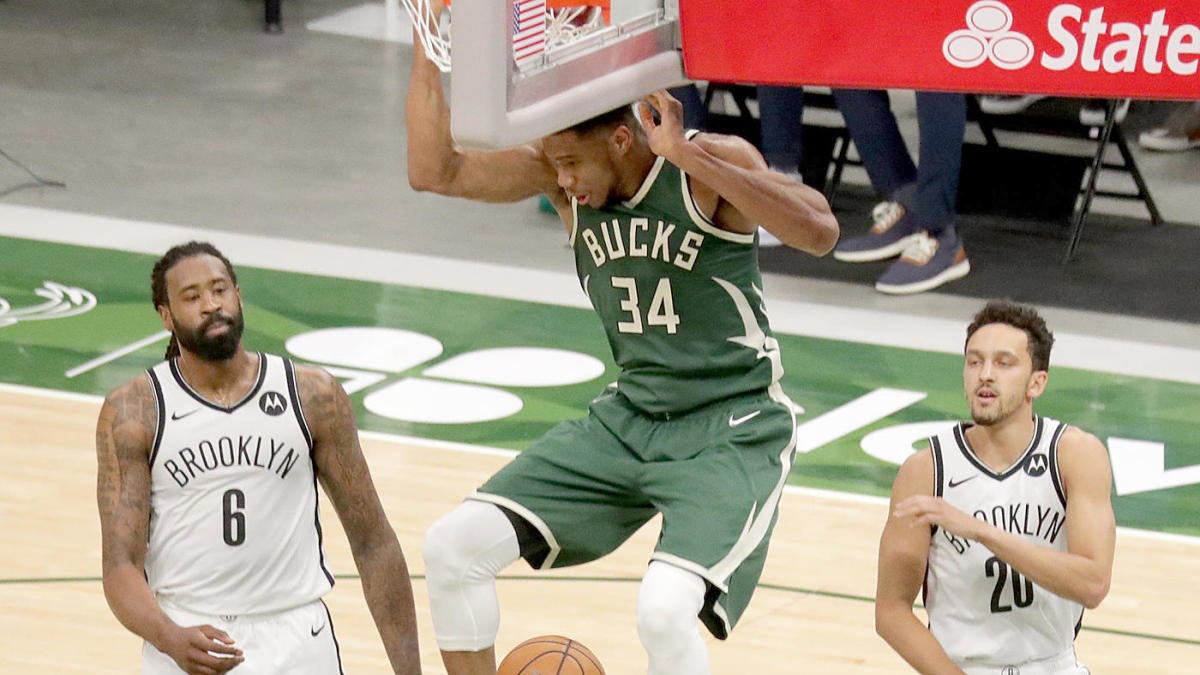 Conclusion
With the victory today, the Bucks are now 2.5 games back from the top seed in the Eastern Conference. Milwaukee will look to gain more ground on Tuesday night as they face off against the Nets once again. Despite some hiccups early on, the Bucks were able to come up with the victory. Tuesday night's matchup will be extremely important, and Bucks fans should feel good heading into that matchup after an impressive victory on Sunday night. We are in the final stretch Bucks fans, buckle up!
Follow for more great content!
Follow me on Twitter at @JakeJMaier and follow us @WiSportsHeroics for more Wisconsin sports content. Check out our merch page. Use promo code WISCO at checkout for $1 off! To read more of our articles and keep up to date on the latest in Wisconsin sports, click here!