Giannis Antetokounmpo came out with more aggression to start this one (compared to Game 2). He quickly put up seven points in the opening few minutes of the quarter, which helped ignite the Fiserv Forum crowd (quick shout out to the crowd, they were on one ALL AFTERNOON).  It also helped start the game with a lead as they held a 22-19 edge going into the second quarter.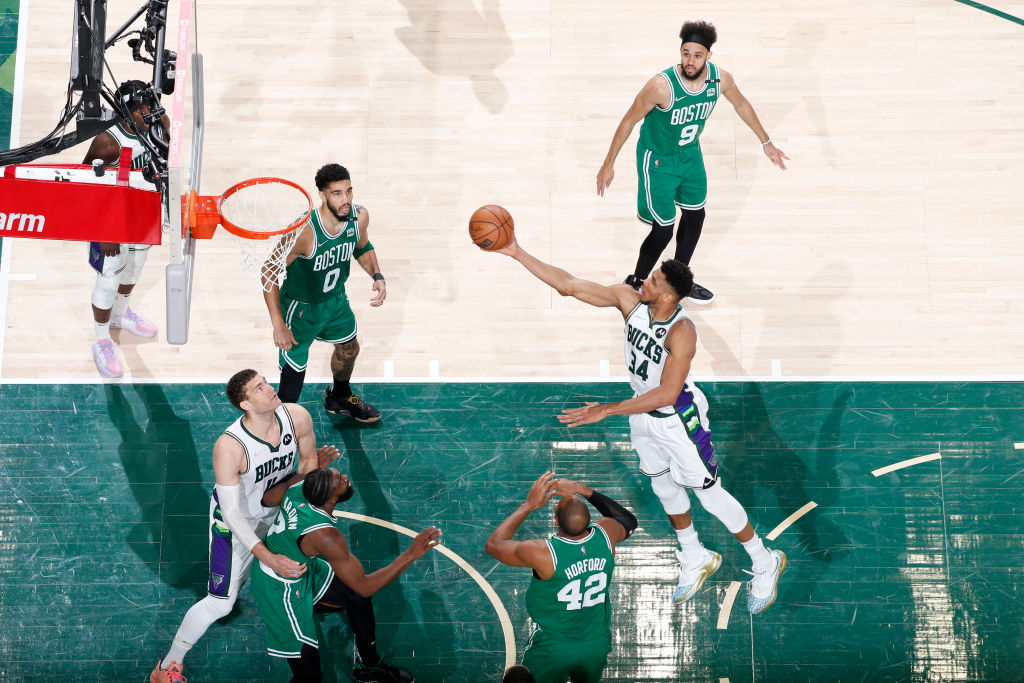 The refs would make themselves be known throughout the second quarter. It seemed every trip down on, a whistle would be heard.  The fouls really started to suck the energy out from the crowd. Boston took advantage during this quarter.  They made a few late baskets and re-gained a slim lead (50-46) going into the half.
Jrue Holiday would claimed the third quarter as his.  Things really started to click for the Bucks and Jrue was often at the center of it. Milwaukee opened it up to a double-digit lead and they'd keep that momentum through the end of the period. Going into the fourth, the Bucks were on top, 80-67.
Boston would make it extremely close down the stretch as they outscored Milwaukee down in the fourth quarter 34-23.  At the end Marcus Smart was fouled and sent to the free throw line.  Boston was down 100-103.  Smart makes the first but misses the second on purpose.  Three Boston tip-ins all rimmed out.  Those three finished with an Al Horford last chance tip-in that went in, but came just after the buzzer sounded.  The buzzer went off and the Bucks had a 2-1 series lead.
Three Things That Stood Out:
Jure Holiday: 
25 PTS
7 REB
3 AST
3 STL
And the game clinching shot:
JRUE HOLIDAY CLUTCH BUCKET‼️ pic.twitter.com/lSDCIJJ2wQ

— SportsCenter (@SportsCenter) May 7, 2022
Wesley Matthews: 
Jayson Tatum was 0/10 FGM today when Wesley Matthews was his primary defender, via @ESPNStatsInfo pic.twitter.com/PIfQb7wB1S

— Hoop Central (@TheHoopCentral) May 7, 2022
Giannis Antetokounmpo: 
42 PTS
12 REB
8 AST
2 STL
3 BLK
16-30 FG
Best player in the world.
GIANNIS LMAOOOOOO pic.twitter.com/jFG0EwTCRY

— Nathan Marzion (@nathanmarzion) May 7, 2022
For More Wisconsin Sports News…
Follow me on Twitter at @mcquadewarnold and follow us @WiSportsHeroics for more great content. To read more of our articles and keep up to date on the latest in Wisconsin sports, click here!