The Green Bay Packers have broken yet another barrier within their franchise.  This time, they have hired their first female full-time athletic trainer.  The news was announced today by the team.
Green Bay Packers Hire Erin Roberge As Full Time Athletic Trainer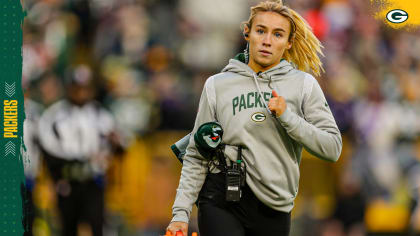 Per the Green Bay Packers:
Erin Roberge (ro-BAIRGE), who has been working with the Packers as an intern since the summer of 2020, is the first female full-time athletic trainer in franchise history.  She earned her undergraduate degree at the University of Wisconsin-Madison and completed her master's degree in exercise science through Pennsylvania Western University with an emphasis in performance enhancement and injury prevention.
"Through the internship experiences over the last few years, it became apparent to us that Erin would be a great addition to our staff," said Packers director of sports medicine/head athletic trainer Bryan Engel. "She shares a passion for the athletic-training profession and is dedicated to providing our players with the highest quality health care in the NFL.
This type of hire is a perfect example of hiring who is best for the job without letting sex, race, or religion impact their decision.  This is a groundbreaking day for the Packers and needs to be celebrated as such.
For More Wisconsin Sports:
Follow me on Twitter at @mcquadewarnold, follow us @WiSportsHeroics, and listen to our Podcast, The Cheese Dads NOW with Legendary DT Gilbert Brown! You can also reach out to McQuade Arnold via email at mcquadewarnold@gmail.com. To read more of our articles and keep up to date on the latest in ALL of Wisconsin sports, click here!