After a rather upsetting loss against the New York Yankees on Sunday, the Milwaukee Brewers were back on their home turf for a four-game series against the Miami Marlins and won in shutout fashion, 12-0.
With Brandon Woodruff on the mound, he was following an amazing performance from Corbin Burnes on Sunday. Burnes threw eight no-hit innings in a duel against New York's Gerrit Cole. The no-hitter went 10 1/3 innings until the Yankees would win it 4-3 in 13 innings.
Woodruff and Burnes are the pitcher for Milwaukee to throw consecutive scoreless starts of over eight innings since Ben Sheets and CC Sabathia in August of 2008.
According to Elias, Corbin Burnes and Brandon Woodruff are the first Brewers pitchers to throw consecutive scoreless starts of eight-plus innings since CC Sabathia and Ben Sheets on Aug. 8-9, 2008.

— Adam McCalvy (@AdamMcCalvy) September 12, 2023
A Complete Shutout Game by Brandon Woodruff.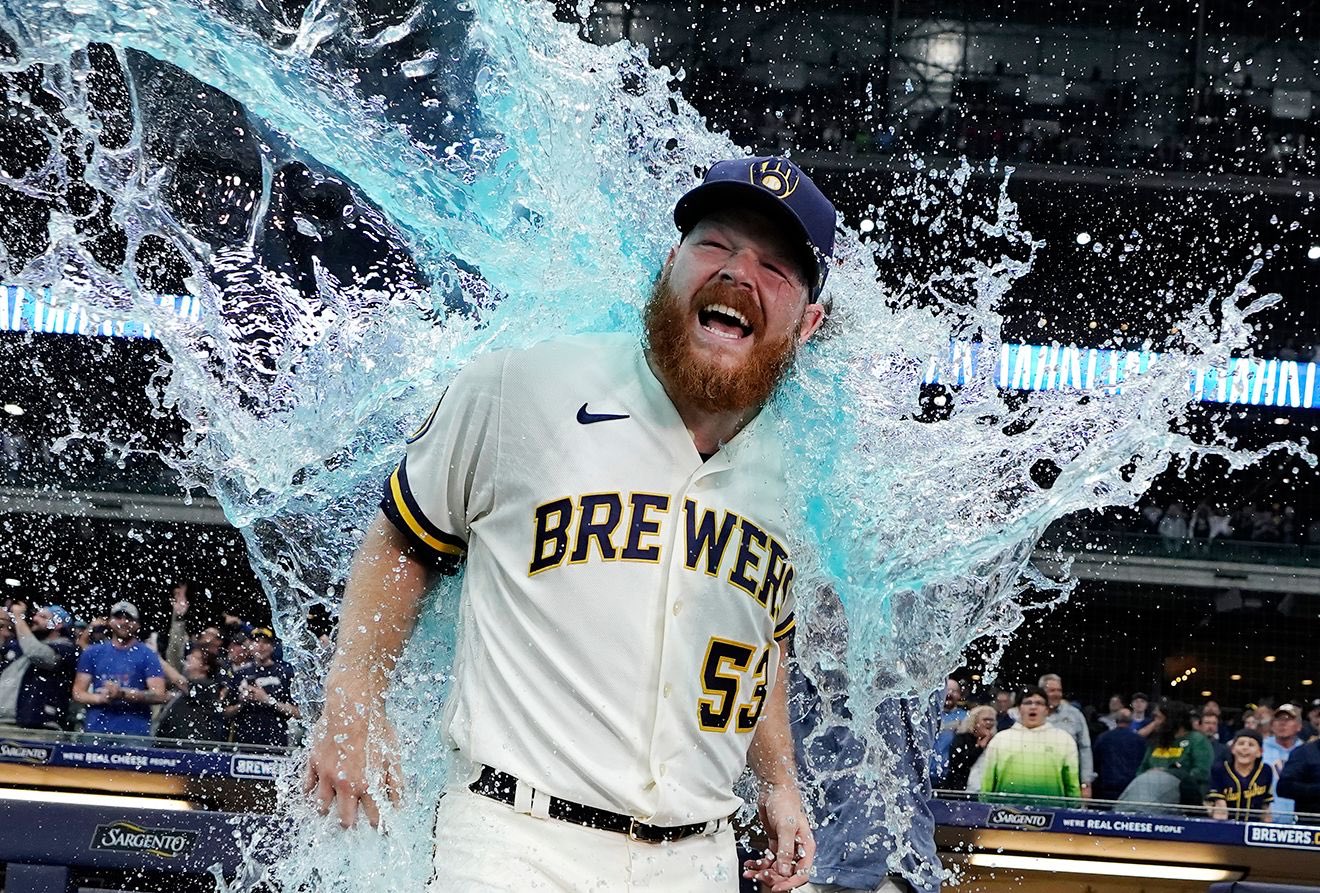 Woodruff, who spent four months on the injured list currently sits with a 5-1 record. In Monday's contest against the Marlins, he struck out seven, walked one, allowed six hits, and threw 77 of his 106 pitches for strikes in his first career shutout game. In his last 28 innings of work, he's only allowed three runs. His season ERA sits at 1.93 across 56 innings of work.
This staff >>>>>>>>>>>>>>> https://t.co/gE54CeuJUs pic.twitter.com/d7WieEJlqh

— Milwaukee Brewers (@Brewers) September 12, 2023
This was also the first time that Woodruff had pitched a complete nine innings. It wasn't his first career complete game, that happened to be a seven-inning game against the St. Louis Cardinals in 2020.
This is the fourth complete game in the Craig Counsell managerial era, and the first since Adrian Houser's complete shutout back in September of 2021.
Milwaukee Brewers' Explosive Offense
After Gerrit Cole and the Yankees pitching staff had held the Brewers to no runs until the 11th inning, they weren't holding back against Marlins starter Jesus Luzardo. In his last three starts, Luzardo had only allowed 11 base runners over 18 two-run innings. But in just five innings of work, he allowed ten hits, four walks, and six runs.
Right out of the gate, the Brewers were looking for redemption as Mark Canha led the game with a bomb in the first inning. Willy Adames lined an RBI double to the left field wall to make it 2-0, followed by Josh Donaldson, who made his Brewers debut Monday night, who had an RBI single to center. Tyrone Taylor would add an RBI single in the third inning, but ultimately the Brewers would leave the bases loaded.
We hope you enjoy this leadoff edition of @OuttadapakMark ‼️#ThisIsMyCrew pic.twitter.com/KLI3Eyt3lE

— Milwaukee Brewers (@Brewers) September 11, 2023
Bottom of the fifth. Taylor hits a double on a line drive, allowing Adames to score and bring the lead to 5-0. Sal Frelick would add another single, allowing Taylor to score and Frelick would end up at second base; The crew now led at 6-0.
The bottom of the sixth is where things got to be really interesting. Willy Adames launched a triple into left field, clearing the bases. Andruw Monasterio would drive in an RBI single, Joey Wiemer reached on a scoring error, letting Donaldson score, bringing their lead to 11-0.
Make it THREE XBH for @willya02 tonight #ThisIsMyCrew pic.twitter.com/LuvJDmfqcY

— Milwaukee Brewers (@Brewers) September 12, 2023
In the bottom of the eighth, the Marlins had catcher Jacob Stallings on the mound. This allowed Joey Wiemer to smash an RBI double to center field, the score now being 12-0, Milwaukee.
The Milwaukee Brewers sit three games ahead of the Chicago Cubs in the NL Central standings after their win tonight against the Marlins.
Milwaukee Brewers Injury Updates
Christian Yelich missed his third straight game due to back soreness. According to Craig Counsell, he's doing better, running around a bit and they're trying to ramp up activity and get him back on the field. RHP J.C. Mejia (shoulder) was transferred to the 60-Day IL, Adrian Houser is ready to come off the IL "any day now", according to Counsell. No word has been said on whether he will be pitching in the series against the Marlins or not.
Garrett Mitchell is reportedly going to the doctors this week. As of this moment, the Brewers are anticipating him being cleared to start playing games and start his minor league rehab assignment. All signs are pointing towards a return for Mitchell before the postseason so he can help be apart of that pennant chase.
What's Next
Freddy Peralta (11-8, 3.89) will be on the mound for the Brewers, and JT Chargois (1-0, 3.63) will be on the bump for Miami. The game starts at 6:40 PM CST, you can watch on Bally Sports Wisconsin or listen on the radio on 620 WTMJ.
Follow me on Twitter at @sarahspooon and follow us at @WiSportsHeroics. For all things Wisconsin sports, click here!