The Milwaukee Brewers ended the first half of the season with a half game lead in the National League Central. While there have been plenty of struggles, there have also been some great moments of joy. One of these is the Brewers' use of the Infinity Gauntlet Thanos wore in the Marvel Cinematic Universe. In a recent episode of Brewers Unfiltered, outfielder/DH Andrew McCutchen revealed the reason he brought the gauntlet into the dugout.
The Brewers have a home run Infinity Gauntlet? pic.twitter.com/g2zWjPScTv

— Talkin' Baseball (@TalkinBaseball_) June 23, 2022
Why Did Andrew McCutchen Bring the Gauntlet to the Dugout?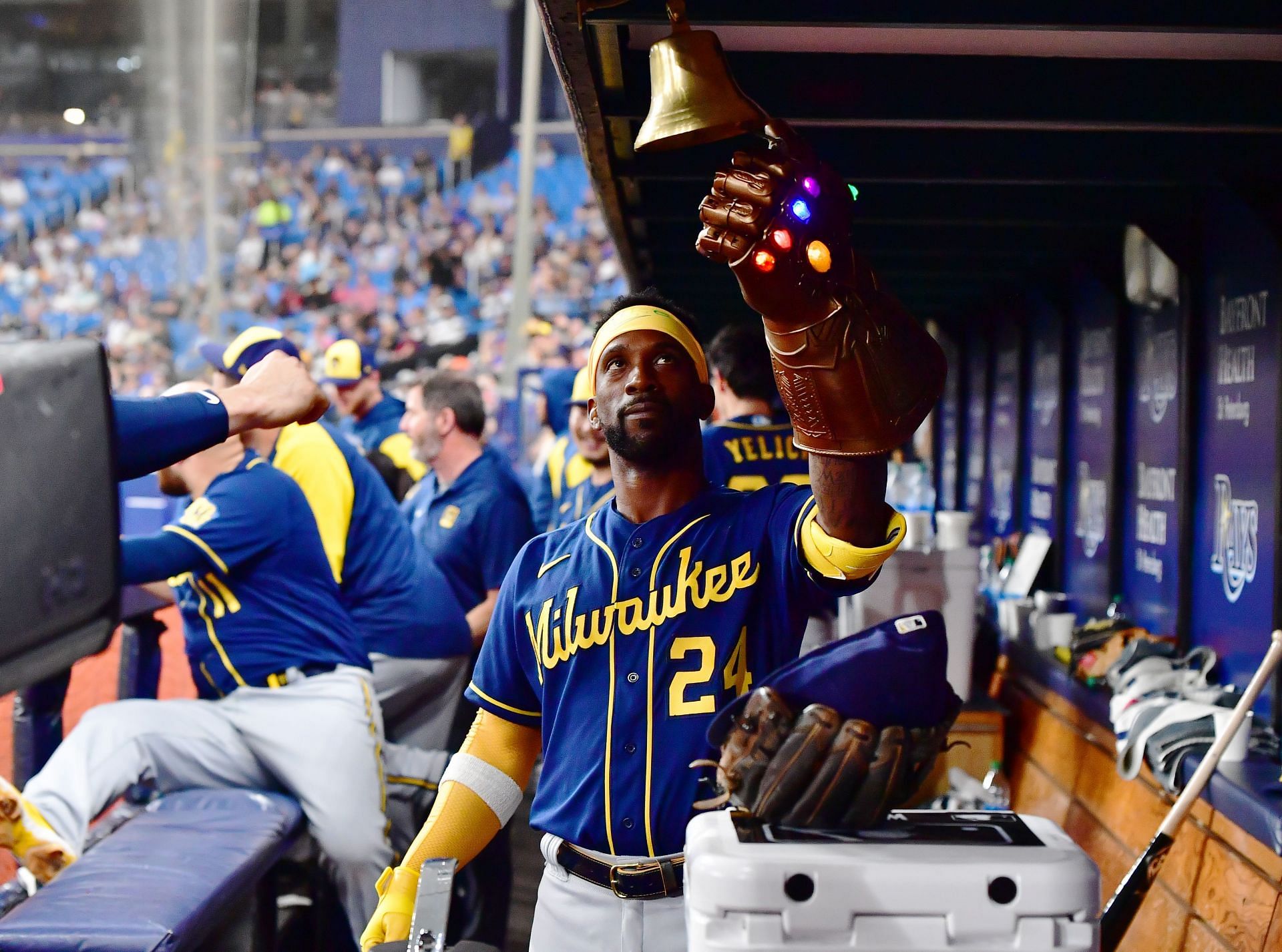 When asked if he was the one who brought the Gauntlet, McCutchen revealed that he was. However, even though it is now used to celebrate home runs, that was not its original intention. As McCutchen tells it:
"It's not supposed to be for a celebration, it just became that. It really started with (Lorenzo Cain) and Keston (Hiura). It was the two of them. Any time (Cain) would be hitting, he'd lineout or hit a ball hard, everyone always has the same "Hey man, way to swing it. Hey, way to swing it.' And as a major league baseball player – as a baseball player in general – no one wants to hear that after you just lined out. After you just did everything correct and someone's standing there and catches the ball. You don't want to hear 'way to swing it.

"Basically, I was like, 'You know what would be funny? If we got some like huge hand or something every time we would line out. We'd be like 'Hey, way to swing it!' "We're all laughing about it, but you need that in those moments because you're so mad, especially if you're struggling.

"That's why we have the hand. I need that personally because I tend to sometimes get a little too frustrated when I line out. So if I turn to my right and I see somebody with a Thanos hand, how can I not laugh at that?"
McCutchen Is Fulfilling a Need the Brewers Have Had for Two Years
Everyone remembers the 2018 and 2019 Milwaukee Brewers teams because of the star players they had on those teams. Of course, Christian Yelich was in MVP form and the team sent five players to the All-Star game in each season. However, there is one thing that separated those teams from the teams of 2020 and 2021: they had FUN!
Every baseball team needs players in their dugouts who will keep things loose, especially when the team is in a rut. For the 2018 and 2019 Brewers, those players were Orlando Arcia and Jesus Aguilar. After those two players were traded, fans could see a drastic change in the demeanor of players in the dugout. They were tight and baseball didn't look fun.
Willy Adames provided some sparks in the dugout after he was acquired last season. However, the veteran Andrew McCutchen, a former MVP, has really made this team have fun again.
A Hot Summer After a Cool Spring
Andrew McCutchen did not get off to the best start in his Brewers' tenure. By the end of April, he was hitting just .232/.286/.354 with two home runs and 10 RBI. May was even worse. After slashing .194/.237/.264 with the month, McCutchen was hitting just .214/.263/.312 with three home runs and 17 RBI on the season. Not great for the team's big free agent signing.
However, McCutchen heated up along with the summer weather. In June, he hit .315/.411/.500 with four home runs and 15 RBI. So far in July, he has cooled off some, but is still hitting better than he was in spring. For the month, McCutchen is hitting .267/.297/.400 with two home runs and nine RBI.
Going into the All-Star Break, Andrew McCutchen is hitting .255/.317/.386 with nine home runs and 41 RBI. While this run production is certainly trending upwards, it is his clubhouse presence that has made him the most valuable.
To Read All the Latest Milwaukee Brewers News, Click Here!
For More Great Wisconsin Sports Content
Follow me on Twitter at @theotherRobin19 and follow us @WiSportsHeroics for more great content. To read more of our articles and keep up to date on the latest in Wisconsin sports, click here! Also, check out our merch store for some amazing WSH merchandise!