A month after Wisconsin's NCAA second-round exit, the Badgers received some important recruiting news on Wednesday. 2022 guard Rowan Brumbaugh has set an official visit to Madison over the summer.
The Massachusetts native will be taking his official visit on Saturday, June 18th according to 24/7 Sports. Brumbaugh has been high on Wisconsin's list in the 2022 class and one that has had consistent communication since offering back in January.
Although not currently ranked, Brumbaugh has received lots of interest from larger programs. Along with an offer Wisconsin, Brumbaugh has offers from Seton Hall, Georgetown, Mississippi State, and Xavier. The Northfield Mount Hermon junior has also received interest from Louisville, Maryland, West Virginia, and Virginia to name a few.
Brumbaugh is currently Wisconsin's only offered prospect to set an official visit in the 2022 class.
"Just the culture there and they need guards," said Brumbaugh earlier this month. "Coach Gard has shown me love from the beginning. I have a really great relationship with him and coach Krabbenhoft. I can just really see myself in that system, the program, and the school."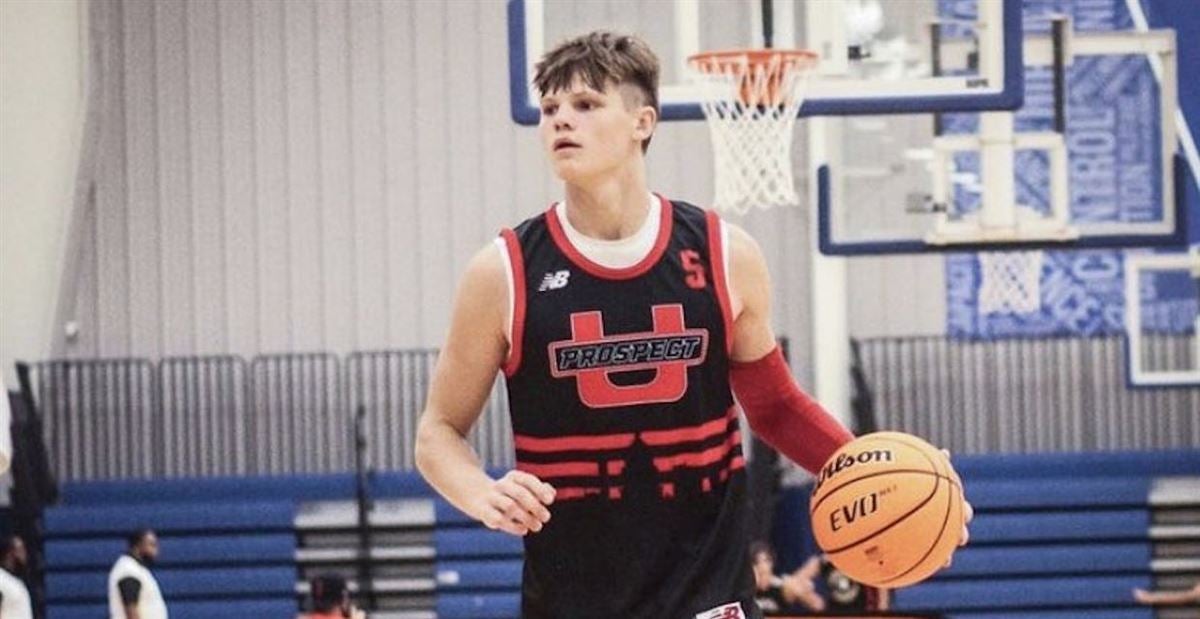 What a Commitment from Brumbaugh Could Mean
At 6'4 and 180 pounds, Brumbaugh is an under-the-radar guard that can play multiple positions. With good ball control and great shooting touch from outside, the Northfield native could run the point or be a great option at shooting guard as well. Brumbaugh's playmaking ability is what stands out the most. The junior loves to get out in transition, finish through contact, or find the open man.
So where would Brumbaugh fit on the roster? The likely landing spot would be the 2022 recruit filling in Wisconsin's shooting guard spot. With guards Chucky Hepburn, Lorne Bowman, and transfer Jachobi Neath coming in, it'd be difficult for Brumbaugh to see minutes running the point. Neath will likely take over as the main point guard while Hepburn and Bowman will learn and take over down the road.
Raw Highlights vs. Team Thrill. 4/18/21@DormuDoug @BigShotsGlobal @BigShotsU #TrustTheProcess #KeepGoing pic.twitter.com/woGREvBxRz

— Rowan Brumbaugh (@BrumbaughRowan) April 27, 2021
With Brad Davison returning for one more season, this is ideally where Brumbaugh would fill in best. Davison is Wisconsin's current starting shooting guard and best three-point option. Johnathan Davis seems to fit better in the small forward position but could take over at shooting guard once Davison graduates. If Davis takes over at the shooting guard position, Brumbaugh would be a perfect player to fill his role off the bench.
Wisconsin has made shooting guard and power forward a huge emphasis in this 2022 class. Adding a player like Brumbaugh could jump-start what could be another strong recruiting class for Greg Gard and the Badgers.
[pickup_prop id="6162″]
As Always
Follow me on Twitter @bennyboy615! Check out our merch page as well. Use promo code WISCO at checkout for $1 off! To read more of our articles and keep up to date on the latest in Wisconsin sports, click here!