The NFL Draft is less than a week away.  For months, Packers' fans have debated back and forth about what the Packers should and will do in the Draft.  After choosing to re-sign many of their own players as opposed to signing big-name free agents, the Packers certainly have many holes to fill.  Both sides of the ball have needs, both immediate and future.  In this mock draft run by thedraftnetwork.com, we take a look at how the Packers could address offensive needs early while still picking defensive players that can contribute in the middle and late rounds.
First Round Draft Pick: Rondale Moore: WR Purdue
Of all the wide receivers that could be available for the Packers at pick 29, Rondale Moore may be the most exciting.  He is an incredibly fast receiver who has a quick burst following a reception.  He also has the ability to make receptions while running at full speed, and can continue his sprint without a hitch.
Moore is undersized, standing just five foot nine and weighing just 180 pounds.  This lack of size can affect his game.  He often retreats out of bounds to avoid hits instead of extending plays while welcoming contact.  However, that in addition to his height are really the only weaknesses in his game.
Rondale Moore has sure hands and is able to snatch the ball out of the air.  He does not use his frame to make catches, which ensures that he does not drop the ball very much.  Due to his size and speed, he projects to be a return specialist in the NFL, not just a wide receiver.  This, of course, is a desperate area of need for the Packers.  It is no secret that they have lacked a good kick returner for the good part of two decades.  This, combined with the fact that the Packers have no receivers under contract beyond this season, may make Moore an intriguing pick when the Packers are on the clock.
[pickup_prop id="5690″]
Second Round Draft Pick- Jalen Mayfield: OT Michigan
Last season, offensive line depth was a strength for the Green Bay Packers.  This season, however, the team finds itself needing depth in the worst way.  David Bakhtiari is out until December with a torn ACL.  Rick Wagner was cut and may retire.  Corey Linsley, the All Pro center, departed in free agency.  While the team does have some young talent who will get playing time, the Packers do need to add depth pieces who can contribute right away.
Jalen Mayfield may fit the bill in the second round.  The offensive tackle from Michigan has shown flashes of domination, but due to COVID has not seen as much playing time as other tackles in the draft.  The Packers do not shy away from projects, though, that have tremendous upside, and Mayfield certainly has that.
In the playing time that he has gotten, Mayfield has displayed strength and footwork that rival the best linemen in the draft.  He swivels well and prevents opponents from getting the best angles to the ball.  He needs to improve in run blocking, but experience will help that.  If the Packers do end up taking Mayfield, he could be a nice second-string linemen who will eventually become a starter.
Third Round Draft Pick- Hamsah Nasirildeen: S Florida State
The Green Bay Packers have two great safeties in Adrian Amos and Darnell Savage.  However, there is not much talent following them on the depth chart.  New defensive coordinator, Joe Berry, is known to have a system that showcases good linebacker and safety play.  In terms of safeties, it is good to have at least three good players at the position to make the scheme work.  For this reason, the Packers may take a look a Hamsah Nasirildeen in the third round.
Nasirildeen would be the perfect fit for the Packers, and the Packers would be a perfect fit for him.  His weaknesses are in pass coverage due to his limited speed.  Amos and Savage are strong in coverage and have adequate speed.  His strengths are in run defense, which is an area in which the Packers struggled last season.
The third safety position in the new defense would be a pseudo linebacker.  At six foot three and 213 pounds, Nasirildeen just needs to add 10 pounds in order to be that safety/linebacker hybrid that the Packers would want him to be.
Fourth Round Draft Pick- Osa Odighizuwa: IDL UCLA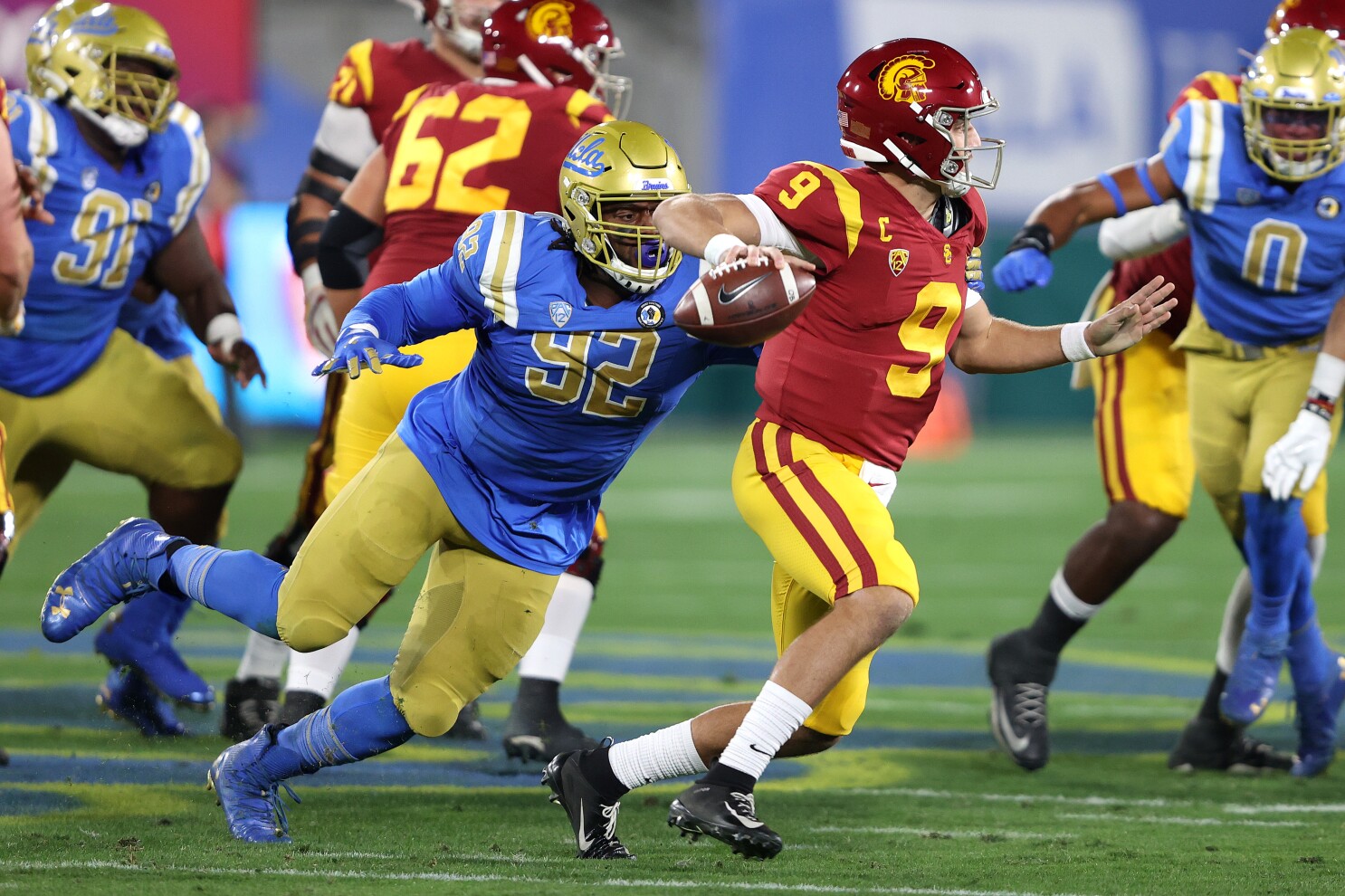 Osa Odighizuwa saw plenty of playing time during his days at UCLA, even as a freshman.  Even though he is undersized for the position, he is strong and tenacious when looking to make a play.  He is quick off the snap and never gives up until the whistle is blown.
If there is one word to describe Odighizuwa's playing style, it would be "nasty."  He hits hard and pushes blockers back with a fast punch.  However, due to his size, he can be contained with a single blocker.  In addition, most scouts feel he does not have much growth potential.  In other words, what teams see is what they are going to get.
For the Green Bay Packers, Odighizuwa would be an excellent depth addition on the defensive line.  Due to the Packers' 3-4 scheme, he can play any position on that line.  With their great pass rushers on the edge, Odighizuwa will be able to have plenty of opportunities to make plays against opponents' less-talented blockers.  While he may not end up ever being a starter, he can certainly be a valuable contributor to the defense.
Fourth Round Draft Pick- Tre Brown: CB Oklahoma
The Green Bay Packers' lack of depth at the cornerback position is no secret.  After Jaire Alexander, there is a massive drop in talent at the position.  Tre Brown, though undersized, could be an excellent depth piece in the mid rounds.
Tre Brown is not tall, and struggled against taller receivers.  He also struggled to tackle larger opponents.  However, he is feisty and can be a valuable contributor as a dime back.  Additionally, he is a staunch run defender, and easily sniffs out screen pass situations.
What makes Brown an intriguing prospect for the Packers, though, is his ability to return kicks.  In drafting him, the Packers would add depth at a position of weakness while also gaining a possible return man.  Green Bay has lacked a good, consistent kick returner for the better part of two decades.  Even if he is just a good kick returner, Brown would be worth a fourth round pick.
Late Round Picks
Fifth Round Pick- Kary Vincent Jr.: CB LSU
Fifth Round Pick- Cornell Powell: WR Clemson
Sixth Round Pick- Jermar Jefferson: RB Oregon State
Sixth Round Pick- Jaylon Moore: OT Western Michigan
Seventh Round Pick- Rachad Wildgoose Jr.: CB Wisconsin
Previous Mock Drafts
For More Great Wisconsin Sports Content
Follow me on Twitter at @theotherAdams14 and follow us @WiscoHeroics1 for more great content. Check out our merch page here and use promo code Wisco at check out for $1 off! To read more of our articles and keep up to date on the latest in Wisconsin sports, click here!
Check out http://www.playeralumniresources.com/ and book an event with former Packer Chris Jacke!