The Green Bay Packers addressed some offseason position needs by re-signing Aaron Jones and Kevin King.  However, there is till much work to do, especially on the defensive side of the ball.  In true Packer fashion, they will address many of these needs in the draft.  Below is a mock draft run using thedraftnetwork.com.
First Round Draft Pick- Jeremiah Owusu-Koramoah: LB Notre Dame
The Green Bay Packers historically have a rich history of Notre Dame players being successful with the team.  Though it has not happened in a while, Jeremiah Owusu-Koramoah could renew the connection.
Though linebacker is not exactly at the top of the Packers' list of needs, it is still a need.  If Owusu-Koramoah is available at pick 29, it is like Brian Gutekunst utilizes the "draft the best player available" tactic and takes him.  After all, linebacker is still a need.
As far as fit, Jeremiah Owusu-Koramoah would fit well with the Packers for several reason.  First, he is an above-average pass rusher.  With Za'Darrius Smith and Rashan Gary, Owusu-Koramoah could provide the Packers with a great three-headed monster in blitz packages.  Additionally, he also is projected as a great "third safety" who can cover wide receivers in the slot.  This was a glaring weakness for the Packers in 2020, and having a linebacker who can also help out in the passing game might be too good to pass up.
Second Round Draft Pick- Asante Samuel Jr.: CB Florida State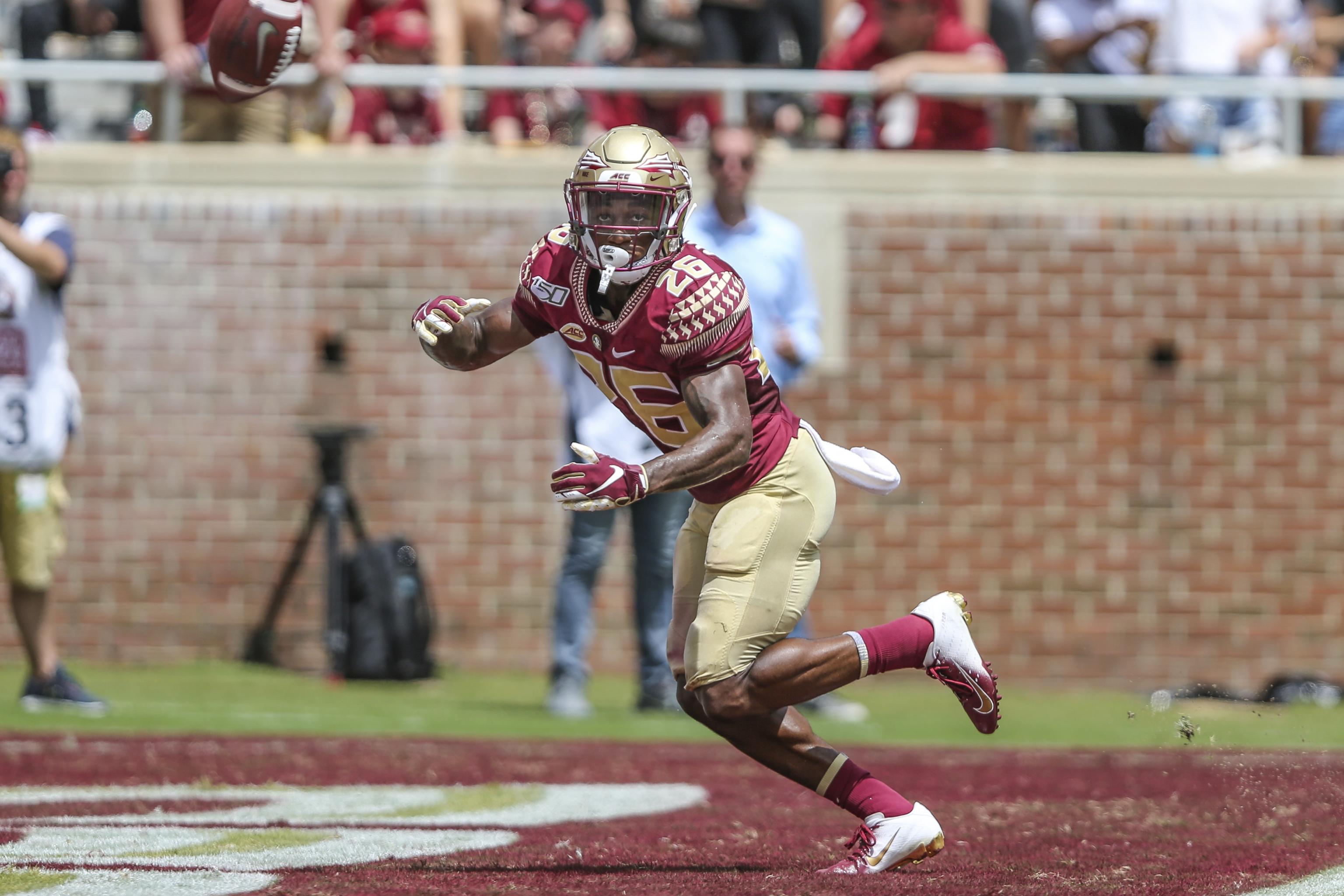 Even though the Packers re-signed Kevin King, cornerback is still an area of need.  Kevin King is only back on a one-year deal, so having a high-profile talented rookie on the roster provides security for the future.  Additionally, King was oftentimes exposed in 2020, and there is no guarantee he will start as the second cornerback in 2021.  It is possible that the job could go to a rookie this season.
Asante Samuel Jr. is a name that many Packers' fans have expressed as an ideal pick for the Packers in the upcoming draft.  He is a tad undersized, but makes up for it with his productive play.  While many believe he will mainly play as a slot corner, he does have the speed and strength to play outside as well.  He played mainly in man coverage in college and struggles in zone coverage schemes.  The Packers would be wise to move him around to maximize his talents, but he could start for the team in Week One and not be a liability.
Third Round Draft Pick- Trey Smith: IOL Kentucky
The Green Bay Packers used to have incredible depth at the offensive line.  Entering 2021, however, it is an area of need.  David Bakhtiari is out as he recovers from a knee injury suffered in practice.  Rick Wagner was cut in an effort to get under the salary cap.  Corey Linsley, the All-Pro center, signed with the Los Angeles Chargers.
[pickup_prop id="5685″]
In an effort to boost their depth, the Packers could look at Trey Smith in the third round.  Smith started his collegiate career as a left tackle, but moved to right guard where he found his niche.  Scouting reports state that this is where he should stay in the NFL as he does not move well out in the open.  He is strong and can move opposing linemen, but has weaknesses in pass protection.
Smith would be an ideal lineman to have in for running plays.  It is in this area of the game that he excelled.  With Aaron Jones and AJ Dillon on the roster, there will be plenty of need for good run blockers.
Fourth Round Draft Pick- Frank Darby: WR Arizona State
The Green Bay Packers have the best route-runner in the NFL in Davante Adams.  However, they also have zero wide receivers under contract past this season.  In addition, they likely will not have Tyler Ervin back next season and will need a kick returner.  Frank Darby of Arizona State could be an intriguing option for the Packers to address this need.
In addition to being a solid special teams contributor, Frank Darby also projects to be a good slot receiver in the NFL.  This is a role that the Packers desperately need help in.  Even though Davante Adams grades well in the slot, the Packers need a receiver who can fill that role on a consistent basis.  This would allow Adams to spend more time lining up outside, where he is the most dangerous.
Darby has good speed and hands, but needs to limit his body catches.  His speed is most effective early in a route.  He struggles with maintaining continued separation, which makes him an ideal target for quick throws in the slot.  He does possess good route-running abilities, which Aaron Rodgers finds ideal in a wide receiver.
Fourth Round Draft Pick- Adrian Ealy: OT Oklahoma
The Green Bay Packers are known for drafting developmental offensive linemen who need to be molded.  That is the case with Adrian Ealy, who is tall for the position, but exceptionally strong.  Once he locks into a block, defenders have a hard time getting away.  The problem, though, is that he plays tall and can be inaccurate with his blocks.
While the Packers' are in need of offensive linemen right now, Ealy is about two years away from making consistent contributions on the line.  The Packers can provide him with limited snaps as he learns from two of the game's best in David Bakhtiari and Elgton Jenkins.
Late Round Picks
Fifth Round- LaBryan Ray: IDL Alabama
Fifth Round- Tyree Gillespie: S Missouri
Sixth Round- Rakeem Boyd: RB Arkansas
Sixth Round- Shaun Beyer: TE Iowa
Seventh Round- Josiah Kaindoh: Edge Florida State
For More Great Wisconsin Sports Content
Follow me on Twitter at @theotherAdams14 and follow us @WiscoHeroics1 for more great content. Check out our merch page here and use promo code Wisco at check out for $1 off! To read more of our articles and keep up to date on the latest in Wisconsin sports, click here!