Wisconsin has quietly built up quite the history of great professional athletes. Between the Bucks, Brewers, and Packers, a plethora of high-profile athletes have spent any number of years in the great state of Wisconsin. In this new series, we will take a look at the best players to wear each jersey number. In this first edition, we are looking at the best players who wore numbers zero through five.
Number 0- Donte DiVincenzo: Milwaukee Bucks (2018-Present)
Donte DiVincenzo was a first round draft pick by the Bucks in 2018. He started his career wearing number nine, but switched to zero in order to give nine to Wes Matthews. Wearing number zero, DiVincenzo averaged 9.4 points and 4.9 rebounds in 59 games (22 starts). Before the 2020 season was cut short, he was shooting 46.2% from the floor (34.4% from three). Last season, DiVincenzo moved into the starting role and averaged 10.4 points on 42/37/71 shooting splits.  With the addition of Grayson Allen, it will be interesting to see if he holds onto that starting role.  In any case, he is the best #0 in professional Wisconsin sports history.
Honorable Mention: Franklin Stubbs (Brewers); Drew Gooden (Bucks)
Number 1- Oscar Robertson: Milwaukee Bucks (1970-1974)
The undisputed best player ever to wear number one in Wisconsin sports is the Big O, Oscar Robertson. Robertson spent the first nine years of his career in Cincinnati wearing number 14. However, when he came to Milwaukee, 14 was taken by Jon McGlocklin. Robertson took number one and the Bucks won their only NBA Championship during his first season. In his career for the Bucks, Robertson averaged 16.3 points, 7.5 assists, and 4.9 rebounds. His number hangs in the rafters along with other Hall of Fame players who passed through Wisconsin.
Honorable Mention: Corey Hart (Brewers)
Number 2- Mason Crosby: Green Bay Packers (2007-Present)
Mason Crosby, the Packers' longtime placekicker, gets the nod as the best Wisconsin athlete to ever wear the number two. While Junior Bridgeman has his number two retired by the Bucks, he never made an All-Star team and is more remember for his contributions to the Milwaukee community as a whole. Crosby, on the other hand, is the all-time leading scorer of a franchise that is over 100 years old. His 1,575 points scored is more than 500 points more than Ryan Longwell, who is in second with 1,054. Crosby's scoring record should continue to grow this season. It's hard to imagine that it will ever be beaten either.
Honorable Mention: Junior Bridgeman (Bucks)
Number 3- Tony Canadeo: Green Bay Packers (1941-1952)
Just how great was Tony Canadeo? In over 100 years, the Packers have retired just six numbers. One of them is Canadeo's number three. The Hall of Fame halfback was the third NFL player ever to rush for over 1,000 yards in a season. He played offense and defense, recording nine career interceptions. In addition, he also was called on to punt 45 times. Football was a different game back then than it is today, and Canadeo was one of the best to do it.
Honorable Mention: Orlando Arcia
Number 4- Brett Favre: Green Bay Packers (1992-2007)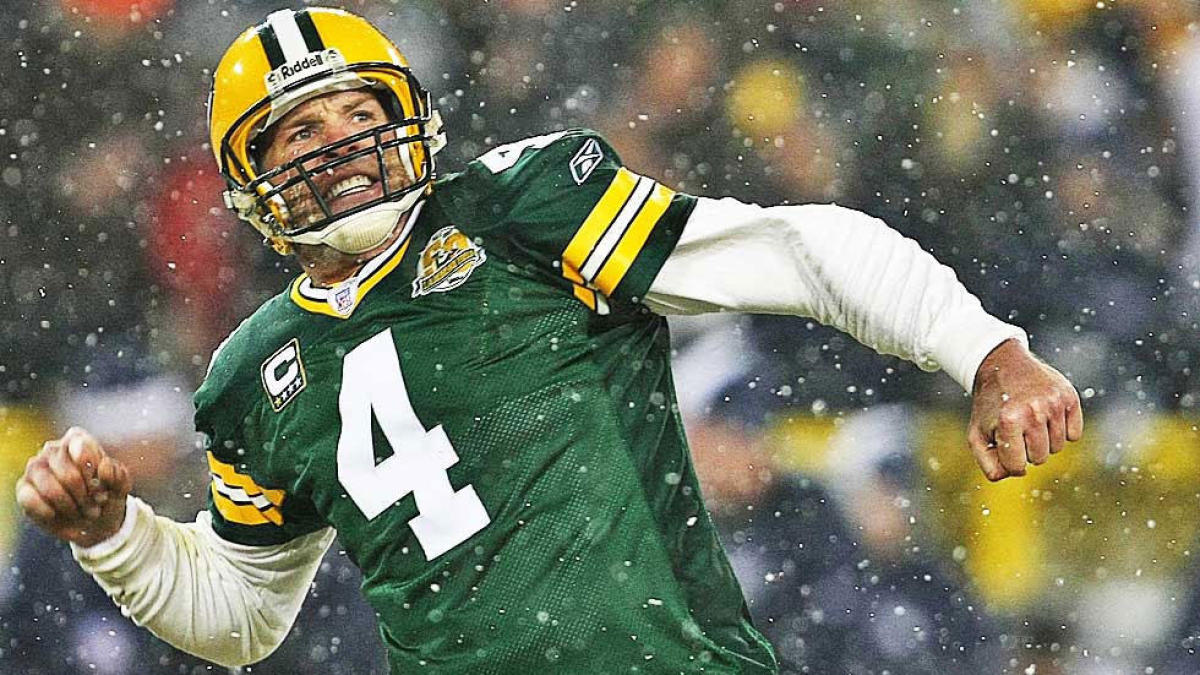 The first great debate in this list: Favre or Molitor? Favre gets the nod because he brought home a Superbowl to Green Bay. He also won three MVP awards while turning the Packers into perennial contenders. Prior to his tenure, the Packers were perennial cellar dwellers. During his time in Green Bay, Brett threw for 61,655 yards, 442 touchdowns, and 286 interceptions. He made nine Pro Bowls and three All Pro teams. Molitor was a phenomenal player for the Brewers, but Robin Yount was always regarded as the best player on those teams. Brett Favre was the unquestioned best player on his Packers teams, at least offensively (Reggie White).
Honorable Mention: Paul Molitor; Sidney Moncrief
Number 5- Paul Hornung: Green Bay Packers (1957-1966)
The great Paul Hornung takes the crown as the greatest number five in Wisconsin sports history. Of all the athletes to wear number five in Wisconsin, Hornung is the only one in his sport's Hall of Fame. He made himself into a legend on Vince Lombardi's Packers teams, leading the league in touchdowns in 1960. His hard-nosed play helped the Packers win four NFL titles during his career. He was inducted into the Football Hall of Fame in 1986.
Honorable Mention: Geoff Jenkins (Brewers); B.J. Surhoof (Brewers); Tim Thomas (Bucks)
For More Great Wisconsin Sports Content
Follow me on Twitter at @theotherAdams14 and follow us @OTHWisconsin for more great content. Also, be sure to check out the Overtime Heroics Forums page to join in on the discussion.To read more of our articles and keep up to date on the latest in Wisconsin sports, click here!